Cascadia Montessori School
Cascadia Montessori School is a private elementary school, founded in 1977, focusing on kindergarten through grade 5, with a supporting pre-kindergarten group for children who will be four years old when the school year starts.
Cascadia's mission is to provide education with the depth and individual caring that enables our students to have good lives.
Cascadia has an advanced academic program, well rounded with music, performing arts/dance, art, physical education, and French.
Teachers are dedicated professionals focusing on the learning and success of each student.
There is a sense of a strong community of students and parents at Cascadia.
Grades: Prekindergarten-4
Students: 67 students
Yearly Tuition: $12,920
Application Deadline: None / Rolling
School Overview
School Membership(s)
School Assoc.
Grades Offered
Grades Prekindergarten-4
Student Body
Total Students
67 students
Students by Grade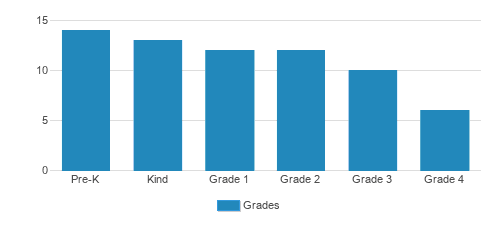 Academics and Faculty
Total Classroom Teachers
8 teachers
Tuition and Acceptance Rate
Admission Deadline
None / Rolling
Admissions Director
Marilyn J. Franklin
School Notes
Cascadia Montessori School is a private elementary school, founded in 1977, focusing on kindergarten through grade 5, with a supporting pre-kindergarten group for children who will be four years old when the school year starts. Cascadia's mission is to provide education with the depth and individual caring that enables our students to have good lives. Cascadia has an advanced academic program, well rounded with music, performing arts/dance, art, physical education, and French. Teachers are dedicated professionals focusing on the learning and success of each student. There is a sense of a strong community of students and parents at Cascadia.
School Reviews
5
3/10/2018
I graduated from Cascadia a couple of years ago, and it prepared me very well for middle school. The academics at Cascadia are amazing and well ahead of most if not all other schools. The teachers teach the whole class, but also get to know the students really well. Cascadia is by far the BEST school that I've ever heard of, I highly recommend it.
5
8/2/2017
I want to share my wonderful experience at Cascadia Montessori School over the last 5 years. In our interview, Mrs. Franklin said that compared to the rest of the kids heading to K, my daughter was behind academically because of her delay in speech. (My daughter, Emily did not say the words "Mommy and Daddy" until 3.5 years old. Emily would point instead of talking.) Mrs. Franklin indicated that to help my daughter accelerate, parent involvement in the school and homework are essential, and her strict vacation policy is not negotiable. Nevertheless, Mrs. Franklin accepted Emily to Cascadia for K. Mrs. Franklin takes the time to talk to each parent on the progress of their child. If your kid is doing well, she will tell you. If you kid is doing poorly, whether it is academically, an attitude adjustment or something not right, she will tell you. She spends time with every child, knows their behavior, strength and areas for improvement. The kids in Cascadia are loved, they treat their teachers and classmates with respect. The kids do not use foul language in school or at home. They are happy, idealistic, safe and can be kids at this age. At the same time, they are learning so much. Each summer starting from pre-K to 3th grade, the kids are given packets for the summer so that they will retain the work and not have to spend 2 months re-learning the work in the fall. The kids learn to type in 1st grade and proficient by 3rd grade. The kids start to write 3 to 5 to 10 page-type stories and essays by 3rd grade. By the 4th grade, the kids writing proficiency at the middle-school level. Fast forward to the present, Emily is in 4th grade. She is intelligent, witty, a vivacious reader and writer, and extremely talkative. My husband and I really appreciate the attention and love Cascadia Montessori has shown to our daughter.
5
5/13/2017
Cascadia Montessori is very unique in every ways. When we first arrived at CMS 6 years ago, we were taken by its quietness and its old world charm. We were very impressed by how well the school was maintained by Mrs. and Mr. Franklin. Our decision of enrolling our daughter at CMS in pre- k was the best thing we did for our little girl.Cascadia Montessori provided a wonderful learning environment for our daughter. The school emphasized experiential learning, with a comprehensive yet flexible curriculum that has helped hone her mathematical and music skills, while also strengthening her communication and social skills. Math camps and coding classes allow her to challenge her math and analytical abilities. Music, drama and hip-hop classes are part of the regular school day and enable the musical and creative aspects of her personality to flourish. Cascadia has also gave our daughter a nurturing platform to grow socially and emotionally. The teachers are supportive and they feel like a part of our family. The teachers even take time out to attend concert performances outside of CMS. The classroom environment is intimate, with children of different age groups in the same class, and this has helped our daughter tremendously with her social development and leadership skills. Our daughter excelled at all the subjects taught at school. The curriculum covered helped her get good scores in the gifted programs in our district public school and she scored well in SSATs, an exam for placement in private schools. We were thrilled to know we had options to choose from to begin our journey for the middle school. Our daughter still calls Cascadia Montessori "my other home".
5
3/22/2017
Cascadia Montessori is surely one of the finest private schools in the eastside. My daughter attended that school from pre-kindergarten through 4th grade and I couldn't be happier for our decision to enroll her there and have her continue through the final grade in that school. Over the years in Cascadia Montessori School, my daughter has incrementally blossomed from being a very reserved and self-doubting kid to a confident and socially well-balanced girl, much to our delight andI would largely credit the school for her positive transformation. The school curriculum and the supportive environment offers an unique blend of academic, social and emotional development opportunities which nurtures well-roundedness in kids. The individual attention from the highly effective teachers in that school and their tailored approach based on the development needs of the kids have made the world of difference for my daughter as her progressive growth in self-confidence, creative writing skills, social and emotional intelligence has been so obvious to us as parents and her teachers alike.Mrs. Franklin, who is the director of the school, has been instrumental in building a very close knit community with the kids, parents and teachers which fosters a very supportive environment and provides all the families with the much needed confidence that their kids are indeed in the best of hands. With Mrs. Franklin at the helm of affairs at Cascadia Montessori school, the school is poised to continue leading the charge in providing top notch holistic development opportunities for the kids in the eastside, in the months and years to come.
5
5/20/2016
Cascadia is not the typical Montessori. I initially disregarded Cascadia in my search for schools because I wasn't interested in yet another Montessori school. I see a lot of value in the philosophy developed by Maria Montessori. Yet the Montessori schools I'd toured had always turned me off as too focused on Montessori-ness, not enough on academics. But on the advice of the admissions director at a local prep school, I visited Cascadia's website and was very intrigued. From the first visit as a prospective parent to 4th grade graduation day, I never regretted enrolling my daughter at the school. In my experience, Cascadia combines the best of Montessori philosophy multi-age classrooms, open layout, mutual respect, social responsibility, valuing diverse cultures, independent & small group work, stimulation of multiple intelligence's, plenty of unstructured outdoor play, and viewing each student as a unique individual with his or her own talents and interests with the academic rigor, breadth of knowledge, and technical skills that are required for tomorrow's world. Expectations for student behavior and academics ramp up from year to year, so that students graduate from 4th grade very well prepared for a challenging middle school curriculum. Academically and socially, it's all cohesive within any one year and across the grades from one year to the next. This is Mrs. Franklin's creation, ably realized by a strong team of teachers and support staff. The play area behind the school is fabulous when you visit, don't just check out the play structures and basketball/tether ball blacktop. Walk all the way to the back and see how the kids incorporate nature into recess activities. For my daughter, a clump of trees was home to a clan of Warrior cats, and fallen sticks were pretend bows for Artemis to hunt with. The parent community is culturally diverse and very international, but we all share a deep appreciation of the Cascadia approach, creating a close bond that leads to summer park dates and continuing friendships, child and adult.
5
5/17/2016
Cascadia is a unique and special place. The teachers at Cascadia are experienced and don't just teach the curriculum. They are creative and find ways to help each child flourish. The key in the curriculum is the fact that the director teaches second grade herself. This is the time when the child is prepared for the intense writing skills and complex math, like pre algebra, that are taught in the next two grades. She steps in at 2nd grade to provide each child individualized attention to assure successful transition to 3rd and 4th grade. The students are respectful and supportive of each other. Kindness, respect and a love of learning are fostered here. My son is now 15 years old and he is academically successful at a college prep private school because of the foundation that Cascadia has given him. Socially, the eight kids from his graduating class still keep in touch and recently united to spend time with the director. Cascadia guarantees not only academic success, but it encourages bonds that last beyond the elementary years. My son tells me that Cascadia years form some of the most powerful memories of his childhood. Cascadia produces impressive long lasting effects.
5
5/17/2016
Both my kids have attended Cascadia. My older one finished several years there starting at Pre-K thru the 4th grade and my younger one is still a student there. I have found that both my kids have really blossomed in the environment there, despite they being very different kids. One thing that really differentiates Cascadia is that the staff and director REALLY care about the kids and do the very BEST for them always. They are able to provide an extremely caring and nurturing environment for the kids. Given that most of the teachers have longevity in the school, they are able to KNOW each individual child to a depth, that is frankly unmatched by other larger schools. They then use this deep insight and knowledge that is built over several years to provide for the best for the children. The results speak for themselves in terms of the stellar achievements that the graduating kids go on to achieving in middle school and beyond. Nearly 100% of the graduating class for the past several years has gotten admission into elite programs at the surrounding public/private middle schools. At the end of the day, that's the most important characteristic that you want out of a school.
5
5/17/2016
Cascadia Montessori School is one of the finest schools on the eastside of Seattle. We have both our children studying in Cascadia. They have grown to be loving, caring and academically focused individuals. We are impressed with the quality of education at Cascadia Montessori School. The credit goes to the Director Mrs. Franklin who has invested in the school's success, as well as to the dedicated teachers at Cascadia. In addition to the education, Cascadia looks at all around growth for children through field trips, music, dance, and other age appropriate activities. Volunteering at the school is available to parents and is a great way to observe the high quality education and care the children receive at Cascadia. The school has a vibrant, clean, and nurturing environment inviting for the children. As parents we are very happy with our experience with Cascadia and highly recommend this school for your children.
5
5/12/2016
Cascadia Montessori School is hands-down one of the best private elementary school on Eastside. We have 2 kids - one in 4th grade and the other one in 2nd. Both have been in Cascadia from Pre-K and absolutely love it. Some of the things we really like and appreciate about Cascadia: 1. Academically focused. The curriculum is very focused, advanced and rigorous. It is amazing to see the classwork (and homework) covered by these young minds every month. 2. Solid foundation: The school provides a very strong foundation and teaches the kids to be eager to learn. They are respectful, focus on thought process and understand the reasoning behind the learnings. 3. Small class and school size fosters life-long relationships, individualized teaching plans, strong bond between students and teachers. 4. Reading and Writing: A very strong emphasis is placed on reading, writing and penmanship. Almost every kid is reading and writing at least one (if not two) grade levels above. 5. Community: The students are taught and encouraged from an early age to help the community around them and outside the school. Whether it is a food drive, cleaning parks in the neighborhood or donation drive for building a school in Africa, the students eagerly participate in every activity and proudly help. Mrs. Franklin, the Director, knows each child personally. She interacts with each one of them, guides them, and is just simply wonderful. She has dedicated her life in building this school and maintaining the standard and guiding principles. We truly respect and admire her dedication. Every single teacher at Cascadia is wonderful and a delight to interact with. They are very accessible, always provide detailed feedback and shape our children into wonderful human beings - Social, academically sharp and well-rounded kids. From kid's perspective: They want to reach very early in the morning and help out the teachers in preparing the classroom. And of course, they do not want to be picked up early. According to them, they would like to spend the time after school in finishing the homework and play with friends. To summarize, there are many great schools in this area. But from our perspective, Cascadia Montessori School is the best school for preparing your child for the future from all angles.
5
5/12/2016
There couldn't be a more idyllic setting for a school than Cascadia Montessori. Nestled in a residential area with tall fir trees, yet just a stone's throw away from the Microsoft main campus, Cascadia provides a safe and nurturing environment with the added plus of convenient drop off and pick up for Microsoft parents. Each kid receives one-on-one attention that caters to their learning style and their comfort level as they advance through the curriculum. As an added bonus, Cascadia incorporates science, music, dance (hip-hop!) and a school play through partnerships with prominent organizations. Field trips to the Woodland Park Zoo and the Seattle Children's Theater provide a fresh venue for learning. After school care is available at a nominal rate, with optional extra-curricular classes such as chess, Lego and Bollywood dancing. But most importantly, Cascadia boasts a solid academic program. Each year, the graduating class (4th grade) enters high ranking independent schools in the area and the Quest program in the public schools. Cascadia's kids stand out in a class of their own, showing enormous amounts of confidence, clarity in thought, and teamwork, all with a sense of community. We couldn't be more pleased and grateful to have our kids at Cascadia.
5
5/12/2016
This is simply an awesome school!! Both my kids attended Cascadia Montessori. Older one finished last year and younger one still attending. We happened to send our kids to three different private school in the area, and I can definitely say that this is the school we needed from the beginning. Cascadia has a perfect balance of discipline, academics, and fun. The part that I valued most is, the confidence that my daughters have in their teachers. I can see teachers are so truly involved and committed to the students. Students have great connections with each other as well. It's not unusual to see 4th grader pushing 1st grader on swing or students giving each other spelling tests during after school period. Our experience with school is extraordinary.
5
12/7/2015
This school is a hidden gem that offers an advanced curriculum in a nurturing and supportive environment. We were looking for a small classroom environment that focused on teaching the fundamentals where children are kindly challenged to do their best and retain what they learned. Spelling matters here. Grammar matters here. Math facts matter here. At the same time, the school also infuses French language, sports, music, arts, IT into the curriculum for a well balanced program. Our only regret is that the school does not go all the way to Grade 8.
5
10/8/2015
I am now 16 years old and I have to say Cascadia was one of the best things that happened in my life. The teaching is absolutely amazing and the teachers go out of the way to make classes interesting and innovative. Words can't express how much I cherish my 6 years here. I think the person I am now and my great academic success is all because of my years in Cascadia, and I would encourage everybody to enrol their children here. Cascadia was an unbelievable experience and as a result I doubt any alumni of Cascadia is anything below brilliant now. Apart from academics, I made great friends in our small class of eight. Also the field trips, visits to the library, performing arts classes, and holiday celebrations are something I could never forget. Cascadia is something no parent should ever miss, it will be a memorable journey for the kids :)
5
9/3/2014
My daughter started at Cascadia in Kindergarten and graduated this year from 4th grade. Cascadia has been the biggest blessing for our daughter these past five years. The school helped her grow not only academically but also helped her become a confident, mature, responsible and ambitious young girl. Cascadia has a rigorous academic curriculum and the school has helped her blossom into a fabulous writer, the language arts curriculum at Cascadia is one of the best in this area in my opinion. That said, the rigorous academic program is balanced with a fine arts emphasis that helps round out the kids. This combination and balance helps the kids in this school be really successful in some of the most competitive private middle schools in this area. My daughter has developed a love for the theater, all thanks to Cascadia. During her time at Cascadia she had plenty of opportunity to participate in plays and public presentations and these really helped draw out her personality. When you do a school tour at Cascadia and compare that to other school tours, it quickly becomes evident to you that the Principal of the school, Mrs. Franklyn, is committed to teaching and preparing children for their future. Her heart and soul is dedicated to helping these kids be the best they can be. I knew it when we did the tour and it has been confirmed through the years at Cascadia. My daughter will be starting at Lakeside this fall, confident that she has had the best education possible in elementary school, ready to face the rough and tumble of middle school and compete with the best and brightest kids in this area.
Endorse Cascadia Montessori School. Endorsements should be a few sentences in length. Please include any comments on:
Quality of academic programs, teachers, and facilities

Availability of music, art, sports and other extracurricular activities

Academic or athletic awards
SAT Prep
SAT test prep takes time to do properly. We explore some of your options here.