Recommendations from your child's current head of school or principal, or guidance counselor are an important component in your child's private school admissions portfolio. Why? Because they give the admissions staff an assessment of both your child's abilities and her accomplishments by someone who has actually taught her. Strong recommendations from professionals who know your child can make a difference. So can weak recommendations. Professional recommendations made by a private school employee are confidential. You will probably never see what the head of school wrote about your child. Neither will the admissions staff reveal that information.
On the other hand, professional recommendations made by a public school employee are a different matter which I shall explain below.
While this video approaches recommendations from a college applications perspective, much of it applies to the private school admissions process.
Are there special forms to be used?
Recommendation forms are typically completed and submitted by your child's current principal or head or guidance counselor directly to the admissions departments of the schools to which your child is applying. As noted at the beginning of this article, they are an important part of the application process.
These recommendations should be handled according to each school's very specific instructions. They are the evidence the school needs to substantiate all oral or written statements about your child. These documents are not hearsay or anecdotal. They are professional opinions and records the school considers your child's application needs to review. They complete an important part of your child's admissions portfolio. But remember: recommendations are just one part of the application process. On the other hand, be aware that the principal or counselor will tell it like it is, in professional but clinical terms.

Where Are the forms?

Most schools offer recommendation forms and all the other forms and information which you will need on the school's website under Admissions. Typically you can download the Principal/Head/Counselor Recommendation Forms, which are available in PDF format like most of the other admissions materials. You complete the information at the top of the form, then hand the blank form to your child's principal or head of school or, in some cases, the school's guidance counselor. Be sure to include an envelope addressed directly to the school's admissions office. Stamp the envelope before you give it to the counselor or principal's office. Remind the counselor to submit the recommendation forms as soon as possible, in any event no later than December 31 for mid-January deadlines.
Tip: distribute recommendation forms in October. That will allow ample time for the staff to complete and return them. Two weeks after you have handed out the forms, check back with everybody to confirm that the recommendation forms have been completed and mailed out.

Confidentiality

If your child is currently in a private school, you essentially waive your right to review or see what the counselor writes in her evaluation. This information is strictly confidential. You may not see it. Neither can you pressure the person who completes the form to reveal what he or she has said about your child.
If your child is currently in a public school and under the age of 18, you are both covered by The Family Educational Rights and Privacy Act (FERPA) You are entitled to see what the prinicpal or counselor wrote in her recommendation. In all cases, you will have to authorize the release of your child's educational records to the private school admissions office.
Having said that, be aware that there are no secrets when it comes to these kinds of recommendations. If your child has been, to put it politely, a handful, then be prepared for some questions about that during your interview. Schools can be tolerant, all else being equal, even hopeful, as long as they know that you are aware of the situation and will support them. If your child has difficulty with math or English, be candid about those weaknesses in your interview. Your frankness will corroborate what the admissions staffer sees in the file.
These professional recommendations fill out the picture which the admissions office has of your child in a way statistics such as grades and test scores cannot. That is why they are an important part, albeit just one part, of your child's admission portfolio.
Help for the counselor
Since so much is riding on these recommendations, you might want to start several months ahead to ensure that the counselor and principal understand the importance of their recommendation. They are accustomed to providing recommendations for senior students who are applying to college. They infrequently receive requests from ninth graders who are transferring to a private school. It is worth confirming specifically what is required for each of the private schools to which you are applying.
Examples of School Recommendation Forms

Many schools are moving to online applications. The various recommendation forms are often included in that online process as well. Read the instructions online. In most cases, they will be very clear. If you have any questions, check with the school. It will know how it prefers you to handle recommendations. Here are examples of how three schools handle the principal/head/counselor recommendation forms.

St. Mary's School, Raleigh, North Carolina St. Mary's includes a transcript release with its Guidance Counselor recommendation forms which you download and complete. Here is an example of what they look like. It's all very straightforward.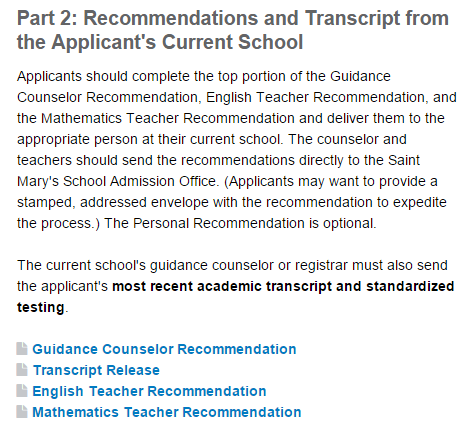 Sidwell Friends School, Washington, District of Columbia Sidwell includes all the forms parents need on one very convenient and well-laid-out page. Forms for admission to every grade in the school are available for download. Sidwell uses Ravenna, which is an online admissions system common to several schools. You will have to create an account before you can use it.

Shattuck-St. Mary's School, Faribault, Minnesota SSM makes it easy for parents unfamiliar with the admissions process to find and download the forms which they need. The Principal/Head of School/Counselor Recommendation Formis straightforward and easy to understand. Here is a screenshot of the school's instructions.
Questions? Contact us on Facebook. @privateschoolreview