Having raised four children of my own and taught hundreds of others, I always tease new parents about the reality that our children come into our lives without any operating instructions. A smart TV comes with exhaustive instructions on how to set it up and operate it. Your new baby comes with nothing. Much assembly is required. Consequently, we parents have to be constantly vigilant. We must always be aware of how our children are developing from birth until they leave their home. Truthfully, even when they have left home, we keep an eye on them from a distance, don't we?
The purpose of this article is to give you some starting points so that you can explore the subject of learning disabilities thoroughly and efficiently. I have linked to a wide range of sources so that you are exposed to many points of view and expertise. You owe it to yourself and to your child to be fully aware and informed.
As your child develops, you will be watching her development closely. Parenting and Psychology Today are two of hundreds of websites which you have probably already bookmarked as you began your journey as a parent. You and your family doctor will have discussed your child's progress during your regular visits. That's one of the first places you need to go to confirm any concerns you might have. Have a list of questions to ask your health professionals. Having said that, never forget that you know your child better than anybody. Trust your instincts and act accordingly.
First Steps
What do you do when you suspect that your child has a learning disability? First of all, do not ignore what you suspect. And don't blame your child or yourself. Don't listen to anybody who tries to assign blame. Secondly, schedule a professional evaluation as soon as possible. You might be tempted to think as many of us baby boomers did that she will grow out of it. Maybe she will. Maybe she won't. It simply is not worth taking a chance, is it? Get that professional opinion. Get a second opinion if you feel that it is warranted. Then act on the recommendations offered by those professionals.
Early evaluation of a learning disability or other syndromes means that you can get a headstart on dealing with the issue. There are no treatments for learning disabilities. You can't take a pill or have something excised. But you can show your child ways of coping with her learning difference.
The Individuals with Disabilities Education Act (IDEA) codifies how public and private schools must deal with children with learning disabilities. That is all well and good. The problem is the quality of treatment. Some schools have highly-experienced, well-qualified teachers and para-professionals on staff to work with your child. Unfortunately, these teachers can be spread very thin in a public school. If that is the case, your child will not always receive the individualized attention which she needs and deserves. Of course, you can supplement what the school does with afterschool tutoring and related activities. Or, you can search for a private school which offers the skilled teachers your child needs in a setting where she will have plenty of individual attention. The Individuals with Disabilities Education Act also specifies 13 disability categories. Be sure to read that section of the act and understand how it may or may not affect you.
The Learning Disabilities Association of America offers explanations of the various types of learning disabilities. These include Auditory Processing Disorder (APD), Dyscalculia, Dysgraphia, Dyslexia, Language Processing Disorder, Non-Verbal Learning Disabilities, Visual Perceptual/Visual Motor Deficit, and ADHD.
Next Steps
When you and your family physician determine that a professional evaluation is necessary, be reassuring and calm as you explain what is involved to your child. She trusts you. She needs your quiet strength as she processes what's happening. She needs to know that you will care for her no matter what.
As you begin to decide which educational options might be best, read what Forman School has to say for students at the high school level. You can see at once how important a positive attitude is for students and parents.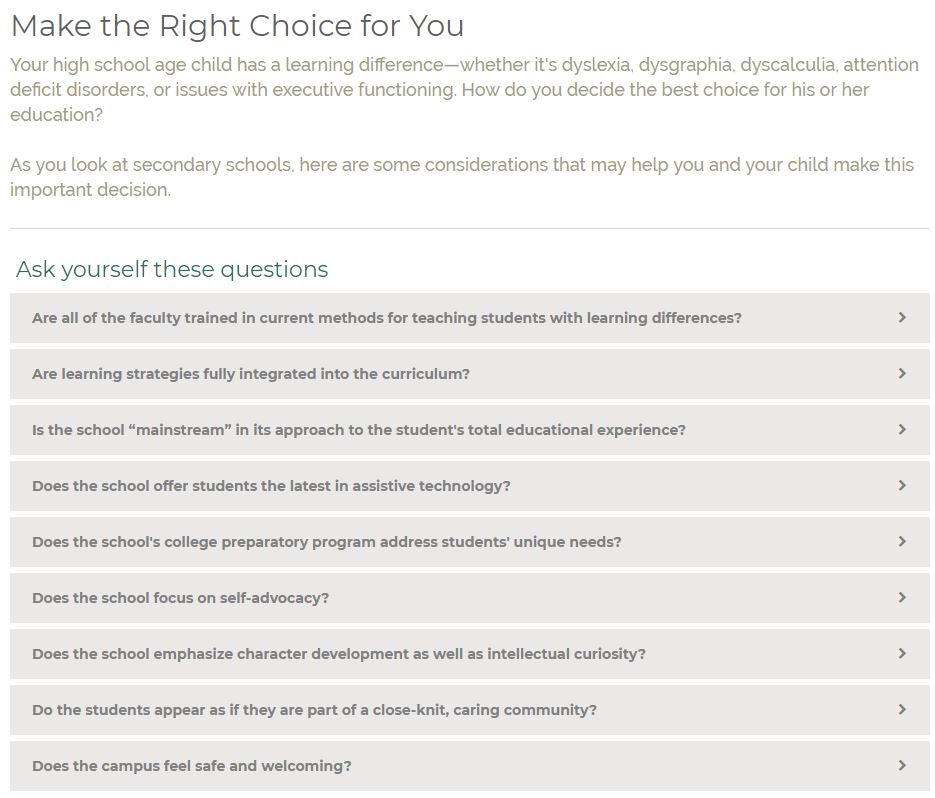 The Fletcher Academy in Raleigh also projects a similar 'can do' approach for the primary and middle school years.
Paying For School
Finally, once you have decided on a school, you need to figure out how to pay for it. Boarding school will cost upwards of $60,000. Day school will be in the $25,000-$30,000 range. Most schools will be able to explain what state and local educational funding programs are available to help cover some or all of the expenses. Paying For Private School gives you an overview of your options.
There will be many times when you will feel overwhelmed. There are Facebook pages and groups which will allow you to hear other parents stories. Find one which works for you. Online affinity groups and chatrooms can be very helpful especially if you live far from local or regional resources.
Questions? Contact us on Facebook. @privateschoolreview