Is your child struggling in school? Are you not understanding why she is having difficulty learning in a classroom setting? Does she hate going to school instead of wanting to go eagerly every day? Are her teachers requesting conferences with you to discuss the situation? These and many other signs should alert you to the fact that you need to give your child some extra attention. As one parent to another, I can tell you that admitting that your child has learning differences or special needs is not an easy thing to deal with. We had to deal with this situation ourselves. One child had great difficulty reading. Another had serious problems with mathematics. I will focus on the more common learning differences such as ADHD and dyslexia in this article. Special needs encompass a wide range of syndromes, some of which we will examine in companion articles.

At the first sign that their child has a learning difference, many parents panic and withdraw into a state of denial. That may help you. But it will not help your child. Your child's teachers know what to look for. The signs of a child with learning issues are fairly obvious, as a rule. While teachers may not know how to treat the disorder professionally, they are trained to alert both parents and the school administration when they suspect that your child has a learning issue.
Public schools must implement Individualized Education Programs (IEP) for students with special needs in accordance with the Individuals with Disabilities Education Act (IDEA). Many public schools do not have adequate professional staffing to produce the projected results as described in the IEP. I know this to be a fact because several parents whom I knew personally found that to be a very frustrating part of their children's IEP. The schools meant well. They had implemented the IEP and tried their best to make it work. Unfortunately, the results were not entirely satisfactory.
This video from the Mayo Clinic describes common learning disabilities.
What exactly constitutes a learning difference? The Individuals with Disabilities Education Act (IDEA), a federal law, defines it as follows:

The child does not achieve adequately for the child's age or to meet State-approved grade-level standards in one or more of the following areas when provided with learning experiences and instruction appropriate for the child's age or State-approved grade-level standards:

o Oral expression.
o Listening comprehension.
o Written expression.
o Basic reading skills.
o Reading fluency skills.
o Reading comprehension.
o Mathematics calculation.
o Mathematics problem-solving.
I suggest that you implement the IEP process in the public school which your child is currently attending. Discuss the IEP which the school proposes and try to understand the issues involved. Then use the results of the psychologist's testing and the plan of action which he puts forward as the basis of your discussions with a private school which has programs for special needs and learning disabilities.
Having your child evaluated professionally is the first step. That is what begins the IEP process. The psychologist will identify your child's strengths and weakness and proceed accordingly. Only professional learning specialists, pediatricians, and psychologists are equipped to do these sorts of assessments. Based on that finding, you can explore the many options available to you and your child.
Helping children with learning differences become life-long learners is the mission of the 21st century special needs school. Generations ago these children were often left to fend for themselves. Because learning was such a formidable, frustrating experience, many children with learning differences simply gave up and dropped out of school. 21st century special needs schools have highly trained, well-qualified and experienced teachers who have committed themselves to teach students with a wide variety of learning differences.
This video from The National Center For Learning Disabilities discusses the strengths of students with learning disabilities and other disorders.
How schools remediate learning disabilities
Let's say that your son is very bright but has dyslexia which is a fairly common reading disorder. He will benefit from the intensive one-on-one instruction from highly-trained teachers such as you will find at a school like Trinity-Pawling, in Pawling, New York. Here is what that school has to say about its approach:
"Specific instructional programs are available for bright students who have dyslexia and/or a language-based learning difference, for students with executive function difficulties, and for international students who lack academic English proficiency. Skilled teachers who are Orton-Gillingham trained and who have earned a master's degree deliver these intensive instructional programs. They are particularly empathetic to the academic needs of students, yet they keep the bar high to help students develop resiliency and rigor. Space in these programs is limited, and additional information is required for acceptance. "

Forman School, Litchfield, Connecticut offers some questions which you should ask yourself as you evaluate schools. Work through Forman's list below. It will help you understand that there is much more to your child's happiness and future success than merely remediating a learning difference.
"Your high school age child has a learning difference—whether it's dyslexia, dysgraphia, dyscalculia, attention deficit disorders, or issues with executive functioning. How do you decide the best choice for his or her education?
As you look at secondary schools, here are some considerations that may help you and your child make this important decision."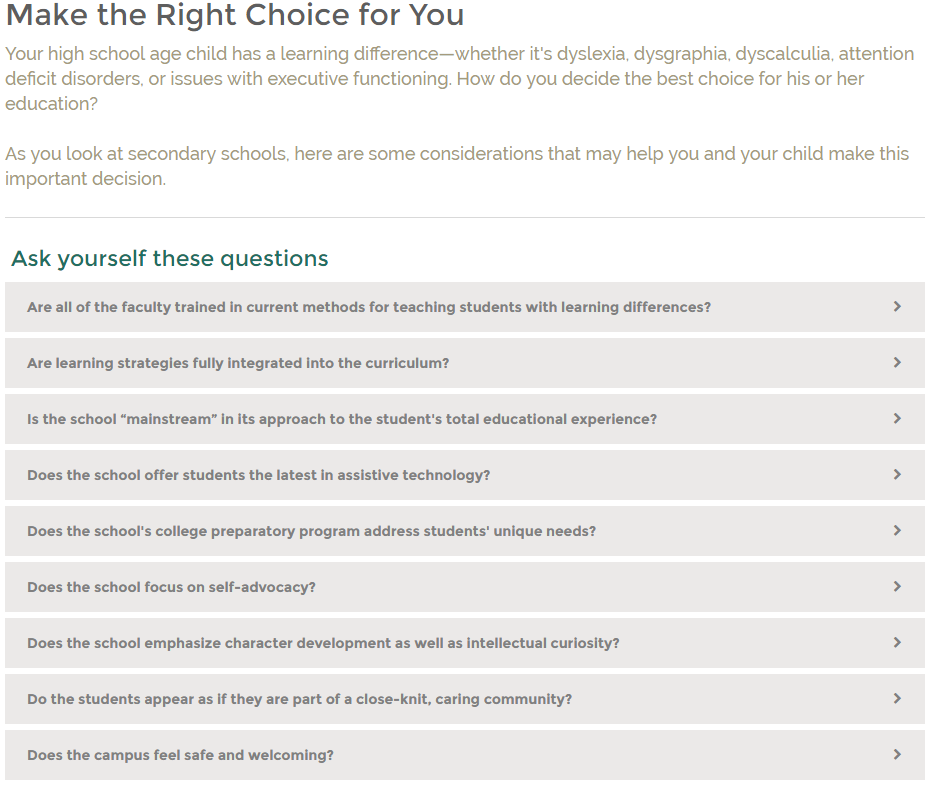 Explore the schools which specialize in teaching students with learning differences. Not sure how to find schools? Use our site. Under Find Schools, choose More Search Options. Then input the city or zip code. Choose Gr. 12. Set school focus as Special Education. The following screenshots show you how to set the search parameters to get the results which you want.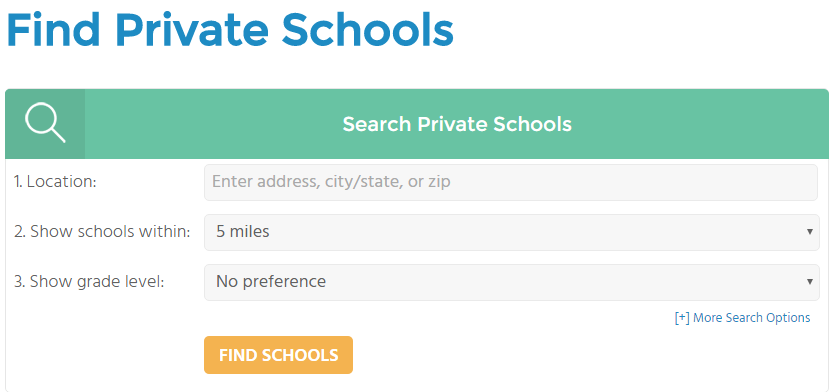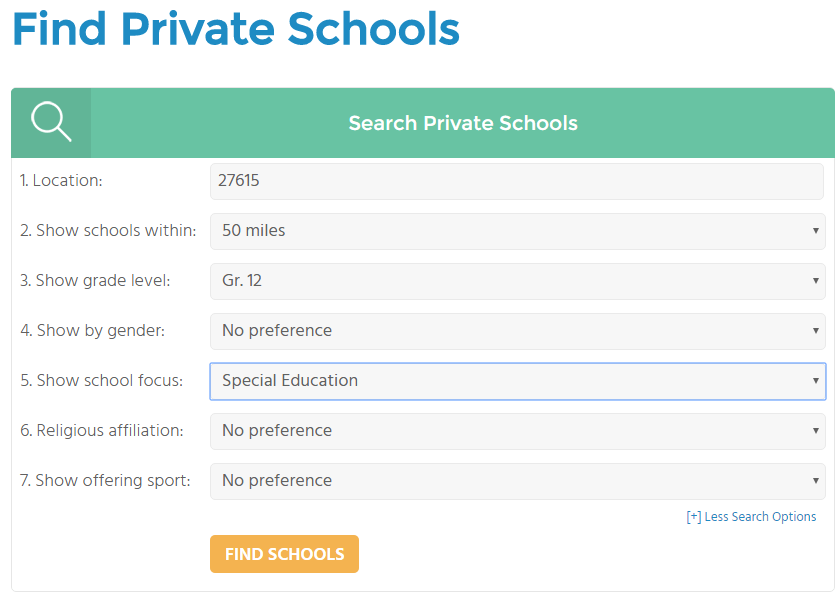 Look up the individual school websites. Narrow down your list of possible schools so that you have two or three. Visit these schools. One will be the right fit for your child. One of these schools will prepare him for college and life after college by giving him back his love of learning.
Questions? Contact us on Facebook. @privateschoolreview