Cristo Rey schools are unabashedly Roman Catholic. Through and through. They teach Catholic values and religious beliefs. But they do something more which is both unusual and significant. Cristo Rey schools serve students from low -income families in urban areas who could not otherwise afford a private school education. The way the Cristo Rey schools do this is to combine a work-study program with the academics, sports and extracurricular activities the schools offer. Simply put, the Cristo Rey schools offer quality education with a work-study component.
History
The Cristo Rey schools got their start back in the 90s in Chicago. The Catholic academic scene was a familiar though depressing one. The diocesan high schools were facing serious financial challenges. Those schools had always been the ray of hope for struggling lower-income families who dreamed of an education for their children. The Catholic schools run by the various orders were in good shape because they attracted a clientele that could afford the substantially higher tuition which those schools charged. The Jesuits met with parishioners in the Pilsen neighborhood of Chicago and asked what they needed most. "A good high school" was the unequivocal response.
This short video clip shows what the Jesuits did.
The Program
As noted above Cristo Rey schools have a work-study program which is an integral part of the life and rhythm of each school. Students work the equivalent of 5 days a month. The school arranges the students' work-study assignments with corporate and professional partners. As a result, Cristo Rey students get the opportunity to work in real business environments. The money they earn is paid to the school to help offset the cost of their tuition. Student earnings make up about half of each school's revenue. Each school also depends on fund-raising to ensure that all financial needs are met and that the school operates in the black.
Here is a quick look at the work-study component of the Cristo Rey approach.
Why?
The basic idea behind the Cristo Rey schools is to offer quality education to children who could not afford such an experience. Their options are extremely limited. The Cristo Rey schools instill habits and discipline which will prepare them for work and careers as adults. The Cristo Rey schools offer high school students a chance to be something. To break out of the mold they are in. To make something of themselves.
How?
In the almost twenty years Cristo Rey schools have been in operation they have learned a lot about the clients they serve and the finite nature of the financial resources available to them. Marvin Hoffman's review of "More Than a Dream: The Cristo Rey Story: How One School's Vision Is Changing the World" by G.R. Kearney chronicles the timeline of events for us. What struck me is how true the Cristo Rey Network as been to the original concept. It has adapted to changing economic fortunes. It has genuinely tried very hard to instill in its students the kinds of values and hopes which are so often taken for granted in other parts of American society.
Where?
Twenty-six Cristo Rey schools can now be found in 17 states and the District of Columbia. Here is a list of schools which are open. Several new schools are in the development phases and will open in the future.
Schools under development:
Cristo Rey Albuquerque High School, Albuquerque, NM
Cristo Rey Baton Rouge High School, Baton Rouge, LA
Cristo Rey Dallas College Preparatory School, Dallas, Texas
Cristo Rey Jesuit Milwaukee High School, Milwaukee, WI
Cristo Rey Philadelphia High School, Philadelphia, PA
Cristo Rey Phoenix High School, Phoenix, AZ
Cristo Rey Tampa High School, Tampa, FL
In addition, the Cristo Rey web site lists several target markets into which the organization would like to expand as support and resources permit.
The results
As this 2019 screenshot from the Cristo Rey web site shows, these schools are having an impact.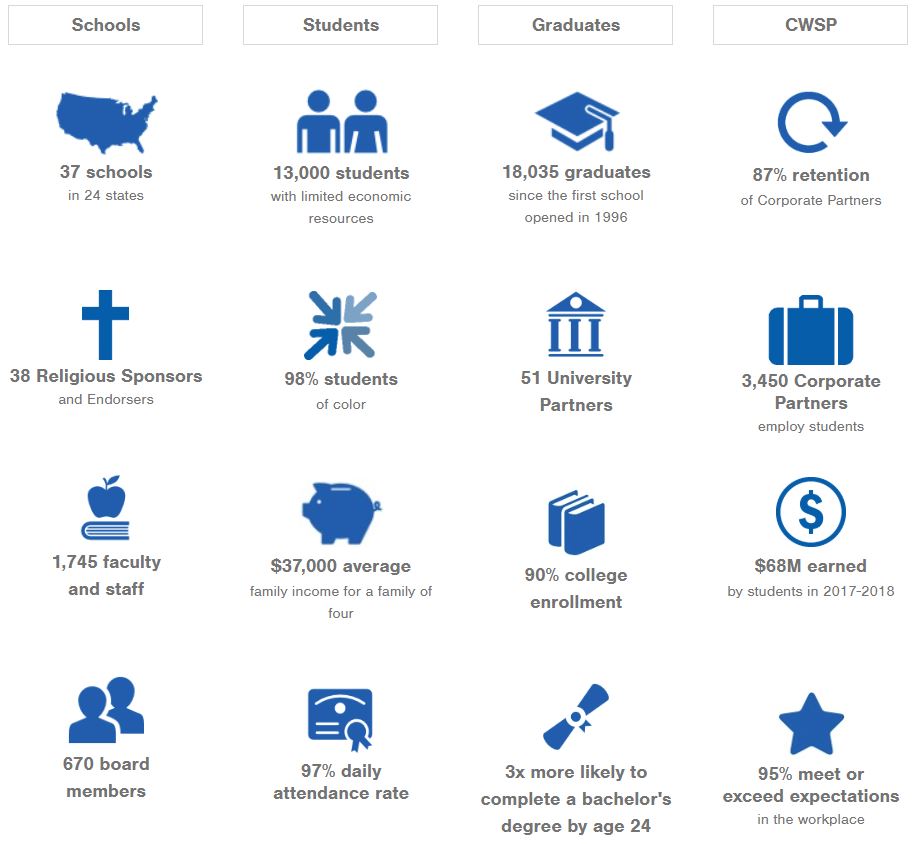 I can attest personally and professionally to the effectiveness of the Cristo Rey approach. In the 90's I was Deputy-Director of R-E-S-P-E-C-T Academy in Nassau, Bahamas. The school was the brain-child of Dr. Elliston Rahming, a brilliant criminologist, and educator who understood that high school students needed to have an education which was two-thirds academic and one-third practical or work-study. Besides running the academic side of the school and teaching English and history, I had the responsibility for signing up corporate and professional partners to take my senior class one afternoon a week. I well remember my colleagues in other schools saying that it couldn't be done. That the kids would go AWOL and so on. Of course, one or two tried playing that game. But they quickly learned the consequences were not worth it. To make a long story very short, my two adopted sons thrived in the Academy's program. One was apprenticed to a European-trained chef at age 14 and has gone on to become a Sous Chef in a major resort. The other son parlayed his work-study at one of the government departments into a very successful career as an IT manager for one of those departments. We gave those boys and all their classmates a chance. Most of them grabbed on and never let go just like the young man in the following clip.
Who governs them?
The Cristo Rey network is governed by a board of directors drawn from many walks of life. They all serve knowing that the life-changing opportunity which the Cristo Rey schools offer urban high school students is both effective and critical to transforming society.
More Reading
"More Than a Dream: The Cristo Rey Story"
Questions? Contact us on Facebook. @privateschoolreview