When you plan your children's summer, you are giving yourself two gifts. The first is engaged, active, happy children. The second gift is the comfort of knowing that you are expanding their knowledge in an informal, supervised learning situation.
When I was growing up, my parents decamped every summer from Montreal to the shores of Lac Saint Louis about 30 miles west of the city. They rented a cottage across the road from the lake. We took swimming and sailing lessons at the Woodlands Yacht Club, helped with the large garden which provided vegetables and flowers during the short Canadian summer. It was idyllic and safe. The routine was pleasant and predictable. My parents were not rich. In the 1950s a lower-middle-class family of seven could make summers like the ones I have described above happen for a very low cost. Fast forward to the 21st century, that's essentially what the summer camps and summer schools which have sprung up over the past forty years do, namely, to provide an activity-filled day in a safe, well-supervised environment.
The most important caveat when it comes to selecting a summer program is to make certain that you understand all aspects of what is involved. Know everything about the quality of the activities, the supervision, snacks and meals, and all the other details. Assume nothing. Most schools and churches which run summer camps will be happy to answer your questions.
Now let's look at some of the options available to you at various age levels.
Elementary grades
Let's assume that your children's day school finishes its academic year in early June. Taking a few days off, even a week off, will be a decent break from the daily routine. Then send your children in first through third grade off to a day camp which has a morning session. Sign your fourth through sixth-grade children up for a longer session ending at approximately 3 p.m. While elementary school children will enjoy all the activities and being with friends new and old, they need some downtime too. This video shows you some of the fun which awaits young people at summer camp.
Most private schools and many churches offer day camps. These feature age-appropriate extended learning and enrichment programs combined with sports and arts activities. Ravenscroft, a large PK-12 school in Raleigh, North Carolina, offers an extensive array of summer camps. Use Ravenscroft's camp listings and descriptions to get an idea of the kind of summer activities you might want for your children. Then look around your area and see what your local private schools have to offer.
Lacrosse, soccer, swimming, tennis, art, robotics, math, cheerleading, chess, and a host of other activities are what you will find at a well-run, professionally organized summer camp at a private school. Lunch and snacks vary from school to school. So, be sure to inquire about those. Does your child have a medical or physical condition which might limit her participation in some activities? Speak to the summer session director as soon as possible to see if the school can accommodate her.
Middle and high school grades
Sending your child to a sleepaway camp is worth considering for children in middle or high school. If a younger child is comfortable with being away from home, then go for it. Sleepaway camps come in three flavors: traditional, specialty and special needs. As with day camps, do your due diligence carefully. Your child will be a couple of hours or more away from you, so make sure that the camp is well-run, enjoys a good reputation, and is responsive to your communications.
The traditional sleepaway camp has a wide range of age-appropriate activities including sports and the arts designed to make your child's day pass quickly. While the brochures and videos may be helpful to screen a list of camps quickly, I recommend that you visit the camp in person and confirm that everything meets with your approval.
Specialty camps are a wonderful way to nurture your child's talents and abilities in a setting where everything revolves around his favorite activity. For instance, if she loves tennis, a tennis camp will offer nothing but tennis during the daytime. She will receive plenty of coaching, training, drills, and games in the company of her peers who love the sport as much as she does. Nutritious meals and relaxing evening activities round out the day.
If you are the parent of a child with special needs, you will be pleased to know that there are sleepaway camps which will offer your child a safe, happy camping experience supervised by experienced staff. You need a vacation too! This is one guilt-free way of making that happen.
Travel Camps for Teens
Traveling outside the United States has never been more problematic than it is now. Terrorist attacks, transportation strikes, and weather delays are just a few of the variables which a savvy parent has to factor into overseas travel. As a result, I suggest that you use extreme vetting when selecting a teen travel service. Don't take somebody's word for it. Don't believe what you read on social media. Prepare your list of questions specific to the travel and accommodation arrangements. Then speak with the head of the travel service yourself.
Set up a credit/debit card for your teen and discuss how and when to use it. Use Viber or WhatsApp to communicate with your teen. Arrange for her to contact you daily. That's not being paranoid. It's a very practical suggestion because you may hear or see something online or on television which your teen might not be aware of. A quick text alerting her is the smart thing to do. Teach your teen to have a Plan B ready at all times just like you do while traveling.
Websites such as TravelForTeens will help you find a wide variety of travel options.
How to find a program near you
The easiest way to find schools offering summer programs is to search for schools on Private School Review. Start by setting the location using your zip code. Then set the filter for five or ten miles of your location if you are in an urban area. You could look further afield if you live in a rural area. Finally, at the bottom of the screen select the filter for Summer Programs.The following screenshot shows you which filters to use. Review the search results and identify a few schools which will suit your needs. Their websites will have a link to their summer programs.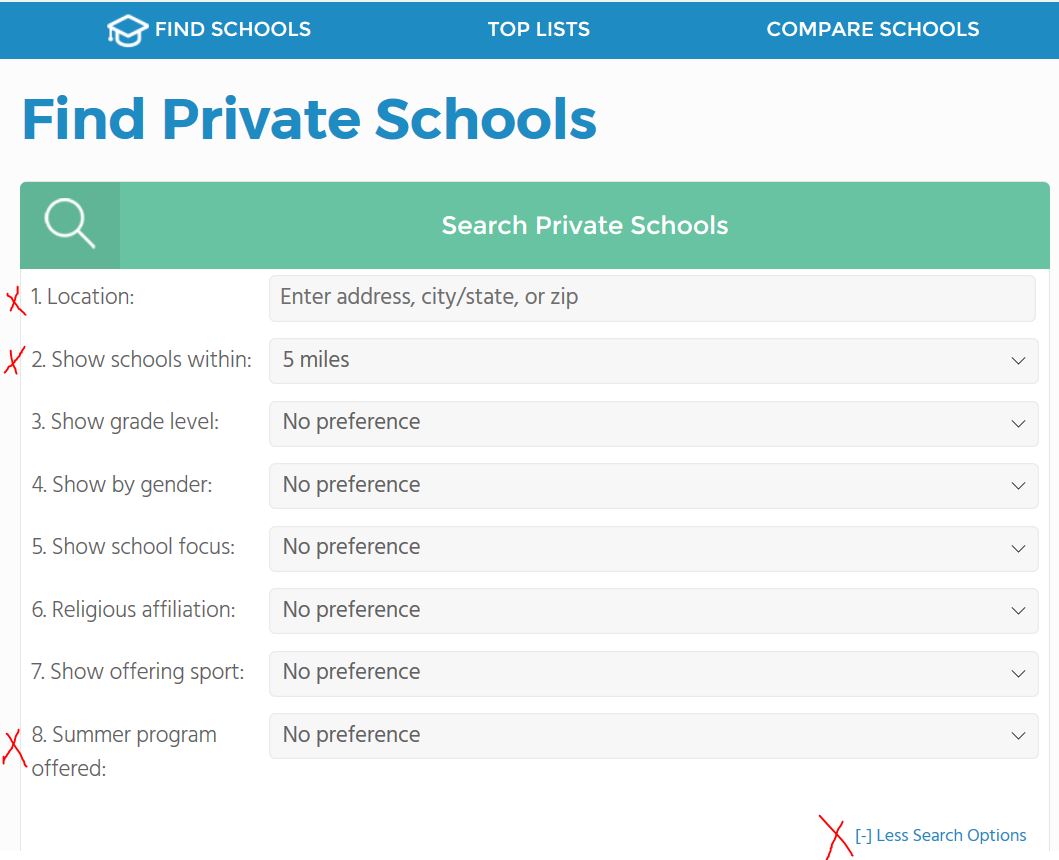 Questions? Contact us on Facebook. @privateschoolreview