How To Search For Schools
Private School Review has a robust search engine which will make your private school search process much easier to do. Here are some tips on how to use this tool.
As I prepared to write this article about searching for private K-12 schools, I had a flash back to the fall of 1986 when we started looking at schools for our eldest daughter. There was no email or internet back then, at least that the general public had access to. We knew friends who had gone to private school. At one point I had interviewed to be the Music teacher at a New England boarding school. But that was it. That was all we knew about private high schools. Reaching further back into my memory bank, I remember enrolling our eldest daughter in the now defunct St. Peter's by-the-sea Day School when it first opened in 1971. When we moved to Garden City, we enrolled her in the Waldorf School of Garden City. These two decisions were fairly easy because we knew the schools which came highly recommended by family and friends. No email or web searches were possible, nor were they needed.
Back to our 21st-century private school search. We have some very powerful tools available to us. Unfortunately, these tools can produce results which can be misleading, confusing or, at worst, useless. Search engines require us to filter the data carefully to eliminate information which we don't need. Useful results depend on the manner in which you word the search terms. Happily, this is not the case with the Private School Review search engine. Our programmers have set up the fields you need to search our large database of over 25,000 private schools easily. Here is how to use our search engine to find schools.
This screen shot shows the Private School Review splash page. As you can see, you have only three fields to populate with your search parameters.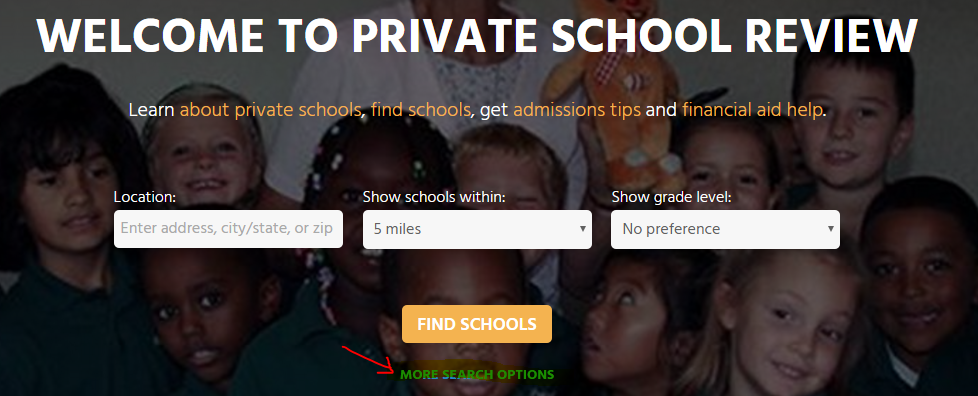 From left to right:

Box 1 - Location: Key in the address, city/state or zip code


Box 2 - Show schools within: Select the distance from the location in Box 1. You can choose from 5 miles to 50 miles. The shorter distances are ideal for finding schools fairly close to you in an urban or suburban area. The longer distances will be useful if you are a searching a rural area.
Box 3 - Show grade level: You can choose from Nursery through Grade 12

Let's take the search engine for a test drive. I entered my zip code of 27615. I set the distance from zip code 27615 as 5 miles. I selected Grade 3. Here are the results. As you can see, our search engine not only returned the information which I requested, but it also anticipated my curiosity about what other schools might be in the area, together with some useful demographic information. It even shows the schools on a map.

Now let's create a more detailed search. In addition to Location and Grade Level parameters, our search engine also allows you to use the following filters: gender, school focus, religious affiliation, and sports.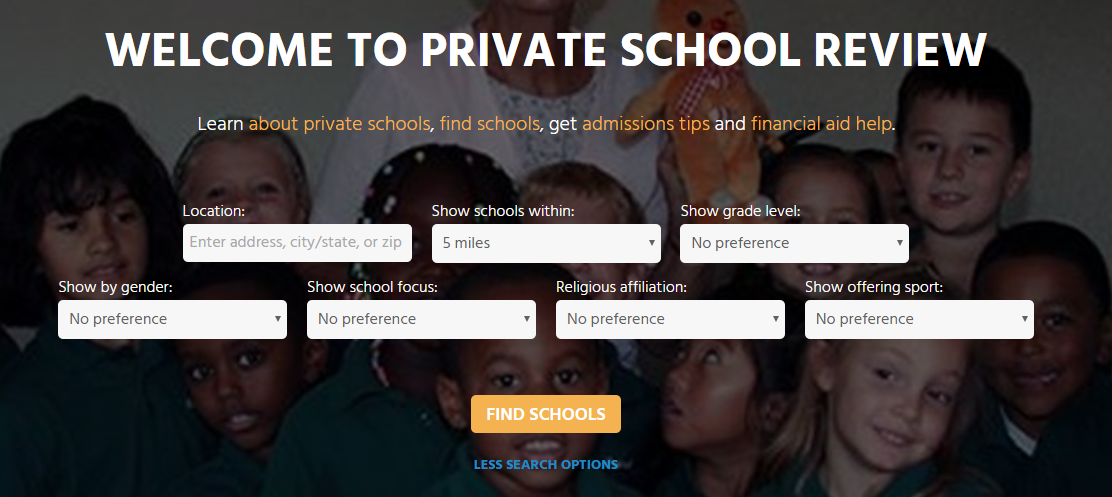 Here is how those filters work.
Gender gives you three choices: Co-ed, All-Girls, All-Boys. This field allows you to filter the data for co-educational schools, i.e., schools which have mixed classes, or single sex schools which serve only boys or only girls.
School focus offers seven choices: No preference, Daycare/Pre-school, Montessori, Waldorf, Military, Alternative, Special Education. Let's say that you are interested in seeing what Montessori schools were in your area. Use the Montessori filter to eliminate all the other school focus options.
Religious affiliation offers a selection of 31 religions together with No Preference. For example, if you wanted to see only the Roman Catholic schools in your area, you would select Roman Catholic.
Finally, you can screen schools in our database by sports. Simply select one of the 56 sports in our database or select No Preference.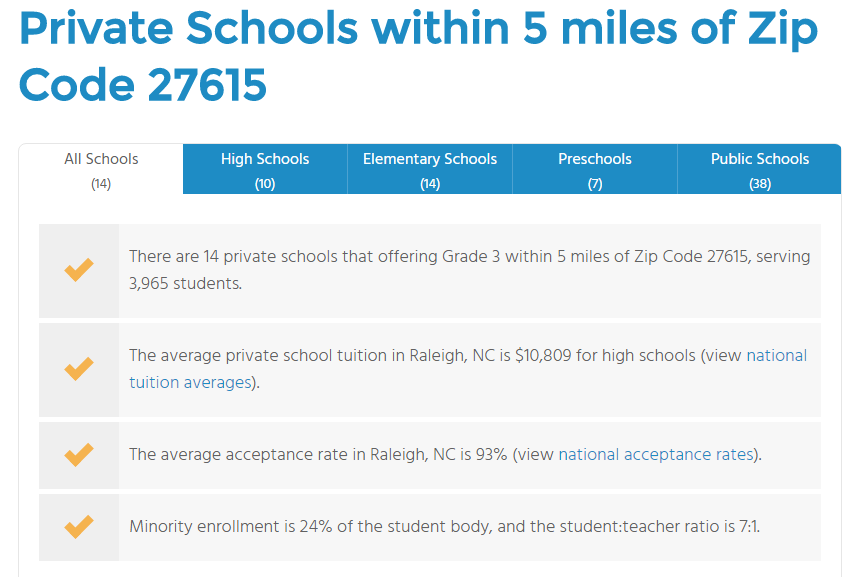 The search results display a list of schools. You will find these below the fold, i.e., further down the page. So scroll down until you see the list. Depending on how you have set up your filters as outlined previously, you could have dozens of schools or only a handful. Click on the school name which you wish to explore. That will take you to a page which displays the school's demographics and other pertinent information. The school's web page will be listed. Click on that link and explore the school's mission, philosophy, academics, sports, and extracurriculars.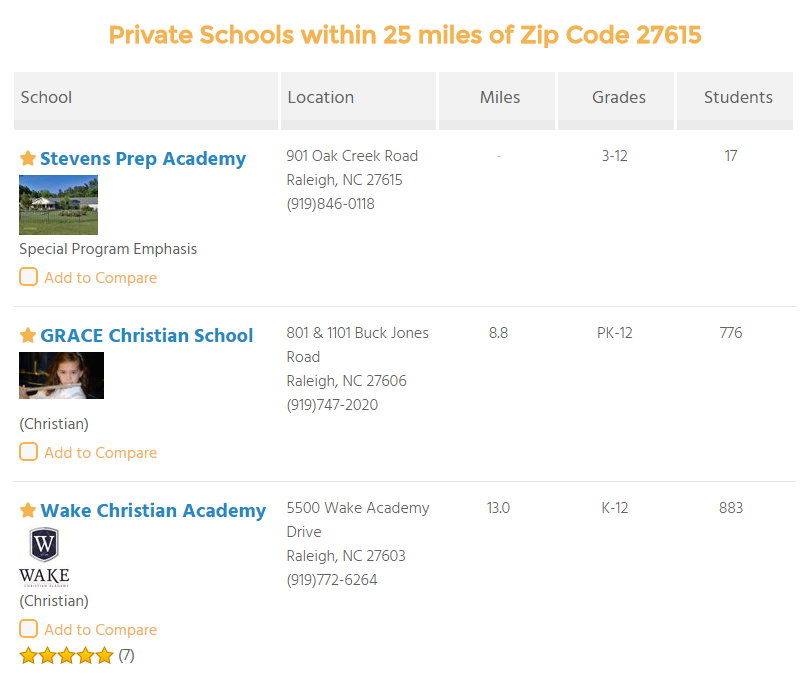 If you like what you see, add the school name and website to a spreadsheet or document which you have opened to track your private school search. You could also use Evernote or a similar application to keep your search data handy and available from anywhere on your smartphone.
Another benefit of using our search engine is that you can think outside the box regarding schools to research. For example, your daughter loves riding. Review all the schools which offer riding. You might just find a school in a location which is compatible with your requirements. The advantage of using a search engine such as ours is that you don't have to physically travel to the school to get an overview of it.
Four other tools will assist your search process. YouTube, Google Maps, Twitter, and Facebook will tell you a lot about schools on your search lists.
Most schools have dynamic YouTube sites. Key in the school name together with its location. For example, "Saint Mary's School Raleigh" will yield 5,010 results. But the only valid YouTube channel for Saint Mary's School is the one shown in this screen shot.

Google Maps will show you the neighborhood where the school is located. In most cases, you can also use Street View to see the neighborhood.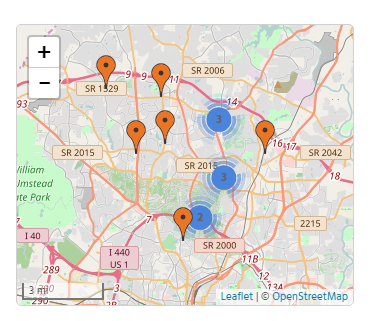 ?
Twitter is useful for following activities and news of schools on your short list. I recommend only following schools on your short list. Otherwise, your Twitter feed will be very active. I can attest to this because I follow several thousand schools.
Many private schools have a dynamic Facebook presence. Again, I recommend that you only follow schools which are on your short list.
Information empowers you to make the right choices in most things in life. This is certainly true when it comes to finding the right school for your child.
Questions? Please contact me via Twitter. @privateschl
If you live outside the United States, choosing an American private school can be a confusing process. Here is an overview of the process.
Many people thought vouchers would never amount to much. Not only have they amounted to a great deal more than anybody could have thought, but vouchers have encouraged several more education choices to flourish.
Now that school has safely reopened, what can we parents do to support and encourage the schools we care about so much?