Not many schools existed in colonial times in our young nation. The dearth of schools makes you wonder what forces shaped the philosophies and thinking of the men who became our first sixteen presidents. In the 18th and early 19th-centuries, formal education usually took place in a small, intimate setting in the home of a minister. Lessons included what we now call core subjects, i.e., reading, writing, and mathematics. Teachers also taught the Scriptures and classical languages.
In pre-Revolution days, occasionally young men were sent off to England to study in boarding or public schools there. Many of these early presidents matriculated to colleges such as William and Mary, Harvard, Princeton and the University of North Carolina, back in the days when these institutions were just becoming established. Politics, agriculture, law, and the armed services figure prominently in the career paths of these distinguished men in many cases. Other presidents came to the job with very little formal education. What follows are snapshots of these remarkable leaders.
1 - George Washington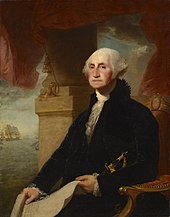 President from April 30, 1789 to March 4, 1797. No party affiliation.
Born: February 22, 1732, Westmoreland County, Virginia, Virginia
Died: December 14, 1799, Mount Vernon, Virginia
Our first President, George Washington, was homeschooled and self-taught. His formal education consisted of lessons in mathematics, reading, and writing. Scholars seem to think that George attended classes with Reverend James Marye, Rector of Saint George's Parish. Such classes in a private teacher's home are considered the precursors of our modern private schools.
When in his teens, Washington's father died. So, instead of being sent off to a private school in England as his half-brothers had been, George had to stop his formal studies in order to manage the family farm. He showed a real aptitude for farming and was very successful at it. For more about Washington see the list of the five best books about George Washington produced by The Christian Science Monitor.
2 - John Adams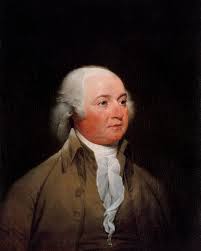 President from March 4, 1797 to March 4, 1801. Party affiliation: Federalist.
Born: October 30, 1735, Quincy, Massachusetts
Died: July 4, 1826, Quincy, Massachusetts
The second President, John Adams, was the eldest child. As such, he was required by his parents to obtain a formal education. At age six he attended a Dame school for boys and girls. Dame schools were an early form of private preschool. Lessons were taught at a gentle lady's home. The curriculum consisted of very basic academic subjects such as reading. Studying the New Testament and helping with household chores was also part of the educational experience, according to the Encyclopedia Britannica. Adams then attended Braintree Latin School under Joseph Cleverly. He won a scholarship to Harvard University at the age of 16.
Book Scrolling offers a list of biographies about President Adams.
3 - Thomas Jefferson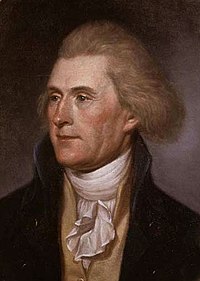 President from March 4, 1801 to March 1809. Party affiliation: Democratic-Republican.
Born: April 13, 1743, Shadwell, Virginia
Died: July 4, 1826, Monticello, Virginia
Our third President, Thomas Jefferson, began his early education at The English School at the age of six. This is what Jefferson called the wood cabin in which he was taught by tutors hired by his father. Jefferson was brought up and educated in the English manner. In 1758 he went on to study Latin and French with a classicist by the name of The Reverend James Maury. In 1760 Jefferson matriculated to The College of William and Mary in Williamsburg, Virginia. During his first two years at the College Jefferson pursued what we would today call liberal studies with a Dr. Small. Following that he studied law with George Wythe for the next five years, and was admitted to the Bar in 1767.
For more about President Jefferson see the list of books about him produced by a Jefferson expert at the Smithsonian.
4 - James Madison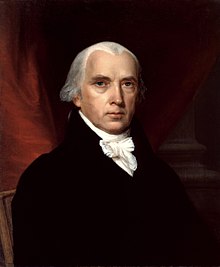 President from March 4, 1809 to March 4, 1817. Party affiliation: Democratic-Republican.
Born: March 16, 1751, Belle Grove, Port Conway, Virginia
Died: June 28, 1836, Montpelier, Montpelier Station, Virginia
The fourth President, James Madison, was homeschooled as a child. In 1762 at age eleven, his father sent him off to a boarding school run by Donald Robertson. The school was located in King and Queen County, Virginia, and was patronized by wealthy families. Madison then studied with The Reverend Thomas Martin in preparation for college. Interestingly, James Madison did not attend the College of William and Mary as you might have expected. This was due to his frail health and the College's location in the damp lowlands. So, off he went to the College of New Jersey which eventually became Princeton University.
For more about James Madison review The Best Biographies of James Madison.
5 - James Monroe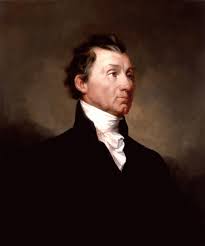 President from March 4, 1817 to March 4, 1825. Party affiliation: Democratic-Republican.
Born: April 28, 1758, Monroe Hall, Virginia
Died: July 4, 1831, New York City, New York
Our fifth President, James Monroe, was born into a family of modest means. Consequently, he did not receive very much formal education at the primary and secondary levels because his parents needed him to work on their farm. Consequently, young Monroe only attended classes for about three months each year.
His secondary education was derailed by the untimely death of his parents, leaving James responsible for supporting his brothers. Fortunately, an uncle took young James under his wing and managed to enroll him at the College of William and Mary. His time there was cut short by the Revolutionary War.
The Miller Center has an extensive collection of resources about our 5th president.
6 - John Quincy Adams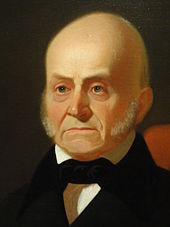 President from March 4, 1825 to March 4, 1829. Party affiliation: Democratic-Republican.
Born: July 11, 1767, Braintree, Massachusetts
Died: February 23, 1848, Washington, D.C.
The son of the third President, John Quincy Adams, was homeschooled by his parents who taught him Latin, mathematics, and languages. Then he was tutored privately by his cousin James Thaxter and his father's law clerk, Nathan Rice. His first formal schooling occurred in Paris at the Passy Academy where his classmates were Benjamin Franklin's grandsons. He briefly attended Leiden University and then in 1785 enrolled at Harvard University. Of note is the fact that John Quincy Adams saw the Revolutionary War being fought and died as the nation was about to plunge into civil war.
Book Scrolling has a list of books about President Adams.
7 - Andrew Jackson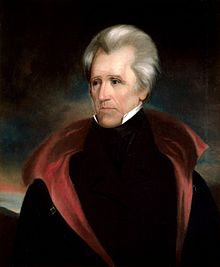 President from March 4, 1829 to March 4, 1837. Party Affiliation: Democratic.
Born: March 15, 1767, Waxhaws, North Carolina (now Tennessee)
Died: June 8, 1845, The Hermitage, Nashville, Tennessee
Born in the Western District of North Carolina in what is now Tennesse straddling what is now the South Carolina line, the seventh President, Andrew Jackson was tutored by some local priests as a child. Jackson was orphaned at age fourteen. He was raised by uncles and studied law in Salisbury, North Carolina. Undoubtedly, Andrew Jackson developed a reputation for being a tough character who was not to be trifled with because of his harsh upbringing. Hence, when he led American soldiers into battle in the War of 1812, he was nicknamed 'Old Hickory.'
American History has a long list of resources about our 7th president.
8 - Martin Van Buren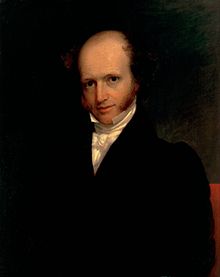 President from March 4, 1837 to March 4, 1841. Party affiliation: Democratic.
Born: December 5, 1782, Kinderhook, NY
Died: July 24, 1862, Kinderhook
Our eighth President, Martin Van Buren was the first President born in the United States. His parents were Dutch immigrants of modest means who had settled near Albany. Van Buren received a basic education in Kinderhook's one-room schoolhouse. Then he briefly studied Latin at the Kinderhook Academy and at Washington Seminary in Claverack before articling with a local law firm. He was admitted to the New York Bar in 1803. However, perhaps the most significant education young Van Buren received was in his father's tavern which was a gathering place for politicians. Many historians attribute Van Buren's political astuteness to being exposed to those conversations and discussions.
Presidential Museums has a collection of books about President Van Buren.
9 - William Henry Harrison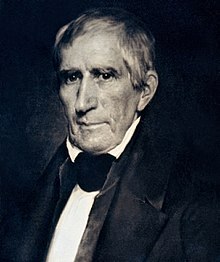 President from March 4, 1841 to April 4, 1841. Party affiliation: Whig.
Born: February 9, 1773, Berkeley Plantation, Virginia
Died: April 4, 1841, The White House, Washington, D.C.
The ninth President, William Henry Harrison, was the first president to die in office. Harrison was the son of a wealthy English family descended from immigrants who came over to the colonies in 1630. He was tutored at home before entering Hampden–Sydney College at age fourteen. Harrison also attended the University of Pennsylvania where he studied medicine.
Book Scrolling has a list of books about President Harrison.
10 - John Tyler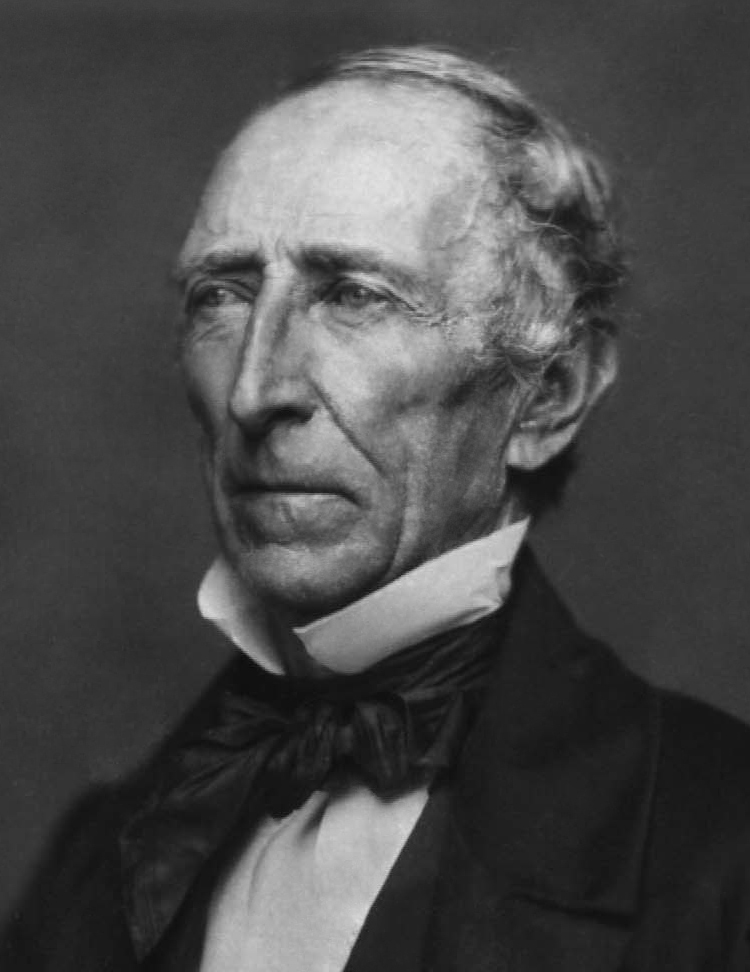 President from April 4, 1841 to March 4, 1845. Party affiliation: Whig.
Born: March 29, 1790, Charles City County, Virginia
Died: January 18, 1862, Richmond, Virginia
Our tenth President, John Tyler, was the first Vice-President to become President. He succeeded President William Henry Harrison who died of pneumonia after only a month in office. Tyler entered the preparatory branch of the College of William and Mary at the age of 12. He had been homeschool and privately tutored before that.
The Library of Congress has a list of books and other resources about our 10th president.
11 - James Polk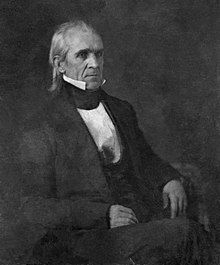 President from March 4, 1845 to March 4, 1849 Party affiliation: Democrat
Born: November 2, 1795, Pineville, NC
Died: June 15, 1849, Nashville, TN
North Carolina native James Polk apparently was a sickly child. He was homeschooled, then attended a private academy in Murfreesboro, Tennessee. In 1816 he matriculated to the University of North Carolina. After graduation, he articled with attorney Felix Grundy in Nashville and was admitted to the Tennessee Bar in 1820.
Alibris has a collection of books about President Polk.
12 - Zachary Taylor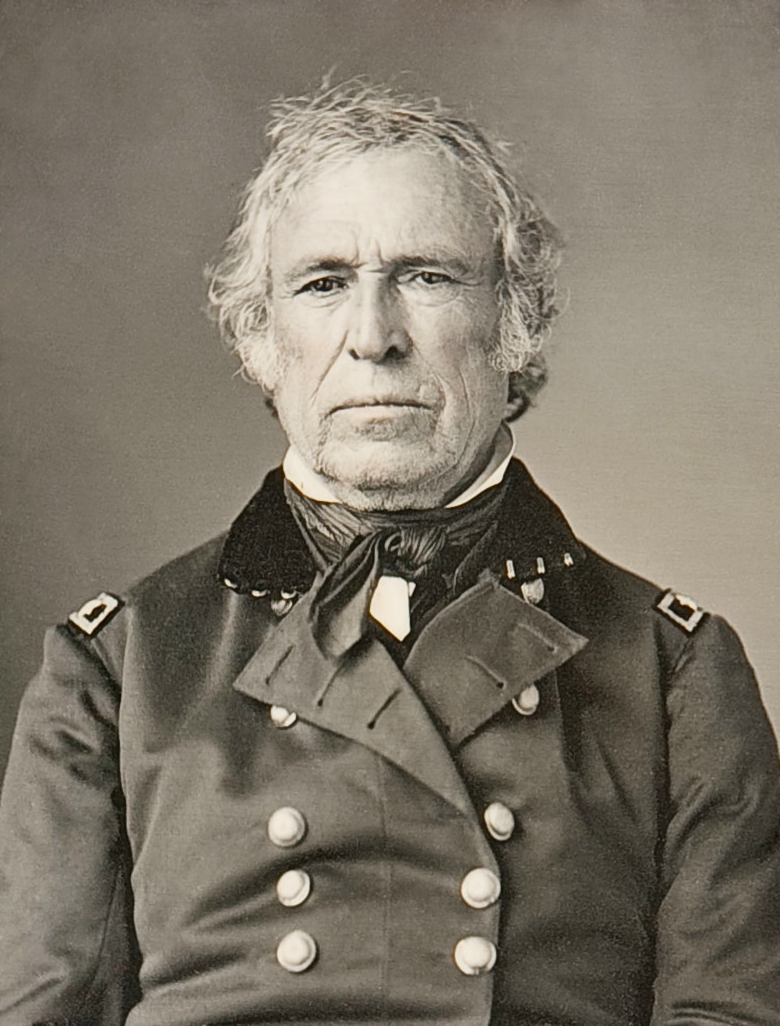 President from March 4, 1849 to July 9, 1850 Party affiliation: Whig
Born November 24, 1784, Barboursville, Virginia, U.S.
Died July 9, 1850, White House, Washington, D.C., U.S.
Zachary Taylor
traced his ancestry back to one of the original Pilgrims who came over to America on the Mayflower. The family had moved to what is now Louisville, Kentucky, where there were no schools. Consequently, Taylor's formal education was meager.
Questia
has an extensive list of books and research materials on President Taylor.
13 - Millard Fillmore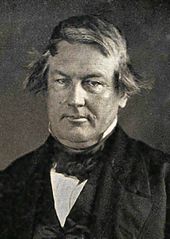 President from July 9, 1850 to March 4, 1853 Party affiliation: Whig
Born: January 7, 1800, Moravia, New York
Died: March 8, 1874, Buffalo, New York
As a young man,
Millard Fillmore
received little formal education in Western New York where he was born. The family was very poor. Fillmore showed an aptitude for learning in general and for legal work specifically. He articled with a couple of attorneys before finally setting up his own practice in East Aurora, New York.
You can find
a list of books
about our 13th president at
Best Presidential Bios
.
14 - Franklin Pierce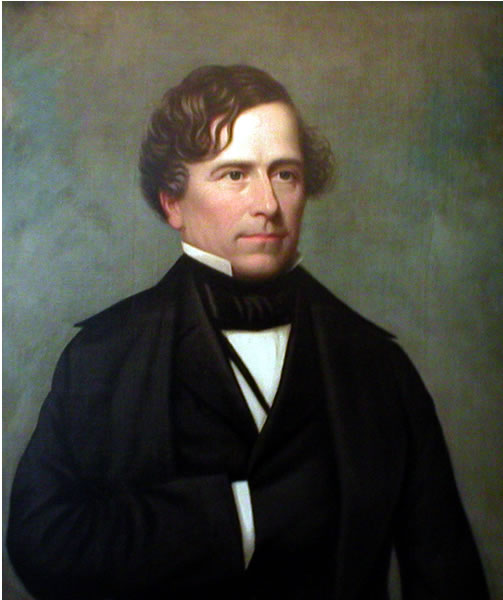 President from March 4, 1853 to March 4, 1857. Party affiliation: Democratic
Born: November 23, 1804, Hillsborough, New Hampshire
Died: October 8, 1869 Concord, New Hampshire
New Hampshire native Franklin Pierce had a father who made sure his son received a formal primary education. Then in 1816, young Pierce attended
Phillips Exeter Academy
in Exeter, New Hampshire. Upon graduation, he matriculated to Bowdoin College in Brunswick, Maine.
15 - James Buchanan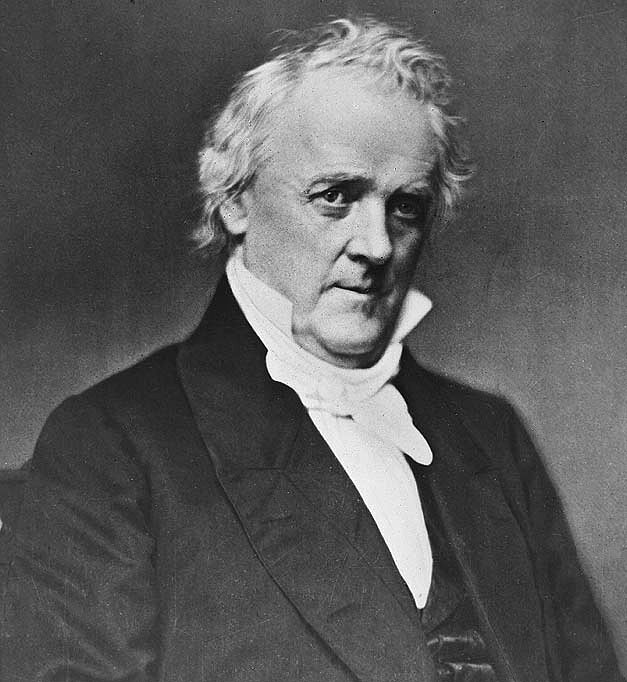 President from March 4, 1857 to March 4, 1861 Party affiliation: Democratic
Born: April 23, 1791 Cove Gap, Pennsylvania
Died
June 1, 1868 (aged 77)
Lancaster, Pennsylvania, U.S.
Pennsylvania's only president was born in
Cove Gap, Pennsylvania
. James Buchanan began his formal schooling at the Old Stone Academy. He matriculated to
Dickinson College
, then studied law with James Hopkins in Lancaster. He was admitted to the bar in 1812.
16 - Abraham Lincoln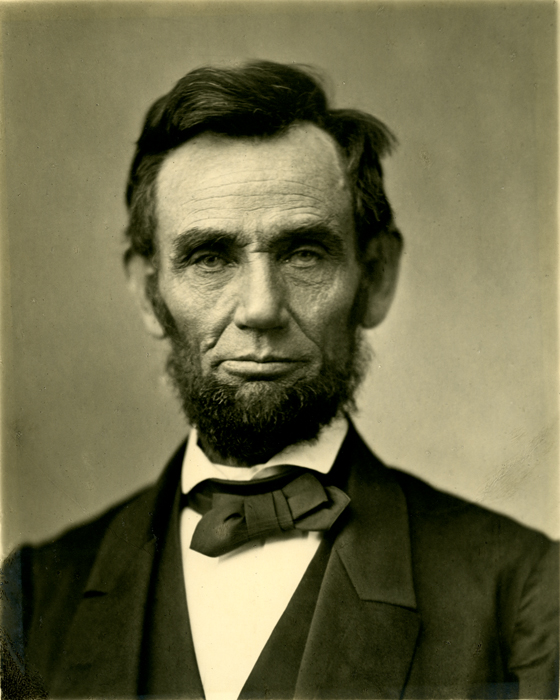 President from March 4, 1861 to April 15, 1865
Born: February 12, 1809 Sinking Spring Farm, near Hodgenville, Kentucky
Died: April 15, 1865 Petersen House, Washington, D.C.
Largely self-taught, our sixteenth president loved to read. In fact, his reading habits were probably what provided him with the knowledge needed to pass the Illinois Bar to which he was admitted in 1836.
More than 15,000 books have been written about President Lincoln. Business Insider has prepared a list of seven books about Lincoln which its editors feel are the best of the lot.
Questions? Contact us on Twitter. @privateschoolreview