Most private schools offer some form of financial aid to help offset tuition. Here is how these programs work in most schools. There are exceptions, of course, because we are talking about private, independent schools. Each school determines how it will handle its financial aid program. No local, regional or national association dictates how financial aid programs will work.
First of all, you have to ask for financial aid. If you don't ask, the school will not know that you need financial assistance. Secondly, you will have to prove that you really do need financial aid by documenting your income and assets. That is where the Parents' Financial Statement comes in. Then, the last thing to consider is that most schools have a limited pool of funds from which to award financial aid. That means that you must submit your application for financial aid as early as you can in order to be considered for a financial aid award.
Here is how The Hill School, Pottstown, Pennsylvania describes its financial aid program:
"The Hill School Financial Aid Program offers assistance to families based upon their financial need and the availability of funds. There are no merit-based scholarships at The Hill School. All awards offered are based on the financial/demonstrated need of the family. Accordingly, no student should be deterred from applying to The Hill due to their family not being able to afford the full tuition. Approximately 40 percent of our current student population annually receives financial assistance. All application materials are held in the strictest confidence as to protect the privacy of our families."
If you require financial aid or even think you might require it in order to send your child to private school, you will probably have to complete The Parents' Financial Statement or PFS for short. Over 2,400 private schools use the PFS. It is convenient and accessible.
A word to international students: most U.S. private schools do not award financial aid for international students. As always, ask to confirm who is eligible for financial aid at the specific school in which you are interested
Using the PFS
The PFS instructions and application can be found on the School and Student Services web site. These instructions are user-friendly and helpful to the first-time user. School and Student Services is an offering of the National Association of Independent Schools. SSS gives you access to over 2,000 schools which use this service to assess the financial needs of parents applying for financial aid from individual schools. As this brief video explains, private schools will do all they can to make a private school education affordable.
What is really helpful about SSS is that you only have to complete the application once. There is a one time fee of $35. And if you cannot afford the application fee, the fee can be waived by using the special fee waiver code which the school will give you.
Online Resources
You know how intimidating some financial forms can be. They use so much jargon and are so unfriendly to people like you and me who are not familiar with financial matters on such a granular level. That is most definitely not the case with the PFS online information. The site has a section entitled Learn. And that is exactly what it does. It walks us through each step of the process with simple, clear explanations.
Complete the Application
The Parents' Financial Statement Family Guide to Financial Aid takes you through each step of the process. Remember that you only complete the PFS if the school asks you to. After completing the application, you pay for it - currently a $35 fee - and submit your application. This will do two things: it sends your application to the schools which you have selected and it gives you an estimate of the kind of aid which you can expect to be offered. Now, you must realize that the SSS estimate is only that. Each individual school will determine the amount of financial aid you will receive based on the available pool of funds which each school has available. Actually the schools look at financial aid from the point of view of how much you will contribute towards the fees. That is really what the PFS helps the schools determine in an objective manner. Here is another video illustrating the proactive approach most private schools take with regard to tuition assistance.
Observe the Deadlines

The Parents' Financial Statement is available the first week of November for applications for the following academic year. For example, you would complete the form in November for fall 2016 admissions.
Completing the PFS online is not a time-consuming process. But you definitely do not want to leave this to the last minute. You will have to upload documentation to support your applications including W-2's, bank and mortgage statements, investment statements and so on. Assembling all these documents, scanning them and uploading them takes time. If you prefer to mail your documentation, you will need to allow an additional 10 business days before the school's financial aid deadline in order for those documents to be processed. Here is a screen shot of the PFS page to show you how very user-friendly this site is.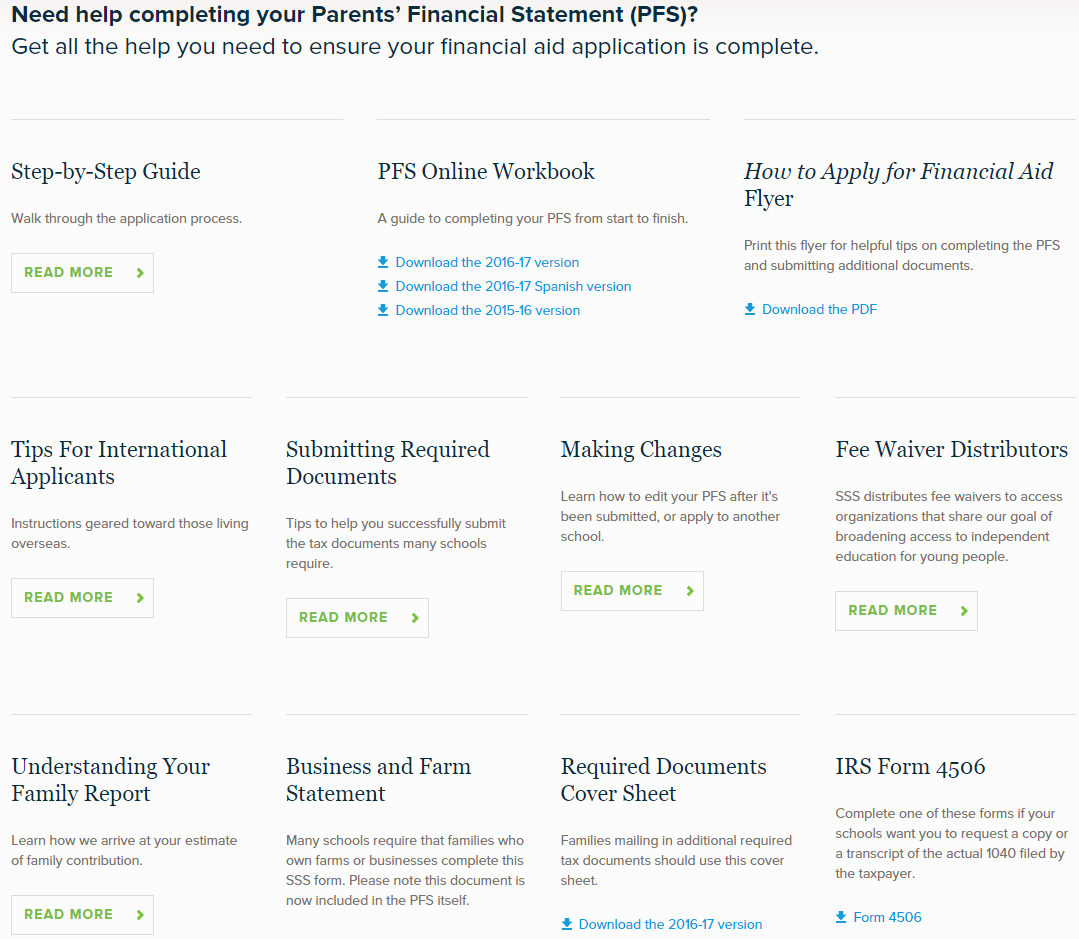 The SSS Workbook instructions explain all the steps clearly. You should have no trouble organizing your application information and documentation if you follow those instructions. Furthermore, the instructions have helpful tips and examples as well as answers to most common questions right online as you complete your application. But if you get stuck or have a question which is not answered by any of the online materials, SSS Customer Service is available via phone and email in English and Spanish.
Why do awards vary from school to school?
You will probably notice this when you apply for financial aid at several schools. The amount of the award is different from school to school. That happens for two reasons: the amount of the financial aid pool at each school and the number of applicants requesting financial aid. Those are the two variables which will make financial aid awards different.
What do I do when the financial aid award is not enough?
The first thing to do is to discuss this with the school as soon as possible. Then review your other tuition payment options.
Remember that private schools are committed to helping as many families as they can. St. Andrew's School, Boca Raton, Florida expresses their financial aid philosophy as follows:
"In order to make this experience a reality for as many students as possible, we are committed to a financial aid program and payment plan options that enable qualified students from all cultural, racial and socio-economic groups to attend. In short, our financial assistance programs allow Saint Andrew's School to enroll deserving students who may not otherwise have access to an independent school education."
Questions? You can contact me via Twitter. @privateschl