Mountain Springs Preparatory Academy
Mountain Springs Preparatory Academy is a transitional boarding school which helps students graduating from either a residential treatment level of care or wilderness program to prepare for their next step in life.
MSPA is not a therapeutic boarding school but therapy is available from trained professionals in the community who work with MSPA and understand our unique mission and philosophy.
MSPA is focused on helping students acclimate back into society.
We utilize a solution-focused model that allows students the opportunity to make choices and assess how much the students have internalized the skills they have learned in their prior treatment.
Rather than using behavioral consequences with the students, our mentors utilize supportive relationships as the agent for encouraging change.
Education at Mountain Springs Preparatory Academy combines the best of traditional education with a unique emphasis on building self-esteem and addressing core issues.
Grades: 9-12
Enrollment: 31 students
Average class size: 8 students
Application Deadline: None / Rolling
Source: Verified school update
School Overview
School Membership(s)
School Assoc.
Grades Offered
Grades 9-12
Learning Difference Programs
Yes
Student Body
Total Students
31 students
Students by Grade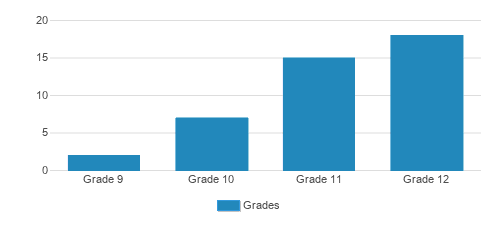 Academics and Faculty
Total Classroom Teachers
6 teachers
Average Class Size
8 students
Classroom Dress Code
Casual
Tuition and Acceptance Rate
Admission Deadline
None / Rolling
Source:
Verified school update
Frequently Asked Questions
When is the application deadline for Mountain Springs Preparatory Academy?

The application deadline for Mountain Springs Preparatory Academy is rolling (applications are reviewed as they are received year-round).
School Reviews
5
2/20/2022
I came to MSPA after wilderness therapy and was received with open arms by both the faculty and staff. The way that the therapeutic program is scheduled is much more flexible than most therapeutic residences. The teachers are wonderful, kind, and accessible. All of the staff are wonderful caretakers and role models. There are plenty of community-fostering activities, and while all students are supervised at all times, it does not feel suffocating. MSPA's Bridge program (for independent living) prepared me very well for the selective university I now attend. Especially in transitioning between wilderness and the "real world", MSPA is absolutely the best option. I have nothing but high praise for the institution and the people who operate, represent, and uphold it.
5
11/9/2021
As a parent, we feel very lucky that our son had an opportunity to be at MSPA and I can't say enough good things. What a great place for teen boys and girls to learn responsibility, structure, and leadership! It is quite an overwhelming and difficult decision to leave your child in the care of someone else. We were desperate to get him away from surroundings that were enabling him to get into trouble. We did extensive research on other boarding schools, and MSPA appealed to us the most, especially because of their highly structured environment, dedicated and caring staff, and unique programs like Bridge. This program is designed to ensure that students meet their full potential and are ready for the challenges of higher education, successfully navigate social situations, well prepared for life and a great future. Most importantly, MSPA prepares students to become confident, and ethical. Our son was there for one year, he has been doing great since he came back home. He shows more maturity and leadership skills and is taking responsibility for his actions. He is doing excellent in college, and he seems to be at peace. Our son respects us, and he is much more careful who he surrounds himself with. The teachers and counselors went out of their way to help our son to succeed, he was able to graduate from high school at age of 16 and became a student at Southern Utah University while finishing high school. Greg, our son's adviser, is an angel on earth that truly cares about each student. We are forever grateful to these wonderful people for their positive influence on our son, they truly care about the well-being of the students, their health, safety, and success. Our family would recommend MSPA to any family struggling with a teen that has lost his way and needs to be redirected again to live a life with the love of family, respect, and responsibility. They helped our son get on track, accelerate through school, give him optimism for his future and new hope. Most Sincerely, Oksana
5
7/20/2021
My daughter came to Mountain Springs after 3 months in Wilderness followed by 15 months at an RTC. When she was younger she thrived in school, enjoyed her friends, loved summer camp where she became a counselor. Then she lost her way in 9th Grade in some very serious ways. Her light went out. She was isolated and living a secret life. It`s so hard to see as a parent and then to realize you need outside help. In treatment, she worked hard on herself. We worked hard on ourselves as a family. Slow and steady. By the time she completed the therapeutic program she still had about 6 months left of course work to graduate high school. Mountain Springs provided so much more than just a place to accomplish that goal. Honestly, she didn`t want to go to a transitional program. Yet the first week she was there she was FaceTiming from the Student Rec Center so I could see her friends and what she was up to. She was able to have an interactive classroom experience. She became an A student, involved and participating. She got a part-time job in town. I was particularly impressed by how many fun activities they had for the students. The best was a trip to the Channel Islands for a week. Her advisor Jordan was one of the chaperones. Jordan was just the right person for both my daughter and me at this point in our treatment journey. A straight shooter( otherwise, what`s the point?) but in a very respectful, non-punitive way. I would say that`s the overall tone at Mountain Springs. It`s about providing practical support to launch. They were very willing to work with us. I`d also like to acknowledge Shawnee, the Director of Admissions. She has the heart and grounded, practical perspective for this work. We all drove to Utah to pack up her belongings. It was wonderful to see her excitement showing us everything, introducing us around. It`s a great campus and being in Cedar City is so convenient. I`m incredibly grateful to Mountain Springs. Thank you.
5
10/9/2020
We highly recommend MSPA based on our positive experience with our son. He attended MSPA his junior year after Wilderness Therapy. Initially he was resistance to attending but thrived at MSPA. The professionals and staff were incredibly supportive, non-judgmental, and skillfully helped us navigate our son's challenges and family dynamics to embrace change. He connected with his excellent therapist Scott and make personal changes. MSPA provided a healthy structure while promoting self reliance, independence and personal responsibility. His adviser and the teaching staff partnered with him to address missed credits and learning deficits, as well as tailor the curriculum to his interests and strengths. Our son progressed to independent living in the Bridge House building his confidence for life after high school. He previously overused tech and now has a variety of new healthy hobbies and interests that were supported and encouraged at MSPA. The milieu fostered being your authentic self and empathy toward others. Challenges remain, but we have the foundation and tools to stay on a positive trajectory.
5
9/21/2020
Our daughter chose MSPA at 18 after 2 years of intensive treatment--first with Wilderness therapy and then in a residential program. It was hard to imagine how she would be able to transition back to living a "normal" teen existence having been out of the world for so long. MSPA did a great job of riding through her inevitable regressions and gently but firmly pushed her forward. Her advisor/point person was fabulous--completely unflappable but also quite insightful as to her emotional needs, as well as being terrific about being available to us as parents. The school does a great job of being flexible to meet kids where they are and encouraging them to advocate for their own needs. The hands-on staff who work with the kids daily are well-trained, solid and loving. Its a great model, particularly for kids on the brink of "adulthood."
5
9/21/2020
Definitely 5 stars for MSPA! It is a excellent transitional school. We were hesitant at first about the mix of boys and girls, but MSPA provided an environment of structure, support and practice that helped our daughter improve her interactions with both boys and girls and build confidence in herself. All of the staff are smart, caring and committed. They go above and beyond expectations. On many occasions they were engaged and communicating with us (parents) on their time-off when issues occurred. I highly recommend MSPA!
5
9/21/2020
We are very grateful to MSPA for all they have done for our son. He attended MSPA for sophmore year, came back home for Junior and then for a variety of reasons ended up going back to MSPA again for senior year. Without MSPA he would not have graduated high school, with MSPA he got back on track, finished high school and is now figuring out where from here. No school is a panacea and the things that made it hard for him in the past are still there, but MSPA made the difference at a time when nothing else was working. Staff were great and went the distance to configure options that worked for our son. I have told MSPA that I am glad to talk to other parents considering MSPA anytime.
5
2/29/2020
My husband & I could not have been happier with MSPA for our daughter. From admission to Graduation (she spent her senior year there), it was a wonderful, caring place for her & our family. The staff is amazing, from her dean, who was extremely knowledgeable & accessible & who helped her stay on track academically & clinically, to her teachers, to the nurse, to the team leaders & other staff. Everyone treats the students like adults, giving them the freedom teenagers crave, while providing structure & support. We were also very pleased with her therapist, who was instrumental in helping our daughter, as well as our family, move forward in a positive direction. Honestly, I can`t think of anything Mountain Springs could do better. It surpassed all our expectations & I wholeheartedly recommend it.
5
8/29/2019
Our daughter spent a year at MSPA. The staff, teachers and her dean were amazing. They have seen it all and know how to deal with the individual student. Our daughter did well academically and her teachers held her accountable. Her dean was an excellent communicator and very supportive. Our entire family was involved in every step of the way. The program at MSPA allowed our daughter to practice her skills and regain independence in a structured environment. We do not regret our decision to send her to MSPA.
5
11/2/2018
Our family will forever be grateful to MSPA. The staff is what makes the difference. They are truly talented, love what they do, and care about your child. It is always very scary to leave your child in someone else's hands, especially when you have been on a rough road getting there. MSPA is totally competent to keep your child safe in times of struggle, and able to provide space, freedom, and growth opportunities as they are ready. They told us at the beginning that they want the students to "mess up" while they are there so that they can use it as a learning experience. Rather than hit the students with just punishments, loss of privileges, an judgement, they took each fumble as a serious moment to have the student reflect, think through their decision, and discuss it - rather than shaming them, they encourage them to be their best and believe in them. I often said I think every senior should go to MSPA for a year. The dean is there to teach them life skills and challenge them personally to make plans for their future and become responsible and independent. Ours called us once a week to keep us updated. There were notes communicated to him from all parts of the the program and campus with feedback from different situations. It was so encouraging to be kept in the loop in all aspects. The teachers were outstanding. They helped my son get back on track academically and he took off and caught up faster than we ever expected. He was motivated to work hard and had a the support he could want. Everyone, from the director to the overnight staff made you feel welcome and at home. Its a special place - you almost don't want to leave! I do not know where we would be without MSPA.
5
8/11/2018
My son was a student at Mountain Springs Preparatory Academy about a year ago. He had a marvelous experience there as a student and we as parents also had a great experience. Our experience started when we referred to MSPA by our Education Consultant. We spoke first to Shawnale, the Admissions Director. She was so helpful and helped us with a tour and then with the process of admission. Our son received the support he needed each and every day from his teachers, his Dean and from his off campus therapist. He had learned many skills prior to coming to MSPA when he was in a wilderness program. He then was able to expand on those skills learning even more good skills of independence at MSPA. The small class sizes were essential for him and he did really well in school. Overall this was a fantastic experience.
5
8/11/2018
My son attended MSPA to finish high school, after wilderness therapy and a residential treatment center. Our Educational Consultant told us that there`s no other school in the country like MSPA. It provides a safe, supportive environment where teens, with paths like my son`s, earn increasing amounts of freedom and independence and can make and learn from mistakes without retribution. After highly restrictive therapeutic communities, MSPA helped my son reacclimate to the freedoms of the real work. Students have a Dean at the school with whom they meet regularly to discuss their academic and personal progress and challenges, and who has weekly progress calls with parents. My son loved his Dean, dropping in for daily "chats," confiding in him and growing to trust his guidance. He had genuine fondness for other Deans and staff, believing they had his best interests at heart and treated him with respect. This helped motivate my son to graduate high school and the MSPA program. Students at MSPA work with a therapist within the Cedar City community. They interview therapists themselves and choose with whom they want to work. My son`s therapist helped him tremendously, profoundly shifting his perspective and behavior. We also did family therapy once a week to further improve our family dynamics. Academics at MSPA are very solid. My son, who is intellectually gifted, felt appropriately challenged in his classes. While he was there he was tutored for and took the SAT for college applications. Some students take classes at Southern Utah University, which is also in the town. MSPA teaches a resume writing class and budgeting and finance management. My son was encouraged to volunteer in the town and apply for a part-time job. He had the opportunity to go on weekly outings, including movies, dinner out, skiing at nearby Brian Head ski resort and trips to St. George. He made frequent home visits during school breaks. Students can also participate in school-organized trips within the US and abroad during breaks. By giving my son the chance to make choices--both good and bad-MSPA helped him identify his triggers and the areas where he gets caught up. He discovered in the process that making good choices makes him feel good--an invaluable lesson for an oppositional, defiant teen.
5
1/25/2018
MSPA teaches to the student, not a script. My daughter just completed her junior and senior year in 12 continuous months at MSPA after 10 weeks with Evoke's Wilderness. MSPA teachers are exceptional with class sizes ranging from three to five students. There is no where to hide, making the educational hours productive and tailored to the students individual strengths in learning. John Butler and Greg Allred were excellent counselors, Craig Rodabough was an inspirational and compassionate therapist who I wish lived here in Denver as I would spend time with him, John Larson and his team are prepared to address the ups and downs of a program as intense as this is. There was drama when my daughter was emancipated in May, seven months before her graduation this December (2017) and chose to stay through graduation. The staff, deans, support staff and teachers love what they do and this is evident in the customization of their approach to each students needs. My daughter has been admitted to the half dozen universities she has applied to and will be starting in the fall. I am blessed as is my daughter from our time at MSPA.
5
8/2/2017
Our daughter attended and embraced Mountain Springs Preparatory Academy`s (MSPA) program from 08/2015 through high school graduation 05/2017. It was an excellent transition program from intensive residential treatment to real life. I always describe MSPA as a place most beneficial in getting kids back on track with academics and life when only a lightly-therapeutic approach is needed. Our daughter`s academic advisor and the whole MSPA team customized her program and challenged her. She embraced the live classroom academics, concurrent enrollment with Southern Utah University, Cedar High School and Southwest Applied Technology College, the challenges and learning associated with a co-ed environment, working part-time as a volunteer veterinary technician, staying physically active with mixed martial arts, skiing, water polo, and scuba training, and preparing for college with ACT, SAT, AP coursework, college applications. She also trained as an emergency medical technician and has her advanced emergency medical technician certification. Our daughter embraced independent living in the Independent Living House at age 18 and transitioned to her own apartment for the final 8 months prior to graduation. Our daughter is mentally and physically healthy AND she is going to college! It has been a long road. MSPA truly has been a blessing to her and to her us!
5
5/13/2017
Our son first went to a wilderness program followed by a residential treatment center and concurrently at MSPA. MSPA has plenty of structure with excellent coaching. It is a very goal oriented environment so kids can experience success and failure, rewards and consequences. They also let kids off site, for therapy which is independent of the program, and other activities. The kids get to learn how to be independent as they progress through the program. We are happy that our son landed at MSPA - he will finish high school and start college nearby under the guidance of their staff.
5
5/20/2016
Mountain Springs Preparatory Academy has been, and continues to be, a great school and program. I have seen so many students thrive in this school. I love seeing students graduate with a high school diploma who tell me that they had given up hope of ever seeing that day come. The individual attention that each student receives from the small classes and caring teachers makes it impossible for them to slide by unnoticed, and nearly impossible for them to fail. The variety of educational opportunities is amazing. Besides the course offerings available in the Mountain Springs classes, students often take concurrent enrollment classes at Southern Utah University and/or classes at Southwest Applied Technology College. These students then leave with a high school diploma, as well as university credits and skills certifications that open up valuable career options. The transformation I have seen in so many students over the years has been marvelous.
5
5/20/2016
Mountain Springs Academy was a very positive experience for my son. While initially adopting the same attitude he had at previous programs ..this doesn't work.I hate it here ..nobody here knows what they're doing and they don't care about me ..he eventually realized the staff and environment at Mountain Springs were exactly what he needed. He made friends, invested in himself and the program, became more respectful, and thrived academically. The change we saw in him from the time he got there to the time he left was one of the most dramatic in his life. As a parent, I also found the staff to be wonderful. They are available and caring and that attitude has lasted even after my son's time there. I still contact Ariel for advice years after my son's time at Mountain Springs! I highly recommend it to other parents.
5
5/20/2016
Mountain Springs provides an important and unique opportunity in the vast array of boarding school options. We are specifically designed as a practice, step-down, environment for students who have completed a residential treatment placement or wilderness therapy program. Having worked here in many different positions since 2006, and now being the Assistant Head of School, I know that we provide a meaningful service to this select population of high school students and their families. I have seen students truly apply what they have learned in practice and not just in theory. I have seen families heal and students become ignited with a passion for living a life worth living. I love going to work every day and helping these teenagers grow stronger internally day by day. This school is consistently open to student and parent feedback and improvement. We have a student government and ways for students and parents to advocate for changes to policies and practice. In this way, we are continuously open to improvement.
5
5/17/2016
MSPA provided very good classroom instruction and a positive environment for our son Sean. He responded well to the personalized instruction and aced his college-prep courses. This was a dramatic turn-around from Sean's academic performance a year earlier when he received all Fs. Sean attended MSPA after completing the program at Island View in Salt Lake. Island View helped a lot in Sean's turn-around. MSPA provide the right environment for Sean to continue his progress. Sean wanted to attend college after graduation, but didn't start looking at schools until late January. We were impressed by the individual counseling and encouragement that Ariel provided. Sean was able to get into an excellent college and enrolled the following September.
5
5/17/2016
I am an alumni of Mountain Springs Preparatory Academy. I can honestly say, MSPA helped me personally and academically. I got to graduate a year early from high school. During my time at MSPA, I made a variety of friends and some of these friends have become fairly important to me. MSPA doesn't judge based on anything. They accept and help everyone who is admitted to the school, if the students'' are dedicated to receive help and such.
5
5/17/2016
Mountain Springs is an excellent school designed to help get its students back on track with real world experiences to learn from. Before MSPA I went to a wilderness program, and even though I was under the initial impression that 8 weeks in the middle of nowhere was enough, I would have slipped back into my old self if I went home. Mountain Springs gave me a place I could challenge myself. When I slipped I had people there who genuinely cared and who would help me back to my feet, and when I succeeded, I had people who believed in me. This is still the real world and if I did not want to change it did not matter where my parents would have sent me, I would have failed. I learned I wanted to change because the old me wouldn't have even half the life I have now. The people who work at Mountain Springs are some of the best people I have ever met in my life and I am thankful for them for every day I have where I am not the old me.
5
5/17/2016
The staff and teachers are very caring and get to know each student in order to motivate them to work on what they individually need. The classrooms and houses are clean and organized. Students are accepted unconditionally and feel they belong. Our daughter attended and had a positive, growing experience where she learned to deal with life's ups and downs in healthy ways.
5
5/17/2016
MSPA was a transforming juncture in our daughter's journey. The milieu of staff, students, school, peer socializing, activities, responsibilities, accountability created a real life setting for growth in a safe environment. The staff's dynamic engagement with our daughter was a surrogate for our love at a time when we did not have the skills or energy to reach her with our love. We were locked out of her world. MSPA is unique. There are many schools on the web that have glossy websites and promises. My sense is that MSPA is in a class of their own. The school is a gold standard for staff that cared for our daughter 24/7 in a deeply meaningful way. Their words and actions reflected an unwavering belief in her and love for her. MSPA stands out in the application of a matrix system that offers students and parents a concrete chart of the baseline and the progress of growth. The program facilitates the integration of meaningful behavior change. This is vastly different from the behavior of compliance-only-to-graduate from other programs which results in superficial change and the return to old behavior patterns once students graduate. This is not a nuance. It is the difference between an investment of time and money and a waste of time and money. Our daughter graduated four years ago. She has integrity and is growing into her values. There are opportunities within her grasp that without MSPA would not have been an option.
5
5/12/2016
In 2012, I began my sixteen month long journey at Mountain Springs Preparatory Academy. I came to MSPA as a scared and lonely sixteen year old girl with a sassy and resistant attitude. After all, this was my fifth treatment center, it was understandable I was a bit frustrated! I won't say Mountain Springs is a walk in the park. I learned very quickly that in order to change, one must want to change, and at first I was very resistant to this thought. That being said, once I made the decision that I could not continue living life the way I was living it, the students and staff alike were there ready to support me. I became a straight A student, got involved with triathlons and horseback riding outside of school, was voted to be Vice President of student council by my peers, helped put on MSPA's first prom and truly learned to love my life. I am now an Honor's student at University of Portland and am working for my school newspaper (one of my three jobs). None of this would have been possible without Mountain Springs. I continue to stay in touch with two of my mentors, Greg Allred and Scott Jakubowski. I would absolutely recommend this school to anyone who needs a little extra support. With a little hard work and dedication, Mountain Springs has changed my life for the better and has made me realize, I can conquer the world! Thank you MSPA!
Endorse Mountain Springs Preparatory Academy. Endorsements should be a few sentences in length. Please include any comments on:
Quality of academic programs, teachers, and facilities

Availability of music, art, sports and other extracurricular activities

Academic or athletic awards
Children With Learning Differences: How To Proceed
Facing the reality that your child has learning differences is never easy. But with a diagnosis from a qualified professional, and skilled experienced teachers who know how to remediate those differences, your child can learn to handle her differences. More here.
Enrichment Resources For Children Ages 10-14
I asked ChatGPT to list apps, YouTube Channels, and podcasts suitable for enriching the studies of students ages 10-14. (We'll look at resources for younger and older students in another article.)
Designing Assignments In The ChatGPT Era
AI (Artificial Intelligence), specifically ChatGPT, poses some serious challenges for teachers. We explore the importance of teaching students how to attribute the work and ideas of others.