University School is an independent, co-educational, non-sectarian school that offers a challenging and individualized curriculum.
It fosters high academic achievement and emphasizes balanced growth - intellectually, physically, emotionally, ethically, and socially - for every student.
Within a highly supportive community, University School is committed to maintaining a caring and creative environment that encourages children to love learning, take intellectual risks, self-advocate, treat others with respect and empathy, and aspire to make a positive difference in the greater community and world.
Grades: 3-12
Enrollment: 77 students
Yearly Tuition: $11,550
Acceptance rate: 60%
Average class size: 10 students
Application Deadline: Jan. 31 / rolling
Source: Verified school update
School Overview
Grades Offered
Grades 3-12
Student Body
Total Students
77 students
Students by Grade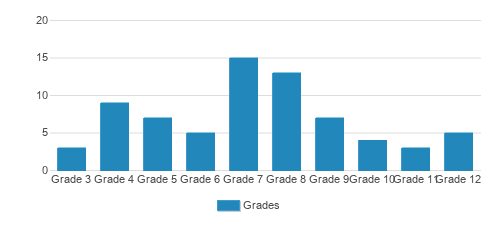 Academics and Faculty
Total Classroom Teachers
12 teachers
% Faculty w/Advanced Degree
Average Class Size
10 students
Matriculation Data
Matric. Data
Classroom Dress Code
Casual
Logo-embroidered collared shirt and khaki/navy bottoms
Tuition and Acceptance Rate
Admission Deadline
Jan. 31 / rolling
Tuition Notes
The costs of Learning Outside the Classroom experiences are included in tuition, and the historical data for tuition and fees can be found on our website.
School Notes
University School is for students who strive to be high-achieving, and we value most the student who is kind, hardworking, empathetic and intellectually curious. The student body ranges from students with grit and determination who are working hard to reach their full potential academically to well-rounded students who are dynamic leaders and mentors to academic prodigies who refine their gifts while advancing their social and emotional skills. The result is a unique and varied collection of students who benefit from an array of learning experiences, on and off campus, that open their hearts and minds. The result is an individual who can thrive in a wide array of settings and can excel in working with all types of people.

Grades 3-12.

USL students come from across the tri-county area: Charleston, Daniel Island, Folly Beach, Isle of Palms, Mount Pleasant, North Charleston, Sullivan's Island, James Island, Summerville, Awendaw, and West Ashley.

University School has been awarded Darkness to Light's Partner in Prevention distinction every year since 2011. We were part of the inaugural class for this, and it honors our commitment to the prevention of child sexual abuse and to helping children grow up healthy and whole. USL faculty is trained in Darkness to Light's Stewards of Children program every August, and all parent volunteers for overnight trips take the same program and have their backgrounds checked.

Our prudent financial model has enabled us to minimize tuition increases and provide an incredible value in relation to our peer national-caliber independent schools. University School carries no debt and has never run a deficit in its history. Although financial measurements will never be a true indicator of the School`s success, some are very important for the long-term health and viability of the school. One of these is how much of every dollar the School spends that goes to supporting its mission. In the case of University School for 2014-2015 (according to our annual independent accounting audit), $0.82 of every dollar spent went back to supporting the mission of the School. For our peer schools, the average is $.70. Approximately 25% of the student population receives financial assistance.

USL is a laptop school. Each teacher and student is provided a wireless notebook computer for use at University School (1 to 1 ratio).

USL features small class sizes and caring teachers.

Students mentor and receive mentoring.

Service and experiential learning foster empathy and commitment to improving the community. Students in all grades contribute 30-50 hours of service to the community each year.

The student culture emphasizes civility and gratitude,

The world is our classroom, and students explore and experience it first-hand through over 30 field trips per year through our hallmark Learning Outside the Classroom program (LOTC).

All students participate in our job shadowing program to explore careers of interest.

Each student in grades 3-8 learns Mandarin, Latin and Spanish. USL is the only school in the state that has students receiving high-level instruction in three languages at the same time.

Students in grades 9-12 make their own decision about the global language(s) they would like to study.

Head of School Jason Kreutner received SCISA's Dr. Charles S. Aimar Educational Leadership Award (Headmaster of the Year) for 2013-2014, which is presented annually to the most outstanding leader among the association`s 100+ schools.

State Middle School Math Meet Champions (2013-2014, 2015-2016, 2016-2017) and Runners-up (2014-2015).

State High School Math Meet Runners-up (2015-2016).

State Middle School Quiz Bowl Runners-up (2014-2015).

High School Quiz Bowl Region Champions (2015-2016).

For 2015-2016, four USL students were named Scholastic Art and Writing national award winners, and University School won 4 of the 50 national awards for writing that students in South Carolina received! We had 17 regional Gold Key winners, and they proceeded to the national competition. National medalists represent the top 1% of submissions to the 2016 Scholastic Awards. This competition is for 7-12th graders, and this year our 7th-11th graders entered 120 works of fiction, nonfiction, personal memoir, and poetry and received an amazing 94 awards at the regional level! 84% of our students were honored, and over 90% of our 8th graders garnered an award for writing in 7th or 8th grade. Typically the number of submissions in the region numbers in the tens of thousands and for the country is 300,000+.

Since the 2007-2008 school year, USL students have taken the Stanford Achievement Test and performed exceptionally well. These results were linked to each student's performance on the OLSAT ability test. This allowed for achievement test comparisons of USL students with other students of equivalent ability. Most USL students score 3-4 levels higher than their grade and outperform their ability peer group.

7th grade state-level recognition, scoring better than 50% of juniors & seniors, on Duke TIP SAT every year (over 40% of our participants since our founding). Seven of our 7th grade students qualified for State Recognition in 2014-2015. This number is the same or more than any school, public or private, in South Carolina. This is the 2nd time in our school's eight year's of operation that we have had seven students receive State Recognition in one class. Four students received State Recognition and one received Grand Recognition (top 4% of all participants) in 2015-2016.

High-achieving students need a specialized learning environment. High-achieving students (with their own distinct combination of curiosity, ability and work ethic) are eager to move quickly to advanced levels of understanding and to apply what they learn to real problems and situations. To be effective, educational programs should engage students in a flexible combination of acceleration, enrichment, and the application of higher level thinking skills.

Intermediate School (grades 3-5) should tap a child's joy for learning.The Intermediate School is is the entry point to the University School experience. Students learn their responsibilities and begin developing the roles that will serve them in both USL and the greater community. Personal accountability and working as a team are integral parts of our learning. Students in the Intermediate School begin their day an all-school Morning Meeting, a Leadership and Life Skills class, and PE. Throughout the day, our students have Math, Reading/Writing, Science, Humanities, Latin and Greek roots, Mandarin, and Spanish. They also have a weekly art class and a field trip (LOTC, or Learning Outside the Classroom) on most Wednesdays. They are mentored by the Middle and Upper School students, who also provide inspiring and varied role models for them. Our small class sizes and unique LOTC opportunities encourage our Intermediate School students to delve deeper into their own learning, explore new and intriguing topics, all while developing a greater sense of their place in our school family and the world around us.

Middle School (grades 6-8) should be designed especially for young adolescents' needs. Programs and activities at the intermediate/middle school level must be active, interesting, and challenging in order to keep students engaged. Intermediate/middle school students need to be actively involved in their community and develop responsibility for their own education. Although adolescence can be a turbulent time of life, it should also be a time for exposure to many new pursuits, active learning, experimentation in a safe environment, and personal growth. Curiosity, reflection, inquiry, and problem solving are crucial to fostering interest in education at this time in a student's life when so many other things are happening physically, socially, and emotionally.

Upper School (grades 9-12) should be a safe and challenging space that prepares students emotionally, socially, and academically for life in college and beyond. Keeping young adults constrained on a high school campus, even one with many electives and opportunities to explore their interests and keep them engaged, for 35+ hours a week does them a disservice. This is insufficient preparation for a self-directed and successful path through college and beyond. High school is not preparation for life, but it is life. University School Upper School students aren't like your typical high school students. Academically, they are comparable to high-achieving students across America. What distinguishes them is their civility and direct experience with life beyond a school. In contrast to their peers at traditional high schools, USL seniors apply to colleges and universities having experienced 100+ field trips. They have talked to religious leaders at 15 or more houses of worship, met representatives of the 4 major political parties, traveled all over America, heard from a wide range of speakers of all ages and occupations, and had multiple job shadow experiences to learn more about potential career interests. They have visited 10+ college campuses across America and both sat in on classes and completed classes at a college with all of the different ages, regions, and viewpoints that one could expect. They have seen and experienced the world and all of its diversity and possibilities in a way that is not possible at a traditional high school. When half of South Carolina students are losing their S.C. Lottery scholarships in their first year of college because of inadequate academic and/or social and emotional preparation, we have forged a better way.

A small school and a personal setting work best.Small class sizes and personal attention are vital to learning. Students need guidance from adults who know them well, in an environment where they are recognized individually. This individual attention and sense of belonging is more feasible in a small school with a low student-teacher ratio. In this setting, faculty and mentors can realistically give our students guidance in the social, emotional, and intellectual aspects of their lives.Creating and maintaining a positive overarching culture is a cornerstone belief of USL. Students will see and regularly interact with people who believe in and exhibit the values and characteristics expected from each student. These individuals (high school students, college students, young adults, and adults) will serve as real-life models for USL students as they look to what the future can hold and what type of person they would like to be. In turn, our students serve as mentors for their younger classmates and for kindergarteners from Hibben Preschool.Collaboration among teachers, students, and parents is imperative. Parents who are aware of what their children are learning at school can model learning and reinforce these ideas at home. Close and continuous communication among home, school, and student is essential at University School.

Learning by Doing - Faith Exploration - In order to prepare to be better informed citizens of the community and the world, University School students learn first hand about faiths by going to 3-4 houses of worship to explore and talk to adherents of that religion.

Learning by Doing - Citizenship and Government - In order to prepare to be better informed citizens of the community and the world, University School students conduct exit polls across the Lowcountry and then make informed predictions based on their results. We explore elections and the democratic process, and this means hearing from different candidates, learning about different parties, and exploring issues of governance and civics. Exit polling is an annual endeavor at University School of the Lowcountry. This enables students to see firsthand the ebb and flow of turnout rates for the different types of elections because of the pattern of Congressional (and occasionally statewide and more) races in even-numbered years and municipal elections in odd-numbered years.

Learning by Doing - Arts - Arts classes are designed for immersion in the multiple media and forms of expression, and they allow for each student to develop and gain confidence in his/her artistic ability. Classes are year-round on Friday afternoons. Students also learn and create art projects related to their studies in their classes, especially Global Languages and Humanities. USL also engages in collaborative opportunities in the arts with community partners like Redux Contemporary Art Studio, ArtBuzz Kids, The Artists' Loft, and other arts organizations. University School also regularly (4-5x per year) hosts cultural performance groups and shares these events with the greater community. For 2015-2016 we are hosting classical pianists Vladimir Pleshakov and Elena Winther for a concert, YALLFest author Brendan Reichs for a joint presentation with Meeting Street Academy, the Fabulous Chinese Acrobats for a show, and the Russian dance troupe Baryna for a performance. Several of our Learning Outside the Classroom experiences (field trips) are also arts-focused. For 2015-2016, this includes trips to Frank Lloyd Wright's Fallingwater in Pennsylvania and Auldbrass Plantation in Yemassee, South Carolina. Students will also attend a production of Hamlet at the Gaillard Center, "A Seat for Justice" about civil rights efforts in South Carolina in the 1950s at the Dock Street Theatre, and a retrospective of African American music ("Songs from the Soul") at the Gaillard Center.

Learning by Doing - College and University Preparation - Our rich and individualized academic program and our hallmark Learning Outside the Classroom program help foster critical thinking, develop one's ability to flourish in a wide array of situations, and stoke creativity and seeing connections among disparate topics as one explores the world first-hand. Although students begin taking part in programs and explorations at the College of Charleston in 3rd Grade, we regularly expose our students to a wide range of colleges and universities, professors, disciplines, so they can make informed decisions based upon real world examination. For example, USL students have explored an array of activities at the following colleges and universities through field trips, courses, weeklong divisional trips, etc.: College of Charleston, The Citadel, Charleston Southern University, Trident Technical College, University of South Carolina Honors College, Georgia Tech, Tulane University, Emory University, Rice University, George Washington University, University of South Florida, Western Carolina University, The University of Texas-Austin, Savannah College of Art and Design, and The University of Virginia. Our Upper School students are guided by two counselors, each with a unique perspective. Roger Smith, our Director of College Counselor, has a long history as an independent school college counselor, and he meets with Upper School students regularly beginning in the 9th grade. Don Burkard, recently retired from the College of Charleston after a 30-year career as Dean of Students and Vice President of Enrollment Management. He helps guide our 11th/12th graders, and his insider perspective is key in helping our students to determine the best fits for the next step on their journey through life.

Learning by Doing - Topics related to the Military - Although the topic is the military, it really could be about any subject area that we explore at University School through our field trips. On our Middle School trip to Georgia in January 2015, we visited Fort Gordon near Augusta. It primarily houses Signal units -- dedicated to communication, military intelligence, and information management for the military. As is the case with all of the topics we explore, our Learning Outside the Classroom program allows our students to see and experience for themselves activities related to our military. Instead of just reading books or sending cards and packages to soldiers, we believe visiting 1-2 military installations / museums / National Park sites a year allows our service members to know that our school and students are interested in them and want to know more about what they do. Then our students can make up their own minds, with first-hand evidence, about subjects related to the experiences they have had -- science, military, historical, religious, political, etc. -- through our LOTC program. At Fort Gordon, students toured the base and the Signal Museum, learning the roots of the Signal Corps in the Civil War. What began with flag semaphore (communicating with flags) has now evolved to include cyber warfare (protecting America and fighting America's enemies electronically). We also met with the Installation Support Detachment's honor/color guard, and they taught each student how to fold the flag and how the colors are presented. It was a meaningful and rich experience! Since 2007, University School students have had the following experiences: US Army Fort Jackson graduation, Graduation at Marine Corp's Depot Parris Island (x2), D-Day Museum in New Orleans, SPAWAR and Joint Base Charleston, Fort James Jackson (Savannah), Marine Corps Air Station Beaufort, Castillo de San Marcos (St. Augustine), McEntire Joint S.C. National Guard Base (Eastover), Mighty Eighth Museum (Savannah), Patriots Point (x3), Fort Moultrie, S.C. Military Museum (Columbia), Fort Sumter (x3), Charleston Air Force Base (x3), Commemorative activities for the 150th anniversary of the start of the Civil War, Army's Pre-positioned Stocks Afloat (keeping equipment on ships across the world in case it is needed), Arlington National Cemetery, Tour of the USS Truxtun (DDG-103), The Tomb of the Unknown Soldier and all the major war memorials in D.C., National Park Service field expedition to Morris Island for a study of the Civil War battles raging around Fort Wagner, George Patton Waters - grandson of George Patton presentation, Maj. Gen. James Livingston, USMC, Medal of Honor recipient presentation, Alan Moskin - US WWII vet and concentration camp liberator presentation, Colonel Mac Radcliffe, USMC, (retired) presentation, Col. Scott Kindsvater, USAF, Commandant, U.S. Air Force Weapons School, Nellis AFB presentation, Lt. Col. Drew Schnyder, USAF, Flight Surgeon presentation.
Source:
Verified school update
Frequently Asked Questions
How much does University School Of The Lowcountry cost?

University School Of The Lowcountry's tuition is approximately $11,550 for private students.
What is the acceptance rate of University School Of The Lowcountry?
What is University School Of The Lowcountry's ranking?
When is the application deadline for University School Of The Lowcountry?

The application deadline for University School Of The Lowcountry is Jan. 31 / rolling (applications are due on Jan. 31 but additional applications are reviewed year-round as space permits ).
School Reviews
5
5/12/2023
My son has almost completed his first year at USL. It has exceeded our expectations. The leadership and faculty are exceptional. They balance high academic expectations, kindness, giving, and thought-provoking community experiences. Mentorship between students within their own community is a wonderful aspect of the school. The teachers differentiate learning to meet the needs of every student. They offer engaging activities outside of school for social interaction and a wide range of after-school activities. The entire school atmosphere is supportive, patient, and positive for all students.
5
3/24/2023
I live in Norway. This school reminds me of when I first ate an orange, It kept on coming back. This school means everything to me. I want to go to this school so I can meet my best friend.
Endorse University School Of The Lowcountry. Endorsements should be a few sentences in length. Please include any comments on:
Quality of academic programs, teachers, and facilities

Availability of music, art, sports and other extracurricular activities

Academic or athletic awards
Montessori Schools: An Overview
Are you curious about an educational approach that nurtures independent, creative, and lifelong learners? Look no further! We invite you to dive into the fascinating world of Montessori education and unlock its incredible potential for your children.
Securing Your School
With the rise of school shootings and other violent incidents, it is essential to have a comprehensive plan in place to protect everyone on your school campus.