Our mission is to educate each of our children; we nourish their innate curiosity, inspire a lifelong enthusiasm for learning, and foster respect and appreciation for themselves and others.
We provide a place where it is safe for children to risk, to learn, and to dream.
Our wish for the children who come to work with us is that they take away a quiet confidence in themselves and what they can accomplish.
A developmentally appropriate curriculum in all subject areas provides the most flexible framework for encouraging our students to develop lifelong skills as critical thinkers, self-motivated learners and independent decision makers.
While building a solid academic foundation, we seek creative approaches to educating our young students and search for innovative responses to meet the varied needs of our students.
Grades: Kindergarten-5
Enrollment: 96 students
Yearly Tuition: $19,250
Average class size: 16 students
Application Deadline: None / Rolling
Source: Verified school update
School News
Students Make Online Guide for Native Food Forest - 07/04/2021

The students of The Island School have partnered with Friends of the Farms to create an online field guide about the native birds, insects and plants found in the food

...more

forest near the school. Students in kindergarten through fifth grade contributed illustrations as well as detailed descriptions of the plants and animals that live in the forest. The field guide is available at https://bifoodforestfieldguide.org/.

hide

Students Prepare COVID Time Capsule - 06/24/2021

To commemorate a COVID-19 school experience, children included the following in their time capsule: hand warmers for the outdoor classrooms, a school newspaper written by 4th and 5th graders, marine

...more

art for two pod mascots, class photos with masked faces, a hummingbird nest for the bird study, a handmade coloring book, hand sanitizer, facemasks and gloves. The time capsule is buried on the campus to be opened by students in 2046.

hide

Cultural Study of Oman Inspires Market - 06/08/2021

Students end the month-long Cultural Study of Oman by shopping and selling at an outdoor market, or souk. Student vendors sold handmade crafts and trading cards that reflect the mosaic

...more

art, animals and other highlights of the country of Oman.

hide

Gingerbread House Tradition - 12/24/2020

Students make gingerbread houses - a decades-long tradition at The Island School.

Halloween Takes on a Different Look - 11/05/2020

Students celebrate Halloween during COVID with a Thriller flash mob and outdoor activities

Alumni Dedicate Buddy Bench at The Island School - 11/23/2018

Alumni from the Class of 2016 dedicate a buddy bench depicting all the favorite things of Dave and Nancy Leedy, two of the school's founders.

The Island School Goes Green and Double Platinum - 07/03/2018

Washington Green Schools gives award to The Island School and its Green Team.

The Island School artists paint gift for wildlife shelter - 06/24/2016

The Island School Art Club created an animal cutout photo board as a gift for the West Sound Wildlife Shelter. Visitors to the shelter's events can pose as animals from

...more

our forests. The school`s grounds are a National Wildlife Federation Certified Wildlife Habitat.

hide

Family tradition at The Island School - 12/23/2015

Three members of The Island School`s original 1977 Board of Trustees have grandchildren now enrolled in The Island School.

Showing love for the Earth: Earth Day at The Island School - 04/28/2015

During a special two-day Earth Day event, The Island School students celebrated the importance of protecting the environment. On April 21, students added native plants to the grounds at the

...more

school, including Nootka Rose, American Cranberry, Maidenhair ferns and more. On Earth Day, students came together for an outdoor buffet created from mostly locally sourced produce.

hide

Kitsap County announces Earth Day Award winners - 04/13/2015

The 2015 Partner in Environmental Education award is given to 5th Grade Teacher Mike Derzon, The Island School. The Island School has successfully completed Washington Green Schools certification in five

...more

categories. In 2014, the Island School became the first certified Level 5 school in Washington State.

hide

...read more
School Overview
School Membership(s)
School Assoc.
Grades Offered
Grades Kindergarten-5
Student Body
Total Students
96 students
Students by Grade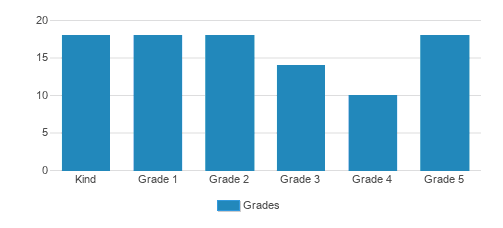 Academics and Faculty
Total Classroom Teachers
6 teachers
% Faculty w/Advanced Degree
Average Class Size
16 students
Classroom Dress Code
Casual
Tuition and Acceptance Rate
Admission Deadline
None / Rolling
Tuition Notes
Kindergarten tuition $17,645
Average Financial Aid Grant
$12,000
Admissions Director
Joan Henderson
School Notes
The Island School is an independent school for students in kindergarten through fifth grade. Our mission is to educate each of our children; we nourish their innate curiosity, inspire a lifelong enthusiasm for learning, and foster respect and appreciation for themselves and others.

Spanish, art, music and physical education are core parts of our educational program.

A developmentally appropriate curriculum in all subject areas encourages our students to develop lifelong skills as critical thinkers, self-motivated learners and independent decision makers. While building a solid academic foundation, we seek creative approaches to educating our young students and search for innovative responses to meet the varied needs of our students.

Each grade has a classroom teacher and many have an assistant to support learning. Our faculty is comprised of six classroom teachers, five specialists, three teaching assistants, two Extended Day teachers and an administrative and support staff of five.

At The Island School, students and families are welcomed and embraced as part of our diverse community. Thoughtful, interesting people are drawn to our school because they value the important role a caring community plays in the lives of children and families.

Our school is nestled among the trees on Bainbridge Island. The campus is designed for teaching children of this age, and includes spacious light-filled classrooms, an art studio, a library full of books, an indoor courtyard, a kitchen, a theater, a gym, and a playfield with surrounding woods. Our campus is a certified Schoolyard Wildlife Sanctuary.

Students, parents and teachers are committed to reducing our environmental and carbon footprint. Together we have earned a Platinum certification (highest) from Washington Green Schools.

The Island School students come from Bainbridge Island and the greater North Kitsap area. Nearly 50% of our students come from the Kitsap Peninsula.

Over $2,500,000 has been awarded in financial aid to an average of 22% of our families over the course of our history.

Extended Day provides affordable supervision of children beginning at 7:30 a.m. before school and until 5:00 p.m. after school.

The Island School is the only elementary school on Bainbridge Island and in all of Kitsap County accredited by the Northwest Association of Independent Schools.
Source:
Verified school update
Frequently Asked Questions
How much does The Island School cost?

The Island School's tuition is approximately $19,250 for private students.
When is the application deadline for The Island School?

The application deadline for The Island School is rolling (applications are reviewed as they are received year-round).
School Reviews
5
3/29/2022
We moved to Bainbridge Island in part because of The Island School. The school has an amazing focus on social & emotional learning, enables children to understand the world around them with hands-on activities, many outdoor actives, community events, enables exploration of other cultures via their annual Culture Study, and just makes learning fun! We have had two kids go there, and both loved getting up each morning to go to school! The Island School helped support their curiosity and appreciation of learning. We could not have found a better elementary school.
5
10/27/2021
I didn't realize how lonely my child was during her year of "homeschooling" in 2020. She was with her handful of close friends intermittently and she was doing a homeschool curriculum with Nana during the week. She said she liked it. But when we got her in person at the island school, she just exploded with enthusiasm. She started chatting our faces off on the drive home after school, teaching us Spanish, telling us about the classroom pet rats, and wanting to get together with the other kids in her class. Her love of learning is taking off again. It's so nice to have my child back. They are also doing an amazing job of keeping kids and families safe during a pandemic. They really take safety seriously with masks and protocols that support social distancing. This is such a nurturing and supportive place for kids and families. I wish we found it years ago.
5
4/21/2021
My three children attended The Island School grades K-5. The teachers were bedrocks of my parenting foundation. They were my ever-present resource when questions arose about how to best parent my elementary age children through their various phases of adolescence. The other parents in my children`s grades were all in lean-forward mode so I felt like I was raising my children in communion with a nurturing group. My kids and I still conjure Island School memories over the dinner table at least once a week and we make a point to drive by the school at least 4 times a year because it helps to recall all the beautiful times we had as a family there. Just don`t ask them who their favorite teacher was unless you want to be in the midst of a hotly debated topic. Their art from these years still line my bookcase - so glad to have pieces of this school living in my home. Truly one of the most special places on earth- I can`t recommend this school enough.
5
3/25/2021
The Island School provided me with the educational and personal foundation which has carried me through my years. I now have two daughters at the school, and I delight in seeing the joy, energy, and commitment they give to their teachers and peers. They shine with curiosity, engagement, individuality, and empathy for the diversity and uniqueness of others. When they struggle, they're shown the tools necessary to figure it out. The faculty display flexibility and creativity whether its learning about dinosaurs, cultures, a color wheel, or fractions. The relationships that flourish at this school provide a safe environment for learning, trying, and questioning. An Island School education provides the foundation for being an amazing, unique human being.
5
4/28/2020
Both of my kids, now 14 and 17, attended The Island School for elementary school. My husband and I are both so grateful that they did. Watching my kids now as they navigate through their days in middle school and high school, I continually reflect with gratitude on the years we spent at The Island School and how their experiences there helped shape them into the kind, thoughtful, confident, creative people that they are. The Island School truly teaches to the whole child - academically, emotionally, physically, and socially. We knew this is what we were looking for in a school and we did extensive research into a variety of schools and schooling options. We could not be more pleased with all that The Island School offered. Our children loved school. The teachers and staff are exceptional - well trained and truly love kids and teaching. The hands-on project based approach, small class size, focus on character/ social-emotional learning, exceptional academics, art, music, school grounds, field trips, and more combined into a remarkable, magical experience for our kids and for us. We were all truly part of a loving, kind, and thoughtful school community that gave back in multiple ways to the larger community. Sometimes, it seems that people think you can't have this kind of magical school experience and academic excellence. As if, learning must be void of heart, fun, emotion, and all the things that make us unique and connected humans. I don't believe this. It is precisely all of these things that allow kids to learn fully and deeply, to learn how to learn, and to develop into lifelong learners. The Island School knows this and embodies this approach in everything does. My kids and our family continue to benefit from all we learned there.
5
4/27/2020
Our daughter attended The Island School first through fifth grade and our son attended kindergarten through fifth grade. As a parent, The Island School was everything I dreamed of for our children. They had a strong academic and educational experience in developing skills in Math, English, History, Art and more. They also learned to love learning, to love school and to become creative, analytical and independent thinkers. Equally important, they were encouraged to be kind, thoughtful, collaborative and respectful individuals. The Island School actively and deliberately fosters an environment of inclusion and respect between all students in every grade and between grades. The teachers are there because they love to teach. The Island School curriculum is expansive and creative. Each year all students engage in a month-long "Cultural Study" in which they not only learn in depth about another country but also experience cooking, dance, music, art projects, language and architecture. The Cultural Studies culminate in a "closing ceremony" in which each grade, or sometimes all grades together, offers a performance, such as a dance, song, musical performance or story to the whole school and parent community. The Island School gave our children one of most life-enriching experiences of their lives.
5
3/25/2020
I LOVE The Island School! Many of my core beliefs were seeded and nurtured as a student here. The Island School community (teachers, staff, students, families, alumni, Board of Trustees, campus) engenders the social/emotional skills that have become fundamental to the school's curriculum and a keystone of my own life. Due in large part to The Island School community I believe that I am a capable, creative, and kind human!
5
3/23/2020
My son graduated from The Island School and my daughter is currently enrolled there, and both have had phenomenal experiences. Not only are they well-prepared academically but also they have learned to truly enjoy learning, and have developed inquisitive minds, compassionate character, and a more. The faculty and staff at The Island School, and the supportive community of parents, are committed to every single student and their growth and wellbeing. We're thrilled to have had the opportunity to be a part of The Island School.
5
12/8/2017
We moved to Bainbridge Island in part to find a school that would encourage in my children self-resilience, kindness, and a love of learning. My older son was previously at a very high achieving school with great teachers, committed staff, and an exceptional PTA and parent community. But he hated it, and I saw his "light" began to dim. I was told by everyone that he was doing very well, but doing well and being well are not the same.It wasn`t that my son`s teachers and administrators weren`t exceptional. They were. It wasn`t bullying or social struggle. It was rules that only allowed 30 minutes for recess. It was art and science built on product over process. It was a class of 28 diverse small children and only one magnificent but human teacher. It was an inescapable structure that often pitted mandates against what was best for students.I am trained as a science researcher, and when I have a problem, I read. I read articles and research papers finding that homework had no discernible positive effect on achievement in low grades. I read perspectives and research about the importance of recess, the hazards of over-emphasizing reading and academics too early, and the criticality of small class size. I read about how many US schools are short-changing social and emotional learning. I read about schools in Finland, Norway, Japan, England, and South America, how they differ, and how the children`s happiness and performance differ as well. I considered homeschooling.And then we came to Bainbridge Island for spring break, and I heard about The Island School. I pored over the website, I asked our hosts questions, and a few months later we were filling out paperwork.We chose this school because it has two and sometimes three recesses a day, trees to climb, a pond to get muddy in, no homework, and small class sizes. We chose The Island School because they told me about their social-emotional curriculum before they mentioned math, and because there is no standardized testing. But mostly we chose it because my son flew across the country to spend a day at The Island School and wanted to go back. The kid who told me every day how much he hated school wanted to go back.I love that The Island School values research-driven strategies for educating the whole child, that its teachers and administrators are warm and dedicated, and that its students leave well-prepared. But mostly, I support The Island School because my son (and now his little brother) come home happy, fulfilled, engaged, and looking forward to returning. His joy has returned, and so has mine.
5
7/19/2017
The Island School is a true gem with exceptional teachers and staff. Each student is treated as an individual, invested in, and taken care of - academically and socially/emotionally. The Island School is the elementary school I wish I went to and can't wait to send our little toddler there when his time comes!
5
6/23/2017
I am a current parent and also an alumni of The Island School. As a student I remember caring, attentive teachers in a welcoming environment where curiosity and fun while learning was the norm. Nearly 30 years later I see my own child blossoming in this same amazing environment. When I hear "Mom, I love school; it feels like my second home", it made me so grateful for this phenomenal little school.
5
5/17/2016
The Island School is a remarkable private school. We have two children currently enrolled and a preschooler that can't wait for her turn. The teachers know and love our kids and challenge them in meaningful ways every day. Our kids are mad when they are sick and can't go to school! It is a magical place.
Endorse The Island School. Endorsements should be a few sentences in length. Please include any comments on:
Quality of academic programs, teachers, and facilities

Availability of music, art, sports and other extracurricular activities

Academic or athletic awards
Children With Learning Differences: How To Proceed
Facing the reality that your child has learning differences is never easy. But with a diagnosis from a qualified professional, and skilled experienced teachers who know how to remediate those differences, your child can learn to handle her differences. More here.
Enrichment Resources For Children Ages 10-14
I asked ChatGPT to list apps, YouTube Channels, and podcasts suitable for enriching the studies of students ages 10-14. (We'll look at resources for younger and older students in another article.)
Designing Assignments In The ChatGPT Era
AI (Artificial Intelligence), specifically ChatGPT, poses some serious challenges for teachers. We explore the importance of teaching students how to attribute the work and ideas of others.