The Studio School
The Studio School educates the hearts and minds of children as we nurture the unfolding of their authentic spirit and character.Our students learn to value intellectual and creative ideas, and to take pleasure in the process of discovery.We seek a deep and lasting academic excellence, one that is achieved when children are motivated to embrace for themselves the journey of learning.
Grades: Nursery/Preschool-8
Students: 110 students
Yearly Tuition: $46,900
Average class size: 16 students
Application Deadline: Dec. 10 / rolling
School Overview
School Membership(s)
School Assoc.
Grades Offered
Grades Nursery/Preschool-8
Learning Difference Programs
Yes
Learning Programs Supported
As needed
Summer Program Cost Notes
Summer Program Cost is from 2021
Student Body
Total Students
110 students
Students by Grade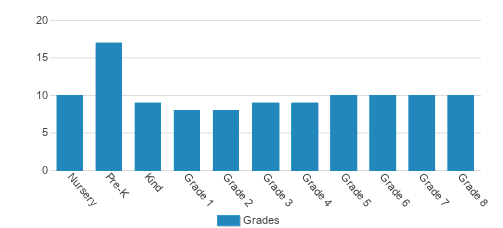 Academics and Faculty
Total Classroom Teachers
13 teachers
% Faculty w/Advanced Degree
Average Class Size
16 students
Matriculation Data
Matric. Data
Classroom Dress Code
Casual
Tuition and Acceptance Rate
Admission Deadline
Dec. 10 / rolling
Tuition Notes
Toddlers: $12,200/2 mornings Toddlers: $18,300/3 mornings Preschool Mornings: $33,500 Preschool Full Days: $45,600 Early Childhood: $46,900 Grades 1 to 5: $46,900 Grades 6 to 8: $49,100
Admissions Director
Shera Silver, Admissions Director
Extracurriculars
Total Extracurriculars
Total Extra-curric.
7 extracurriculars
Extracurriculars
Extra-curric.
Club or Organization:
Kitchen Science, Strategy Games, Technology and Coding

Arts and Music Programs:
Art Classes, Dance, Music Lessons

Recreational Athletic Programs:
Sports

School Notes
The Studio School (1971) educates the hearts and minds of children as we nurture the unfolding of their authentic spirit and character. Central to Studio`s philosophy is the knowledge that intellectual vigor and creativity must be firmly rooted in emotional balance and resilience. A Studio education is from the inside out and empowers students to integrate who they are with what they learn, cultivating a joy of learning and original thinking. We have pioneered and seamlessly integrated social-emotional intelligence in our How-To-Learn curriculum, fostering awareness of the individual as part of the group and the group as its own entity. The dynamics of the individual and the group are powerful tools that lead to deep and lasting scholarship, self-reliance, persistence, and healthy relationships with others. At Studio, the student-teacher relationship, with all its back and forth, is key to the student`s development.
Profile last updated:
08/13/2021
School Reviews
5
1/27/2021
Our son is a fifth grader (first year of middle school) at Studio. After three months of remote school last spring, we are thrilled to have him back to school on a hybrid plan (in person three days/remote two days per week). Studio`s teachers and administrators have worked tirelessly to design a program that allows the children to pivot seamlessly from home to school. As a result, our son continues to progress, and even thrive, academically. We are so pleased that the Studio community has come together to make health and safety a top priority so that our children and their teachers can be together as much as possible.
5
12/18/2020
The Studio School has shown us that digital transformation is possible at school, leveraging technology to span continued learning to the home when necessary, while never losing `touch` with the individual, hands-on approach to learning that all students experience at Studio. We have been incredibly impressed with how the school now seamlessly integrates technology to further the educational goals for our son and the other students at the school, all the while keeping the focus on his learning and growth.
5
12/18/2020
The Studio School has encouraged our children to become interested in science. They have in a span of a year learned how to explore the great outdoors, conduct experiments, use real data, all in an environment that has fostered opportunities for feedback. At Studio our children have been exposed to active learning strategies that have encouraged them to ask the 5W`s and has given them an understanding how science is a life skill which helps in making informed decisions.
5
6/11/2020
As a parent of a middle school student who has had to suddenly shift to a distance learning arrangement during the COVID-19 pandemic, I am grateful that our school, The Studio School, has risen to the challenge and has exceeded our hopes and expectations for a school experience that would remain steady and valuable. Our school's clear focus on academics has not wavered during this challenging time with classes that are well structured and with all lessons and projects firmly in place. Our teachers are truly dedicated and at all times able to keep students engaged and eager to learn. Individual attention, caring and communication can be depended upon and the school's passion for community and wellbeing have never been stronger than at this time when it's needed most. The Studio School places a great emphasis on emotional wellbeing and self expression though a nurturing environment that promotes listening and verbalizing complex thinking and emotions. Considering this current situation translates to quite a lot of anxiety, it has been an amazing thing for my son and his classmates to have an open and deeply caring forum where teachers listen and lead discussions where students are encouraged to share and really support each other. This has been as important as the academics during this difficult time. We are grateful that our school is so in tune with the needs of students on many levels. Thanks to our school's great leadership and cohesive and consistent philosophy and professionalism, my son continues to learn and thrive during one of the most challenging times we have ever known.
5
11/24/2017
My husband and I have 2 children ages 8 and 10 in their 6th year at Studio. We could not be happier with the education they are receiving there. My 10 year old daughter is filled with enthusiasm about Reading and Writing. The children are writing their own stories, and learning grammar, punctuation, vocabulary, spelling, and story telling in the process. She is excited about all of her assignments and classwork, and comes home from school ready to dive in to her homework. My son is excited about math. The teachers give the children a lot of individual attention which allows the kids to work at a pace that suits them. My son is working on decimals and fractions, and can't wait every night to show me where he is in his math workbook and what new skill he is working on. Studio's homework philosophy is also invaluable. Staff will tell you right away that homework is between the teacher and the student and you should not be involved in ensuring that your child does his/her homework or checking the homework. I was skeptical at first, but my kids do their homework without any reminders or pressure from me at all. They tell me that they have to get home early enough to have time for homework, or they ask me to wake them early so they can finish an assignment. They are learning academically, they are becoming responsible for themselves and their work, and they love going to school. We can't recommend Studio School highly enough.
5
11/24/2017
Our daughter will graduate from Studio School this June and we couldn't be happier with her academic and emotional development. The classes are small so the teachers are able to tailor assignments to each child which means that your child will never feel behind or ahead. All students work on group and small team projects which helps foster the unique collaborative spirit at Studio and encourages creative thinkers. One aspect which is completely unique at the School is the insistence by the administration that the parents stay out of their child's homework which makes for a happier family and a more responsible, motivated learner. It's an amazing place. My daughter has so many friends and they're already planning reunions with students who graduated last year. We're in the high school application process now and the School has been so helpful. On visits we often here from high schools - "Oh we love Studio students" . This is a hidden gem in New York City's private school network.
5
11/24/2017
Our son has attended Studio for 7 plus years. A lot of schools talk about individualized learning, but at Studio it is far more than just talk--it is what they do. The Studio approach acknowledges that children have different learning styles and everything they do is with the goal of addressing each students academic and emotional well being. The school emphasizes strong academics in Reading and Writing, Science, Math, and One World. Studio offers unique programs such as Kitchen Science, Work Period, and Parent Development (workshops designed to support families of Studio students).The teachers at Studio are caring and dedicated and are always accessible to students and their families.
5
3/16/2017
Our daughter is a student in the early childhood program, and we couldn't be happier. I could go on and on discussing what a special place this is. First of all, children are "allowed" to be children. From basic tasks such as tiding up after playing, to getting ready for school without having to remind the child what needs to be done, teachers and administrators work closely with the children to meet them where they are and develop a sense of responsibility and independence, and helping the child understand their own emotional responses to routine situations. On a different note, something that I really like about the school is its approach to the use of computers. I am a software engineer in Manhattan, and I dread when I see schools falling into the fad of having an iPad or computer indiscriminately used in the classroom. At Studio, they have a wonderful computer lab fully equipped with Mac computers. However, students do not rely on laptops to get their work done on a regular basis. Instead, it is mostly in the upper grades, and in a way that makes sense: for specific projects, such as research papers and layout designs (students learn to use programs like Adobe Indesign and Photoshop, for instance). I have seen how the older kids are not obsessed with screens, and I know this is thanks to Studio's approach to a great extent: screens are one tool among many, and the student's critical mind learns to know how much is good for them at home.
5
2/25/2017
My daughter entered The Studio School in 4th grade after unsuccessful, unhappy years in a good public school. She was anxious, dreaded school, and felt like a failure to her teachers. At Studio, we were drawn to the excellent academic curriculum and the commitment on teaching kids how to learn. We loved the fact that parents are not to be involved in children's homework (no reminding, no policing), that the relationship between the teacher and the student is central, and that the school seemed to be truly committed to building children's critical thinking, creativity, and problem-solving abilities. Now, in her second year, our daughter is thriving. She races through her homework with something resembling joy, proud in her competence in doing advanced math and taking fun classes like "Strategic Thinking". Her social and emotional development is gently guided by the faculty and staff. Each child is attended to with a degree of patience that is nothing short of astounding. In our daughter's case, it's resulted in a confident child that has grown in self-reflection and patience.
5
5/17/2016
I am the father of a son in the 5th grade at the Studio School and of a daughter who is a recent alumna of the school. I have been part of the Studio community for 12 years, and that association has had an extraordinarily positive impact on my life, as a parent, as a thinker, as a husband. I feel like I''ve grown up as much as my son and daughter have. One of the great things about Studio is how the school handles homework. The parents are asked to leave the matter of homework to the child and his or her teachers. I don't know anything about my son's homework unless he tells me about it. And when he does tell me about it, and the news is less than good, I have been asked -- by both my son and his teachers -- not to intervene. This is easier said than done. I love my son, and it's hard for me to see him struggle, excruciatingly so in some instances. Sometimes the best thing is for me to leave the room. But I have happily found from experience that this process, as it is guided by the great teachers at Studio, bears good fruit. Over time, my son and my daughter have come to see their schoolwork as their own, and they see their education as something in which they are fully participant, something for which they are eagerly responsible, by which I mean they respond readily, and with full agency. My daughter, now a 9th grader in a top tier private school, has made a deft, assured and enthusiastic transition to a challenging and very sophisticated curriculum. In fact, all of her teachers are thrilled by her self-regulation, time management, and the consistently high standards of her thorough and thoughtful work. Thank you, Studio School.
5
5/17/2016
The Studio School is a special and unique place. My children are getting a top notch, rigorous education, but in a supportive environment. The school has an extremely rigorous academic program and expects a lot out of its students. Every student is expect to meet their potential. To ensure that happens, the school offers tremendous resources and incredible personal attention. There's no such thing as "falling thru the cracks" here! And the kids love the school! My daughter is ANGRY if she can't go to school due to a holiday or what not. I could go on and on about how much our family loves this school. It's great!
5
5/17/2016
We have 2 chn at Studio, one in elementary and one in preschool. We love the teachers and staff, as do our children. They encourage the children's interests while helping them master personal and interpersonal skills (frustration managment, working with others). When your 5 and 6 year old children start asking you in July when they can go back to school, you know you have a winner. We wouldn't send them anywhere else.
5
5/17/2016
This is our first year at Studio and I couldn't be more impressed by the quality of the education and the time the educators take for each child.
5
5/17/2016
My husband and I were blown away by how sensitive, involved and invested the teachers and head of school were through our family's first year. Like most parents, we agonized over the vast array of school choices there are in NYC. As new parents to our first child, we focused on HIS experience but did not realize how much of an extended family our new chosen school would become for all of us. Our outgoing, friendly little boy went through a difficult year changing and growing through his threes as he was starting his very first year at Studio School. The teachers and staff were not just completely devoted to his education, they were also committed to his wellbeing, a huge relief and comfort to us. Our family was warmly welcomed into this all inclusive school, where the entire family feels a sense of belonging, sharing and learning. We look forward to many more years with Studio School!
5
5/17/2016
The Studio School is a rare find in a city that is inundated with many options for independent school education because it has been able to focus it's approach on the essence of what kids need to succeed in life. Ms. Rotter, the Head of School, summed it up best by saying that kids who leave Studio in 8th grade leave knowing who they are, what they want and how to work. It sounds so simple and yet somehow manages to get lost in today's world where there are so many parenting and teaching philosophies. Our daughter is only 3 and has been there for 2 years but when I drop her off I see all the other kids who range from kindergarten up to 8th grade and they are wonderful, poised and articulate with a sense of self that I was still looking for up into my late twenties.
5
5/17/2016
My two sons, 5 and 8, started at the Studio School this past September. It truly is an amazing place! My boys are happy and thriving in this kind, supportive, encouraging environment. They are challenged to try and do new things and are already showing increased confidence. Everything that happens at Studio happens because it was well thought out and considered. I really trust that from the moment they walk in each morning until i pick them up there is a community of people, not just their teachers, who are invested in them and care about their growth and development. The added bonus is that the parents benefit from this amazing school as well. Getting a better understanding of my boys and of my parenting is such a gift. If the past 2 months is any indication of what's to come, i am confident that my boys will continue to grow and flourish and develop the skills, confidence, motivation and desire they need to be thoughtful, considerate, creative, respectful young men. It really is an amazing place!
5
2/26/2016
One of the unique classes they offer at Studio is Kitchen Science. Kitchen Science is a mixed-age group class, with children from grades 1-4 joining together, one child per grade, on a rotating basis. Sometimes they're joined by older children from grades 5-8. The children go to the kitchen and learn a lesson about food or food preparation - perhaps something about a cuisine from the country of one of their fellow students, or how to chop a particular vegetable, or something seasonal, like tasting apples in the fall. Then they assist with cooking a part of the lunch for the rest of the school. They eat lunch as a class, and help serve the other students when they come down to lunch. This unique class teaches so many things: math (how to measure, how to double or quadruple a recipe); science (what happens when I mix this with that?); history (when did this kind of food get introduced in this country and how?) and geography (where did this cuisine originate?). It also teaches about community and caring for others. Kitchen Science has always been one of my children's favorite classes at Studio.
5
7/24/2015
Our son started his first year of middle school at The Studio School last year, and we could not have been happier. If you believe in the progressive process, then you understand how important it is teach our children to be creative and critical thinkers. Often at that age it is their awareness of society and trying to discover their place in it that can mar that process. The Studio School are experts at helping children navigate these difficult stages with their emphasis on social and emotional development. It is exactly what our son needs at this crucial time.
Endorse The Studio School. Endorsements should be a few sentences in length. Please include any comments on:
Quality of academic programs, teachers, and facilities

Availability of music, art, sports and other extracurricular activities

Academic or athletic awards
You Won't Find....
You won't find several things in private schools which you will find in public schools.