Brown School's educational program for children and young people recognizes the importance of making up one's own mind and heart about what is true and what counts as knowledge, of knowing where one's passions lie, and of trying to determine what the future holds for humanity and the planet.
We want to inspire and equip young people to be caring, knowledgeable, and active citizens of our increasingly complex world.
Grades: Prekindergarten-11
Enrollment: 183 students
Average class size: 12 students
Application Deadline: None / Rolling
Source: Verified school update
School Overview
Grades Offered
Grades Prekindergarten-11
Student Body
Total Students
183 students
Students by Grade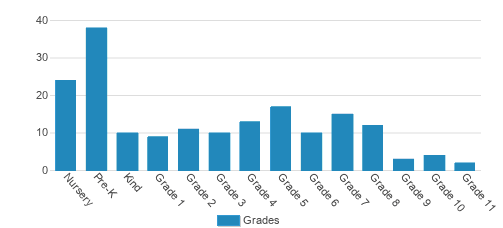 Academics and Faculty
Total Classroom Teachers
16 teachers
Average Class Size
12 students
Matriculation Data
Matric. Data
Classroom Dress Code
Casual
Tuition and Acceptance Rate
Admission Deadline
None / Rolling
Tuition Notes
Please contact our admissions director for tuition rates.
Admissions Director
Joan Brooks
Sports
Total Sports Offered
9 sports
Extracurriculars
Total Extracurriculars
Total Extra-curric.
20 extracurriculars
Extracurriculars
Extra-curric.
Afterschool Program, Basketball, Soccer, Volleyball

Club or Organization:
Art Clubs, Chess Club, Club Scientific, Cooking Club, Debate Club, Drama, Science Bowl, Spanish, Technology

Arts and Music Programs:
Drum Lessons, Guitar Lessons, Movement and Dance, Music Lessons, Olympics of The Visual Arts, Piano Lessons

Recreational Athletic Programs:
Ski and Snowboard Club

School Notes
Brown School helps each child become a well-educated, responsible, caring, and productive citizen of the world. We cultivate every student's unique potential within a structured and balanced educational program grounded in the liberal arts, fine arts, and sciences. Within our dynamic and nurturing community, we pursue and share knowledge and teach valuable social and emotional, thinking, and communication skills. The depth and breadth of Brown School's curriculum challenges students to extend their understanding of humanity and the world. Our students are prepared to make sound ethical judgments and to live happy, productive lives. This is the core of Brown School's perspective on education.
Source:
Verified school update
Frequently Asked Questions
What sports does Brown School offer?

Brown School offers 9 interscholastic sports: Alpine Skiing, Basketball, Cross Country, Dance, Field Hockey, Rock Climbing, Soccer, Track and Field and Volleyball.
What is Brown School's ranking?
When is the application deadline for Brown School?

The application deadline for Brown School is rolling (applications are reviewed as they are received year-round).
School Reviews
5
12/27/2018
It's hard to describe the Brown School difference with just words, it's really something that should be experienced. There is no graffiti written on bathroom walls, no bad language yelled in the hallway, no one smuggling in cigarettes or alcohol (or worse), no one bringing weapons, no bomb threats, no bullying. It's the kind of school environment we all want for our kids. There is respect between all students and teachers. How do they do it? How does this school succeed where the public schools fail? I surmise there are numerous reasons such as: (1) Small class sizes. Your child will not get lost in the crowd or fade into the background. They will get focused attention. (2) Teachers take the time to know each student, and can customize the curriculum to the way your child learns. There is no "teaching to the test" here. (3) Plenty of clubs and activities to keep kids busy and engaged. (4) Brown offers their IGNITE program which assists students who either need a bit extra help or who are advanced among their peers (5) Brown was the first school in the country to adopt the MindUp program, which encourages mindfulness, kindness, 'brain breaks', and acknowledging thoughts and feelings without judgement. (6) Healthy lunch offerings (including gluten free and dairy free options) that are nutritionally sound. (7) An active parent community that provides fun events throughout the year for families.I could go on and on. Call them and schedule a free tour and see the difference. I know some people have a hard time with the tuition cost, but there are some discounts you could get, they have very flexible payment plans, and also a generous financial aid package. I can't put a price on the value of my child being happy to go to school (sometimes not even wanting to come home!), not being bullied, having wonderful friends, and a genuine support system of teachers and staff who are always there for you. This is more like a family than a school.
5
1/25/2018
We have highly valued the Brown School experience. My son entered Brown School in Nursery and is now in 8th grade. He has enjoyed every minute there. The staff is very caring, especially in the elementary grades. The core curriculum and instruction throughout is excellent, with particularly good art and music programs that seem to go beyond what we`ve seen in most other schools. As part of the music program, there are numerous performance opportunities, both choral and band, and both within and outside of school. These, combined with frequent in-class presentations, have resulted in our young man being confident and at ease speaking in front of people (no small feat). My son also has been able to pursue numerous extra-curricular activities ranging from sports to beginning programming, from movie-making to fencing, and from art competitions to Science Bowl (a science quiz team competition). These activities have greatly enriched my son`s time at Brown. The entire Brown School experience has positioned him for future success; we couldn`t wish for anything more.
5
3/22/2017
The Brown School has been a wonderful choice for our 4th grade daughter. Brown School is unique private school where the administration and teachers understand that all children learn in different ways. The curriculum emphasizes individualized learning to develop the strengths of each student. The IGNITE program is a unique program that helps each child to set individualized goals, both academic and social, and supports them in reaching their goals. It supports both children who need extra help by providing valuable resources, as well as those who want to excel in an area of interest. The Head of the school truly cares about each student and family and creates a genuine welcoming environment that encourages enthusiasm and life-long learning. We could not imagine sending our daughter to school anywhere else.
5
1/13/2017
Brown school is a safe, wonderful place for education. We are so blessed to have this school within our community. Children are challenged academically, and nurtured to grow the direction they are meant to reach full potential. Incredible art program with talent! The teachers are excellent, engaged, and very approachable. One of the only schools in the country to teach the Mind Up program, this passes on much needed skills to our children we are raising to become competent adults. This emotional intelligence program includes empathy, compassion for self and others, with mindfulness of self and others. We currently have a 2nd, 4th, and 8th grader. The 8th grader has been there since 1st grade, we now feel we know the school very well. Our children love school, and we love it too!
5
12/7/2016
Two reasons we love Brown School...On my way to pick up my 9 year old from Brown School, I heard an interesting story on the radio. When I got to school, I started to tell her about the story that described making a biodegradable alternative to plastic. She replied, "I know. I already did that." Thinking she couldn't really know what I was talking about since I just heard this on the news, I went on, "they're making a new kind of plastic out of milk protein." She reiterated, "I know. I already did that." This little story illustrates two of the reasons why I love Brown School. Not only do they know, but they learned by doing. (They had made a homemade version of the plastic I was describing.)
5
10/26/2016
Our family couldn't be more excited about Brown School launching a high school in the Fall of 2017. We are excited to have the opportunity to continue the in-depth education and individual support that has been provided to my son during his education here. Brown School not only has strong academics, but places focus on hands- on learning and teaches students about collaboration and working together. In addition, they provide a mindful education that incorporates giving back to the community and developing empathy for others. It is a vibrant learning community that will now prepare students for college and beyond.
5
9/24/2016
I first learned of Brown School when looking for a full day pre-K program for my son, planning to send him for 1 year and then enroll him in public school. After a single tour, my husband and I walked out of the school knowing we were not going to be sending our children to public school. We are entering our 6th year at Brown.We are so very fortunate to have this school in our community. The teachers are nurturing, yet expect both academic excellence and respectful behavior. The classes are small, allowing individualized educational approaches. The school`s size promotes a tight knit community where the children feel comfortable and supported. Students are encouraged to self assess their strengths and weaknesses and create goals and plans to reach them. These goals might be academic, athletic, social or emotional. The Brown School teachers and administrators are particularly attuned to the later. On my first visit to Brown School, I was struck by the confidence with which older students spoke to me when I visited their classrooms unannounced. I know understand this part of the Brown School culture. All students (even the nursery students) participate in musical performances and plays. I continue to amazing that 3 years olds stand up on the stage and sing to a large audience without tears As the students get older, this confidence helps as they give academic presentations. On the eve of the first day of school, my children are not lamenting the end of the summer, they are concerned that they will not be able to sleep because they are so excited to get back to school. Brown School is a special place.
5
6/3/2016
Brown School has been an excellent choice for our two children. The teachers are incredibly dedicated, knowledgeable and flexible about accommodating a wide variety of learning styles, and clearly love their work. Their joy and positive attitude permeates the culture of the school. The administrative infrastructure of the school is professional yet personable. And last, but certainly not least, the school's generous financial aid has made it a feasible choice for our family.
5
6/3/2016
We initially enrolled our three kids in Brown as it had an all-day nursery/pre-school program; we intended to leave once they reached school-age. We stayed, and there are several reasons we decided that Brown was a worthwhile investment. First of all, all of the children and staff seem to truly love the school and care about each other; there is very much a sense of pride and a sense of community. Older children are matched with younger children in a "buddy" program, classes collaborate on projects and activities, parents are engaged, teachers are passionate, creative and caring. Additionally, class sizes are small and learning is very individualized. Our children have different strengths and they receive a significant amount of individual attention that has allowed each to work at his or her own ability level. Furthermore, we are very impressed with the academics offered. There is a lot of focus on making learning fun, and on decreasing/managing pressure and stress, while holding children to high standards and providing the building blocks to meet those standards. Brown does not participate in extensive testing but does stay on top of educational trends (eg: "common core") and from all accounts I have heard, Brown "alumni" have excelled when arriving in high school or transferring to other districts. While "traditional" academics are strong, significant attention is given to other critical areas - arts, music, mindfulness, compassion, community engagement. It is a "whole person" learning experience. Our children are excited everyday to go to school and we thrilled with the education they are receiving.
5
5/20/2016
When my husband and I decided that we needed a change from our public school's increasing class size, decreasing budgets, and almost complete reliance on then test, test, test model of education, we toured many private schools. And while many private schools offer small class size and families who value education, we found that Brown School offered something that no one else did: a learning environment that truly educates the whole child, and teaches them to be confident and independent thinkers. Brown accomplishes this with dedicated and caring teachers, who go above and beyond to provide a creative, project-based, hands-on curriculum where children thrive. Brown offers diversity, in both the student population and in educational opportunities. My children's education is well balanced, between science and technology (STEM, computer programming) and the arts (guitar, public speaking, band, just to name a few.) Brown School employs a reading and a math specialist, to offer additional support to children who might need it. They also have, on staff, a teacher certified in gifted education who, working in partnership with the classroom teacher and the student, develops personal and scholastic goals for each student a truly personalized and customized education based on a child's individual strengths and weaknesses. My children are thriving at Brown, and we couldn't be happier.
5
5/17/2016
Brown School offers our children what few other others in our region are able to do: the opportunity to grow into confident, independent and joyful learners. At Brown, my children have thrived and have developed remarkable critical thinking skills and creative expression. Brown School's commitment to educating the "whole child" is clear and their celebration of the Arts is impressive. One of the most amazing things about Brown is the opportunity for children to feel at ease participating in diverse activities without being "judged," or stereotyped. For example, this year my son quite happily joined the Science Bowl Team, starred in the School Musical, played in band, joined select strings and competed on the soccer and volleyball teams without being "pegged" as a "geek," or a "jock." I love that at Brown, kids have the chance to explore their interests freely and to express their enthusiasm without fear of being teased or bullied. Brown School is a fantastic place, and I highly recommend it!
5
5/17/2016
Brown School has been such a positive experience for our son. We do not have any extended family nearby, which is tough for an only child. Brown provides him such a wonderful sense of community, and belonging. The teachers are fantastic, creative & truly care for each and every child at the school. He loves to go to school everyday & has developed such a genuine love for learning. I am so thankful to have found Brown School for my son's education.
5
5/17/2016
Our son has attended Brown School for the last three years. It has been an amazing experience for him and our entire family. Our family was quickly included into the Brown School Community. The school has provided a quality education, utilizing a small class size. His teachers have been kind, loving, and creative. They have also addressed his individual learning style, while going above and beyond what is expected. We are so thankful that we found Brown School for our son's education.
5
5/13/2016
We spent a lot of time considering what school we wanted our son to attend. A LOT. So why did we choose Brown? They were really a head above the rest, in so many ways. All the other schools seemed to have a shtick which was attractive in theory, but felt empty after a visit: beautiful buildings, all sorts of technology, cutting edge educational theory. It was eye candy for sure. But when we sat down to figure out what we really wanted, it was simple. We wanted a genuine, authentic environment that fostered a love for learning, without gimmicks. The teachers are top notch. Not only are the Brown faculty incredibly caring, but they are also smart and creative. They go above and beyond expectations, many times over. Their responsiveness has been outstanding if I make an inquiry: teachers, staff and administration. But perhaps what I appreciate most about them is how they all look at the kids holistically. My son is not just a name, or an attitude, or a grade. He's a boy going in and out of developmental phases, with various things going on in his life at home. And they get that, and embrace it. Kids and teachers walk the halls with smiles on their faces. What impressed me (and still does) is how the older kids and younger children interact with such respect towards each other. It is a community of kindness and compassion in a world that can be anything but. I am so glad for Brown's PreK-Grade 8 spectrum which gives young students opportunities to see what's ahead, and lets the older ones guide those who are up and coming. Generally speaking, there are 10-12 kids per class which allows for individual attention and low stress for teachers. What a rarity! In such a small class, the kids who are behind, or ahead, get the support or enrichment they need without having to be pulled out of their class for supplementation. Plus all sorts of activities can be done within a classroom with such a small group of kids, which could never be done otherwise. The classrooms are magnificent, full of beauty and energy. The teachers obviously care about the learning environment. Should you be concerned that Brown is all about environment, and not content, let it be known that the kids who come out of Brown are routinely placed in AP high school classes. The academics are challenging, for sure. There are so many bright kids at Brown who will knock your socks off when they open their mouths to talk. I am also really impressed by all the hands-on classwork they do. Lectures, note taking and exams are NOT the model here (thank goodness!) There is lots of collaboration, discussion and action! The lack of standardized testing for the young children allows Brown teachers to go beyond worksheets, and into hands-on exploration of both academic subjects and the arts. Yes, the arts! The interior hallways of Brown are covered from floor to ceiling in the student's colorful artwork. My husband, who is an art professor, noted that many of the 8th graders in Brown are more skilled than his college freshman. Music and drama are also given the same kind of attention which is such a treat when most schools have cut them entirely. As a parent of an energetic child, I am happy to report that he comes home not just academically and emotionally satisfied, but physically content as well. There is plenty of recess, physical education, and music/movement time. Even within the classroom, he is not expected to sit at a desk all day long. For those who are kinetic learners, students can sit on yoga balls in lieu of chairs. What a relief to know that he wouldn't be labeled as a hyper child because he needs to move, and instead is accepted for what he is: an active, healthy boy. Going in, I was a bit concerned about community. Brown takes in families from all geographical regions, and I was worried about not getting to know the other families, or finding out they were all elitist. I am happy to report that it's a wonderful group of people - a diverse, down to earth community. I see them frequently at school events, or birthday parties and everyone has been lovely. Another concern I can alleviate - there is very little pressure to volunteer or donate money. As a volunteer, I've been welcomed into both the classroom and into the head of school's office, with open arms, and walked out feeling great about helping to make a difference. What else can I offer? My son is sad when he can't go to school when it is closed for a holiday. Staying at home isn't nearly as fun as Brown is, apparently. He asks to stay after school to participate in the many clubs and activities (which I as an adult wish I could participate in cooking club, sign me up!) . For working parents, there is the PLUS program which offers before and after school care on site. A healthy lunch, with many options, is provided by the school chef, taking into account allergies. Also of concern to many I have heard of no stories of bullying. In fact, mindfulness is a concept taught to even the youngest of children at Brown and I can tell my son has become a more respectful, aware person because of their MIND UP program (google it!) Brown represents what education is meant to be. We couldn't be happier with our experience there.
5
5/13/2016
My kids love learning and I love Brown! The programs, class lessons, special classes, and extra curricular activities are amazing. In addition to art, music, P.E., computer, Spanish, and library classes, my Kindergartener will be taking a STEM (Science, Technology, Engineering, Math) class twice a week. For my middle school children, I am constantly amazed at the depth and diversity of their curricula their favorites: art, technology, guitar, science, history of rock 'n roll (an elective) as well as the after-school activities available to them. Every staff person strives to make Brown the best that it can be.
5
5/12/2016
We have two children at Brown School. We love it! The school has small class sizes and literally the students know everybody. The staff is extremely dedicated to their jobs and take excellent care of the children. There is a kindness that is taught to the kids that makes it way home. A 'buddy' system of upper grades and lower grades teaches empathy as well as leadership. Brown School uses a mindfullness method that helps with stress and keeping calm, which I have actually seen my boys use at home. They have an excellent program for STEAM (the extra 'a' is for art). Brown School has a super program called IGNITE that is truly individualized for needs and goals to get them to ENJOY learning, not just do it. Plenty of extra-curricular things to do (sports, arts, exploration); a great before & after care program; excellent summer camp offerings. We enjoy being able to have them be at one place for before/after care. Can't say enough good things about Brown School.
5
10/20/2015
Brown is what a school should be. Beyond typical expectations, some of what sets Brown apart is: -small class sizes -a dedicated, skilled and caring faculty (from top to bottom) -a culture of a close community with school leadership, teachers and students -attention paid to not only scholastic development but also development of the budding individual. When, as a father, I see how much my sons are learning and yet watch them (at 10 and 12) excited each morning to go to school or disappointed in June when it's over...something special is happening.
5
7/24/2015
My daughter has had a wonderful experience at Brown. She started in Pre-K and is about to enter third grade. The teachers challenge their students in a supportive and nurturing environment. There is an emphasis on character development which I really appreciate. The kids treat one another with kindness and respect. The focus is on matters of importance--academics, the environment, social responsibility--and not overly focused on pop culture. It has been a great fit for my daughter and well worth the money we pay.
5
7/24/2015
Brown School allows our children to thrive in a nurturing, comfortable and challenging learning environment. The children explore a variety of topics from multiple perspectives. They hear, touch, discuss and engage friends in projects related to the topic they are discovering. They are taught to be leaders, good friends and encourage all to find their voice. Everyone gets a chance to perform on stage, present to a group of peers as well as parents and play sports. The remarkable glue that knits this community together is the sense of family that allows for resolution of conflicts as well as individual growth. We always walk away from school events with a huge smile knowing we are giving our children the best learning opportunity. Watching the children run into school every morning is a great way to start my day.
5
7/24/2015
Brown School ranks as one of the best parts of our lives in the Capital Region. When we moved to the area, finding the right school for my daughter was a top priority. As the daughter of an English teacher and a journalist, I valued academic excellence first and foremost in a school. As a social psychologist, I knew the social-emotional environment was also incredibly important. I wanted my daughter to love school, to develop her own personal creativity, interests and style and to learn real foundational academic skills. Brown school has offered us everything we wished for and more. The curriculum combines mindfulness education, the arts, extensive writing programs, and increasingly impressive science programs to create whole-child development of the highest order. My daughter has thrived. She loves the Brown community like family. Her friends are kind, comfortable with adults, and skilled beyond their years at resolving conflicts, integrating new class members, working in teams and individually. Her class is diverse and just the right size to allow for individual attention and good social opportunities. We wouldn't have her any other place.
5
7/24/2015
Brown School is an exceptional school that provides wonderful opportunities in and out of the classroom. We have two children at Brown and are very pleased with the education and positive experiences our children have received. Our initial attraction to Brown School were the caring teachers, the sense of community, the evident mutual respect between students and staff, the strong art and music program, and an early second language instruction. As our children have grown at Brown, we have also come to appreciate the programs that the school offers which have contributed to their personal development, such as the Mindup program and Ignite. These programs along with an emphasis on hands on learning and relevance through projects have provided a strong foundation for our children that we believe will help them as they continue their education in the coming years.
5
7/24/2015
Brown School is an amazing school! We have 2 children at Brown School. We love it because the curriculum is hands-on/interactive learning that engages and excites my kids. It makes learning fun for them. The atmosphere is energetic and positive. The classes are small and the teachers really know my children and care about them. The teachers at Brown School encourage my kids to be creative problem solvers and to think outside the box. We are very happy with Brown School and highly recommend it!
Endorse Brown School. Endorsements should be a few sentences in length. Please include any comments on:
Quality of academic programs, teachers, and facilities

Availability of music, art, sports and other extracurricular activities

Academic or athletic awards
Montessori Schools: An Overview
Are you curious about an educational approach that nurtures independent, creative, and lifelong learners? Look no further! We invite you to dive into the fascinating world of Montessori education and unlock its incredible potential for your children.
Securing Your School
With the rise of school shootings and other violent incidents, it is essential to have a comprehensive plan in place to protect everyone on your school campus.