St. Theresa Catholic Elementary School
St Theresa Elementary School, by means of a strong academic curriculum, rooted in Catholic beliefs and values, the faculty, staff, and parish community work cooperatively to educate the whole child: spirit, mind, body; and promote community service as a way to live out Jesus' message of care and compassion develop confident, responsible Christians.
We offer a strong, dynamic curriculum that stresses the integration of faith and life, academic excellence, and critical and creative thinking skills.
Our dedicated faculty and staff give time, energy, and devotion to educating and empowering students so that they will become self-directed, self-managing, lifelong learners who are prepared for the many challenges of today's world.
Grades: Prekindergarten-8
Enrollment: 209 students
Yearly Tuition: $9,765
Average class size: 25 students
Application Deadline: Feb. 3
Source: Verified school update
School Overview
School Membership(s)
School Assoc.
Grades Offered
Grades Prekindergarten-8
Learning Difference Programs
Yes
Learning Programs Supported
Full-Time Resource Specialist
Student Body
Total Students
209 students
Students by Grade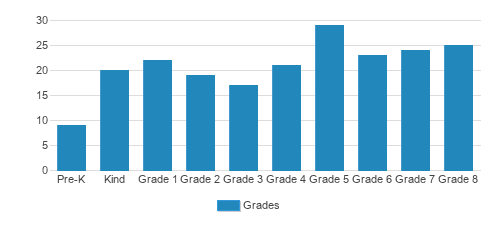 Academics and Faculty
Total Classroom Teachers
19 teachers
Average Class Size
25 students
Tuition and Acceptance Rate
Tuition Notes
increased tuition for non-Catholic students
Admissions Director
Michelle Halligan
Sports
Total Sports Offered
4 sports
Extracurriculars
Total Extracurriculars
Total Extra-curric.
2 extracurriculars
Extracurriculars
Extra-curric.
Student Council, Yearbook

School Notes
St Theresa Elementary School is a private Catholic elementary school nestled in the Oakland Hills. We offer Art, Music, P.E. and Spanish in all classes. All grades are responsible for community service and our Middle School students have a required number of hours in our Service Learning component of the religion class. Faith families are comprised of students from each grade, joining together to form a "family". This allows for students to get to know others from different grades. This program is especially enjoyed by the students. Sports within the CYO league are cross-country, basketball and volleyball. Our gym is state of the art and is used by the students throughout the day. Students in Middle School have the opportunity to participate in Student Council and Yearbook.
Source:
Verified school update
Frequently Asked Questions
How much does St. Theresa Catholic Elementary School cost?

St. Theresa Catholic Elementary School's tuition is approximately $9,765 for private students.
What sports does St. Theresa Catholic Elementary School offer?

St. Theresa Catholic Elementary School offers 4 interscholastic sports: Basketball, Cross Country, Track and Field and Volleyball.
When is the application deadline for St. Theresa Catholic Elementary School?

The application deadline for St. Theresa Catholic Elementary School is Feb. 3.
School Reviews
5
10/27/2022
We are new to St. Theresa's and amazed by its staff and the entire community! Our son is in the 6th grade, which is already a middle school, and we feared that joining a new school with the delayed start of the school year would be a horrible experience for him. But he was warmly welcomed by everyone! We are happy to hear he likes his teachers, and classmates and even decided to join the basketball team, because of the fantastic Coach Ray! The curriculum is challenging but not overwhelming. The facilities or the school itself and its afterschool program are nice too: clean, well maintained, and safe! Teachers and staff are responsive, and communication is constant. We are glad we chose St. T's and with a clear conscious we recommend it to other families.
5
10/26/2022
Our son's public elementary school had everything a parent could want, an engaged staff, a strong curriculum, high parent involvement, and inclusive social standards. We had hoped to find a middle school that offered the same benefits plus a challenging curriculum that enforced being proactive, organized, and confident. After an extensive search, we chose to enroll with St. Theresa and have been very happy with our decision. The size of the school and individual class size allows the teachers and administrative staff to get to know each student and work as a team to ensure that students are well-prepared to graduate to the next grade level. There is a family quota in terms of parental involvement, but it is very reasonable and there are many types of opportunities for parents to volunteer throughout the school year. Onsite care for before school and after school is also available, and affordable, and it's an excellent environment for the students to participate in games, crafts, sports, and homework. What sold us on St. Theresa was the teachers. Many are seasoned teachers who are still very excited about teaching the curriculum, they are open to feedback, encourage students' interest in challenging homework & projects, and are more than willing to provide additional attention to students who require it. Not only does St. Theresa provide wonderful moral instruction, but they practice it and model these behaviors at every level. St. Theresa's is an excellent school, and we are delighted to be a part of its family.
5
10/6/2021
St Teresa has exceeded our highest expectations for a school for our two children. We believe that the school has navigated the challenges of COVID-19 safely and thoughtfully for all students and staff. We could not be happier with our decision to enroll our two children (1st and TK) here. The school has a wonderful and supportive community of involved parents and teachers/staff who care about the wellbeing and growth of the students. The school provides a well-rounded curriculum, and communication with the school has been extremely easy. We highly recommend this school to anyone looking for a great program for their child/children!
5
9/29/2021
This is now our third year at St Theresa, and we could not be happier. Both of my kids are thriving here, and have made good friends despite having transferred in at 1st and 3rd grades. It's a very welcoming, inclusive environment even if you are not Catholic (which our family is not). It was clear from Day 1 that all teachers, staff, and the wider community care about all kids. It is a really nice community that is open-minded, fun, and definitely not your traditional Catholic school of 30/40 yrs ago. Through covid, the school has been transparent about all safety plans, and all teachers/staff were vaccinated as of Jan2021. We have had zero covid transmission (as far as I know!) and feel very thankful that my kids have been back at school (not on a computer) since Nov2020.
5
12/3/2020
We cannot say enough positive things about the Saint Theresa school and community. Our daughter transferred to Saint Theresa in 3rd grade from a local public school. The staff, teachers, children, parents and community were all very welcoming and inclusive from day one. Our daughter has thrived at Saint Theresa, both academically and socially. The academic program is "old-school" in that there is a fair amount of homework and the children are expected to move along rather rapidly and while this can be challenging, with the support our daughter and has grown by leaps and bounds as has her confidence in herself. They have a great sports program as well. My daughter participated in Cross Country, Basketball and is looking forward to participating in Volleyball this year. If you are looking for a community-based school with a strong academic program, caring staff and broad range of extracurricular and community-based programs than this is the school for you!
5
11/20/2020
I highly recommend St. Theresa Catholic School. What I love about the school is the community, it is a school where you get to know the administrators, teachers, kids and parents because of the size. My son transferred recently into 4th grade, and he is thriving. Academics are top-notch, and the teachers care tremendously about the students. I also like that they're after-school program is open late (6:15) run by caring women. My son took part in cross-country where he ran competitively for the first time. They also offer basketball and volleyball. If you are looking for a smaller environment with top-notch academics, I would highly consider St. Theresa's. It is a great school.
5
11/18/2020
St Theresa`s elementary school has provided such a wonderful foundation for my kindergartener even in the midst of a chaotic time. My high expectations have been completely surpassed by the thoughtful and robust distance learning program that Miss Graves has put together. My kinder wakes up excited every day to attend school (virtually and in person) because Miss Graves and Miss Ochoa are making every class, every assignment and every interaction meaningful and fun. My child's increasing appitude for language art, math, religion, music, art, spanish and more is all because St. Ts is providing an outstanding curriculum regardless of the limitations. And the cherry on top... consistent and excellent communication from the entire staff. We feel so blessed to have found this exceptional school.
5
11/17/2020
We toured lots of schools in Oakland when deciding where to send our twin boys for kindergarten, and St. Theresa's was clearly the best fit for our needs. While there are lots of highly rated K-5 elementary schools, the quality and choice for middle schools can vary. For this reason, we were attracted by St. Theresa's K-8 program; and when we finally toured the school in person, we knew we found the right place. As well as the helpful and professional admissions coordinator, we got the chance to stop and chat with many of the teachers in the hallways during the tour, each of whom seemed to genuinely love their work, and the kids. We were hooked.You can read lots of online reviews of St. Theresa's that emphasize the strong academic, community and spiritual environment; and the beautiful campus. I agree with those reviews, but in this review, I want to speak more about the highly unusual situation due to ongoing COVID-19-related school closures in Alameda County. At the time of writing this review, we're about 12-weeks into the school year, which was delivered 100% online until 2 weeks ago. Like a lot of parents, I was very worried that distance learning would not work at all 5-year-olds. How wrong I was! The Kindergarten teacher (Ms Graves) is exceptional. I know from talking to parents of older children that she was extremely well-regarded before the pandemic; and she has quickly and expertly adapted to the new reality. I've been able to listen into some online classes, and am amazed at how Ms Graves is able to hold the attention of her class while teaching them Math, reading, writing, social studies, etc. She uses the technology just the right amount to enable learning by the kids, and to empower parents who are doing their best supporting the kids from home; and she provides plenty of paper and craft-based fine motor work for the kids to do when they are not attending a class. Already, only a few weeks in, I'm seeing giant improvements in their reading comprehension. The other enrichment teachers (e.g. art & music) have also been excellent at delivering online learning. It's of course true that parents, kids and teachers would all prefer in-person class; but until the public health situation changes, we have to adapt. The faculty and administration of St. Theresa's have done an incredible job: by developing an online learning experience that went far beyond my initial expectations, and by their "can-do" approach to bring the kids safely back to the classroom as quickly as possible. As of November 2020, the kinder class is attending in-person 2 days per week; with future plans dependent on the evolving public health situation. Most likely it seems like it will take a year or more until life returns fully to "normal". In the meantime, the school administration has also found the time to communicate plans and foster community among the parents with regular town-halls with the principal and teachers. Every day I am glad we are attending St. Theresa's during this challenging time.
5
11/9/2020
When we started a school search in advance of our oldest starting Kindergarten, we looked at 3 private schools, 2 parochial schools and did research on the Oakland school system. St. T's open house was HANDS DOWN the best - it was organized, informative, friendly. The current students were so well spoken and well rounded. We ended up starting TK this fall and have been so impressed. The teacher is fantastic, the school itself has handled distanced learning smoothly, and it's been very organized. We're getting to know the community more and more, and everyone we meet is so genuinely friendly and easy to get to know. We love the Faith Families and the chance for our little one to get to be friends with older students, and having an ambassador family welcome us was lovely. We could not be happier with our choice and will certainly be sending our younger child as well.
5
12/9/2018
I highly recommend St. Theresa School. We had not considered private school for our child and only explored St. Theresa School when my child was waitlisted at our highly regarded public school. We felt very lucky to have found St. Theresa School and decided to pursue enrollment even though the public school finally offered him a spot. Our stressful public school waitlist experience was a blessing in disguise because without it, we would never have learned about St. Theresa School. The school has been amazing with caring and very experienced and knowledgeable teachers and staff. My child is a bit shy but loved the school and his teachers from day one and is excited to go to school every day. He has learned a great deal in the short time that he has been at St. Theresa and has also enjoyed many fun activities such as cross country; a field trip to a pumpkin patch; a fall festival; a fun Halloween parade; STEP (the after school program); and participating in the food drive. My child`s teacher and her teaching assistant are excellent and give very helpful tips and advice. I appreciate their approach to keeping kids motivated and on the right track through positive encouragement methods. My family is not Catholic but the school has nonetheless welcomed us with open arms; we have not felt uncomfortable in any way. Please check out St. Theresa School. You will not be disappointed!
5
11/19/2018
This is our second year in the St. Theresa School community and we are very pleased with the education and experience our son is receiving. The school offers a strong academic program, along with involvement in service programs. Students participate in Art, Music, PE, Spanish, and Computer Lab as part of the school day. The teachers and staff are extremely dedicated and caring. STEP, St. Theresa Extra-care Program is a huge benefit, offering before and after care with interesting activities and homework help. The campus is also a big positive offering green space, a playground, and Event Center for sports and assemblies. We have enjoyed getting to know the families. St. T. parents are an important part of the community spirit at St. Theresa School.
5
11/2/2018
My daughter started at St. Theresa School in kindergarten and is now in her third year at the school. Simply stated, she has loved this school since day one. She happily charges into school each morning and comes home happy each afternoon. We have found each of her teachers to be extremely caring, dedicated, and effective. She has built close and caring friendships not only with her own classmates, but also with children older and younger. We continue to see evidence of the school`s quality curriculum and instruction as our daughter continues to grow academically, socially, and spiritually. Our family has had a wonderful experience at both the school and the parish. We have made so many wonderful friends and feel very supported in so many ways. We are grateful to be part of the St. Theresa community.
5
10/7/2018
St. Theresa provides students with a nurturing environment, solid academic program, and dedication to service in the community. The teachers and staff care about the growth of the students academically, socially, and spiritually. The school has an excellent music program including a chorale and a band with evening performances at least twice a year. The curriculum also includes art, P.E., and Spanish. It has an excellent math and science program which prepare the students well for high school. The language arts program includes a lot of reading and writing which are key for high school success. The social studies program is engaging. It incorporates projects and current events in the middle school grades. The religion program has a community service component which helps develop compassion and awareness of others who are less fortunate. The school day starts with an assembly in the courtyard for prayers and announcements led by the Student Leadership team. There is a school counselor to help the students with social challenges, and an academic counselor for students needing extra attention. I have one child in middle school and one in high school who graduated from St. Theresa. The middle-schooler is thriving and the high-schooler was very well-prepared.
5
4/23/2018
St Theresa is an all over great school. I have 3 children, my oldest recently graduated from St Theresa and is thriving in high school. He placed into many honors and advanced classes including band. St Theresa not only gave him a strong educational foundation, but it also taught him good study habits and created a learning mindset. There are two primary ways that St Theresa stands out from other schools, its excellent music program and its student community. Through the buddy and faith family program the children are taught respect for others and to lead by example. They are shown how to mentor younger children and to be role models to younger students. The sense of family among the students is unparalleled at other schools.
5
3/9/2018
Our son is in Kindergarten at St. Theresa`s and we are very pleased with the experience. He loves school and we have enjoyed being involved in school life at St. T`s. He has made great friends and we have become friends with many of the parents- it is a terrific group of families! St. Theresa`s is a wonderful, enjoyable, supportive community. We are pleased with the level of Academics and are clearly seeing our son`s growth in all subjects, especially Language Arts/Reading and Mathematics. In addition, we appreciate that the school day provides for Art, Music, Phys-Ed and Spanish classes. The teachers and staff are very caring, dedicated, and engaged with parents. There are plenty of opportunities to volunteer in the classroom and witness the instruction. Our son enjoys having a 7th grade buddy and being part of a Faith Family with students from each grade level. He enjoyed participating in Cross-Country meets for St. Theresa`s in the CYO league this past Fall and played Soccer in Montclair with a few of his classmates. We highly recommend St. Theresa`s for its Academics, Extra-Curricular activities and Community Spirit.
5
5/20/2016
I have an 9th grader who was educated at St. Theresa's K-8. Like most parents, I worried about how his 9-year St. T education might stack up against other schools public or private. My son now attends Bishop O'Dowd High School, and not only did he test into all honors-level classes, he also received one of the 30 Presidential Scholarships. I wasn't sure how unusual this was until I talked to some parents from other private schools who were shocked at their children's lack of readiness based on the same placement testing and, some of these kids are at very expensive private schools. Additionally, at a the getting ready orientation, O'Dowd's President cited St. T as one of the schools that does a really great job at getting kids ready for high school. And finally, the outgoing student body President at O'Dowd is a St. T graduate who is now choosing between acceptances from Stanford and Harvard. While I certainly wouldn't expect the average St. T graduate achieve at this level, these results are noteworthy and impressive. We couldn't be more pleased with how prepared our son was for high school armed with a St. Theresa's education!
5
5/17/2016
My wife is a graduate of St. Theresa and we have three children enrolled. We have been very pleased with all the teachers we have had over the years, and very pleased with the results. The teachers are committed to very high standards for academic achievement and also to a religious education. They strive to nurture the whole student -- mind, body and spirit -- and in my view and according to standardized test results, St. Theresa's succeeds. I am very pleased that my children enjoy St. Theresa and they are proud to be a part of the school and the parish. I am very pleased with the friends they have made in their classes, in other grades and on their sports teams, and I enjoy all the parents we have met over the years through school and parish functions. The school parents demonstrate a commitment to the school and is academic and social mission through their volunteerism and spirit. Our children are exposed to music, science and sports opportunities that exceed my initial expectations and surpass my own experience. St. Theresa's has become a very important part of our lives while we have lived in Oakland. I can't imagine living in Oakland without St. Theresa's, and we are often reminded that we made the right choice for our children and our family.
5
5/17/2016
Our family feels extremely fortunate to be able to send our children to St. Theresa School. St T's is an outstanding academic school with a warm nurturing environment. St. T's lives up to it's motto of "Educating the whole child: mind, body, spirit" everyday. All students participate in band/music classes, learn in a state of the art computer lab and participate in sports and P.E. in a gym/event center that is unequaled anywhere in the East Bay. We love St. T's!
5
1/31/2013
St. Theresa is a wonderful school but more importantly a wonderful community. We have been there for 8 years and both my children love it. The smaller school atmosphere is very welcoming and the children know most of the kids in each grade. It also also close friendships with the parents. The teachers are enthusiastic and the campus is beautifryl with a new large Event Center (gym). We are very happy with our choice.
5
10/6/2012
Excellent school, caring teachers and administrators. The children are taught to respect one another. The curriculum is challenging. Students begin to learn a foreign language in Kindergarten. The computer lab offers the children an opportunity to learn computer skills and the new event center/gym enables them to keep fit. The required service learning, volunteerism, teaches the children the value of giving to society.
5
9/8/2012
I am a very satisfied parent at St. Theresa School. My children are happy to go to school each morning. We are very happy with the teachers and aides and find the administration very easy to work with. Although music is offered in all grades, musical instruction is part of the curriculum starting in grade 4. My children would never have known how to read music if not taught in school. The gym is state of the art and where P.E. happens. Students participate in community service and belong to Faith Families. This is a program that pairs up children from each grade. This allows them to know other students from different classes. My kids love this! Although class sizes in some grades are larger than I would like, we have never experienced any issues with having too many. The teachers handle it just fine. Overall, we are very happy with the school and community.
Endorse St. Theresa Catholic Elementary School. Endorsements should be a few sentences in length. Please include any comments on:
Quality of academic programs, teachers, and facilities

Availability of music, art, sports and other extracurricular activities

Academic or athletic awards
How To Find The School You Want
Finding the right school for your child is a major project. However, if you tackle it methodically, you will get good results. Here's a roadmap to finding the school you want.
Private School Supplies
Your child will need lots of supplies when she goes off to private school. These lists will help get you organized.