Wellington Collegiate Academy
Welcome to Wellington Collegiate Academy!Weareanindependent,college-preparatory day schoolinWellington,FLcurrently servinggrades 5-8.We acceleratelearningandacademicadvancement fordedicated students in anurturing,positiveandinterfaithenvironment. Oureducationalphilosophyembracescross-curricularability groupingandmastery-basedlearning. Weoffer a broadcurriculum andutilizeaccredited,internationallyrecognizedcurricula andinnovativeteaching methodscustomized tomeet theneeds of eachstudent. Our class schedule includescharactereducation,physicaleducationand professional instructionin musicandart.
Grades: 1-8
Enrollment: 40 students
Yearly Tuition: $8,625
Average class size: 10 students
Application Deadline: None / Rolling
Source: Verified school update
School Overview
School Membership(s)
School Assoc.
Student Body
Total Students
40 students
Students by Grade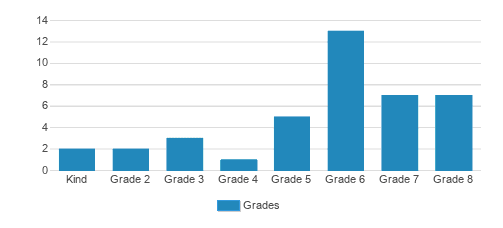 Academics and Faculty
Total Classroom Teachers
8 teachers
% Faculty w/Advanced Degree
Average Class Size
10 students
Matriculation Data
Matric. Data
Classroom Dress Code
Casual
At WCA we embrace a comfortable school uniform that gives us a feeling of unity and supports our daily outdoor breaks, creative art classes and field trips.
Tuition and Acceptance Rate
Admission Deadline
None / Rolling
Tuition Notes
K - 2nd Grade Tuition is $6725.00 AnnuallyAdditional Fees: Teaching Materials: $500.00 Activities Fee: $120.00
Admissions Director
Juan Carlos Valdez
Admissions Associate
Jessica Valdez
Extracurriculars
Total Extracurriculars
Total Extra-curric.
6 extracurriculars
Extracurriculars
Extra-curric.
Club or Organization:
Fishing Club, Reading club

Arts and Music Programs:
Art Studio, Piano Studio, Violin Studio, Voice Studio

School Notes
Small classes allow our highly-qualifiedteacherstocustomizethecurriculum to meet the needs ofthestudents.Throughability groupingand mastery-based learning,yourchild willbeencouraged to work athis or her optimumlevel.Ourfaith-friendlycharacter educationclasses teach studentshowtointeract andcommunicate withprofessionalism and kindess.Ourgoalis for allstudents to feelaccepted and valued by theirpeers.Weprovideprofessionalinstruction in art and music,includingaperformancechorus, andstudents enjoy daily outdoorexercise.
Source:
Verified school update
School Reviews
5
6/3/2022
Great if you need someone to watch your child. Not a rigorous academic curriculum at all. The kids do fun activities more than schoolwork, so it`s great for kids who need zero stress. Also great for parents who are tired of dealing with schools, rules, and homework.
5
6/12/2017
The language arts class if fun! I especially liked the spelling bee. All the teachers are kind, and have plenty of experience. Definitely would recommend!
5
6/12/2017
Wellington Collegiate Academy is a good school. The teachers are very experienced. This school has been a pretty great experience for me. I recommend this school to anyone who needs a difference pace than regular school while still getting competitive academic needs. WCA is great!
5
6/12/2017
Wellington Collegiate Academy is a great school. You learn, have fun, and overall do great. We went to Disney to perform, and had a great experience singing and having fun. Overall great academics too!
5
6/12/2017
Wellington Collegiate Academy has been a great experience for me. My math and English skills have had huge improvements and on top of that, everyone is very friendly and nice.
5
6/12/2017
Wellington Collegiate Academy is the best middle school I could ask to go to. WCA has given me and other students amazing opportunities that no other school could give. I enjoy waking up every day knowing I get to go to school, see my friends, learn a lot, and just be in an overall friendly environment. I love everything about the school and I can't wait to return next year!
5
6/12/2017
WCA is an amazing school to get ready for high school. They teach you step by step. The students are nice and the teachers are awesome. The school makes you feel like you are just at home and everyone treats you like a family.
5
6/12/2017
Some things I like about the school are art and the field trips that we go to. What I like about art is: it's colorful and it's fun. What I like about field trips is that we get to go to places with the school. That is what I like about WCA.
5
6/12/2017
I like the feeling that I get when I come to school at WCA. The classrooms are very roomy and there is enough space to learn. I love science class and all of the experiments that we do.
5
6/12/2017
WCA is the best school ever! We have choir and I improved from knowing no division to knowing a lot of division in one week!
5
6/12/2017
Wellington Collegiate Academy is an amazing school. I love teaching the students and the learning environment is outstanding. The school has excellent academics as well as choir, art and music!
5
6/12/2017
I love WCA! The teachers are nice, and they help me understand the subjects more than my previous school did. We have field trips once a month. They are fun and I learn things from them. I like P.E. class because it is challenging and we get to go outside. I also enjoy recess. We play fun games like capture the flag and the Canadian version of cops and robbers. The kids are nice. I like the lockers because they give you space to store your things. The class rooms are also very roomy. Choir is my favorite class. I like to sing and the choir teacher is very nice. Best school ever!
5
6/12/2017
Everyone her is so nice, I made friends I'll never forget. The teachers here are such a big help. I got into Dreyfoos with their help. I'm so grateful for having such a good middle school to prepare me for high school
5
6/12/2017
WCA is an amazing school to prepare you for your high school years. The teachers teach you step by step and are amazing. The students are nice and help each other out. It just feels like you at home when you are at WCA. We are all like family.
5
6/12/2017
The choir program is awesome; it brought a powerful, clear sound out of me which had not previously been unlocked.
5
6/12/2017
Wellington Collegiate Academy has provided me 3 years of enriching, challenging, caring, and nurturing education. Emphasis in music helps students focus and study and gives us a well-rounded education. I would highly recommend WCA to any student, parent, or teacher. An ideal middle school experience.
5
6/12/2017
Not only does this school include an excellent academic record, but also makes you feel like you're apart of a new family. I am so stoked to come back next year.
5
6/12/2017
I'm so glad I went to Wellington Collegiate Academy. It is such a positive environment. Everyone is so welcoming and kind. I love being able to get one on one help from teachers and also the students. Everyone is always willing to help each other and encourage each other to do their best.
5
6/12/2017
I have been here for 2 years and I love it so far. I always look forward to coming to school. There is always something to do. I have always wanted to learn piano and I have, thanks to WCA. I highly recommend attending this school.
5
4/10/2017
I am a volunteer at this school and I have been able to see first hand how wonderful this school is run and the great education that these students are receiving. These teachers are dedicated toward helping each student succeed and genuinely care for each of their students. I love what this school is doing and recognize that there is no other school like Wellington Collegiate Academy.
5
2/25/2017
All I can say is this school is a gift from God ! Finally a school that genuinely cares about the kids and keeps them on track and moves them forward at their own pace. The owner Anna Oaks is such a warm and caring person. My stress is gone knowing my daughter who is a 5th grader is excelling and loves school and never complains of homework, which is amazing because her last school didn't have homework so she adjusted well because she learns so much. My daughter couldn't wait to get out of her other school where she was behind and it was such chaos. I see now the importance of a small private school and all the special attention that they receive is just amazing. My daughter started in November and all the kids welcomed her with open arms. This school is like a family. Once you take a tour of the school you will understand just what im saying. The field trips are so enriched and now Disney just accepted our choir to perform there in May. The kids are very excited to say the least. Thank you to all the teachers for caring and being loving at the same time and to love teaching our kids !
5
2/6/2017
My children struggle with school. Since they have been enrolled here, they have found the joy of learning again. They want to go to school and want to stay later! You couldn't ask for a better environment where you can be who you are and not be judged. This is a dream come true for my kids!
5
2/6/2017
What a great school that is so focused on your child getting the best education. The teachers are amazing and very concerned with each students need to help them be where they need to be. The students all get a long so well and the nurturing environment is very comforting. We love that the classes include art, Music and even health. My daughter enjoys all her classes and is more eager to learn much more than she ever has. We couldn't be happier.
5
2/6/2017
Amazing!!! My children were behind and needs help. Weeks in and I see such a difference. They are catching up, playing the piano, and best of all have confidence. We are so lucky to have found this school. The director is a gift and born to have this school. Thank you, WCA!!!
5
12/17/2016
This school is a treasure. My boys have changed in so many ways for the better. They come home enriched and learning so much. It is traditional learning and at their level. The nurturing environment makes all the children happy to be there. Director, Anna Oaks, is a gift to education. Thank you, WCA.
5
6/3/2016
I'm an 8th grader with a lot of friends I met this year, all unique and special. 6th grade was tough switching schools, being bullied, losing friends, being all alone. But when I joined this school I knew everything would change. We were all strangers but now we can't be separated. We love each other and I love this school.
5
5/17/2016
My daughter and I are so excited that we informed about this great school. We met the teachers and the founder of WCA, Anna Oaks. They are amazing and very experienced in their fields of study. WCA has a great curriculum and just I can't wait to see how the students excel in their studies.
5
5/17/2016
The students enrolling at WCA are very respectful and eager to learn. It's a joy to work with them.
5
5/17/2016
As the first parent of a non-family member student at WCA, I have experienced first hand this exciting new adventure. My son has learned so much this year and the individual attention has helped him learn at a much faster pace then he could have any other way. Anna's love for teaching and encouraging the kids to thirst for knowledge has been key to getting such excellent teachers and will continue to make this school standout from others in the community. I am so grateful for the doors that have opened to make it possible to actually bring this opportunity to the public and invite other middle schoolers to join our little school. I am so excited to meet you and work side by side as we contribute as parents in making this the best middle school in Wellington!
5
4/15/2016
WCA has very good teachers and the curriculum is also top. We especially like the friendly and stimulating environment under the supervision of a very motivated Mrs Oaks
5
3/17/2016
I love this school and I'm so glad I found it. There is little homework. We're all friends and we have a lot of diversity. A lot of discussion goes on here and lots of personalized education.
5
2/26/2016
Wellington Collegiate Academy is an incredible school where the students get along so well and treat each other with kindness and respect. They are all good friends and that creates a wonderful atmosphere for them to come to learn. The teachers are amazing with the students and challenge them as well as helping them individually if a student needs it. My daughter has loved attending WCA and looks forward to going to school each day. The music and art classes are advanced but fun as well as the quality of the academics. As a private middle school it is a very positive, uplifting environment for students but at an affordable rate.
5
2/26/2016
I like WCA because I am able to learn a lot in a caring environment. The teachers and students are very kind and I'm glad that we have recess outside everyday.
5
2/26/2016
WCA is an new amazing experience. The teachers and students are very polite and welcoming which make it comfortable. My daughter is very eager learning at her own pace and succeeding to higher levels. WCA is everything we have looked for in school.
5
2/26/2016
This school is amazing in some other schools there no peace and quite to do work in classes. It was hard for me when kids where talking to much. Im so happy i came here i went to wcs till they closed down then eagles now here i love this school the teachers are nice and i finally got to learn piano here. The whole school is like a family to me. My mom comes to school to volunteer and its awesome i made so many good friends here i rate this school a million.
5
2/26/2016
This school is fantastic and the students are magnificent. I would recommend this school for anyone looking for a school in Wellington. The curriculum is great and we can't wait to see how it will be in the future.
5
2/26/2016
This school is really nice and had the opportunities that most other schools don't have. The Teachers are amazing and students are really nice.
5
2/24/2016
Our family is tremendously pleased with our decision to be part of the WCA family in its inaugural year. The WCA focus on academics, cooperation and values aligns with our commitment to be productive and engaged members of our community. Mrs. Oaks and the entire faculty team bring dedication, credentials and an embracing approach to the challenge of educating our children. Our daughter very much enjoys her WCA experience and her classmates seem to as well. We offer our unconditional support and gratitude to the fine people and program at WCA.
5
5/2/2015
My nephews go here and they love it and are really thriving. The kids actually drive their own learning rather than just passively receiving. It's also fun, great group of kids, and affordable for private school. Highly recommend!
5
4/27/2015
Wellington Collegiate Academy is everything that I have been looking for in a school--kind teachers who are willing to spend one-on-one time with you, nutritious meals, recess for middle-schoolers, and personalized academics with minimal homework.
5
4/27/2015
I''m going to this school next year because it seems better than public school and more challenging with less homework.
5
4/27/2015
Wellington Collegiate Academy is a unique combination of college-prep curriculum, character education and musical training. It focuses on the whole student, their physical, intellectual and spiritual well-being. WCA uses scientific evidence and research to design their curriculum and general structure of school. A huge step up from public school at an affordable price for private education. At WCA your child will be not just be a student in a school but will be part of a nurturing community of learners.
5
4/27/2015
We visited WCA, and this school is exactly what I would want for my children. I wish we lived nearby.
Endorse Wellington Collegiate Academy. Endorsements should be a few sentences in length. Please include any comments on:
Quality of academic programs, teachers, and facilities

Availability of music, art, sports and other extracurricular activities

Academic or athletic awards